Rapid urbanisation in Kenya continues even after the adoption of a devolved system of government, a situation that puts pressure on resources in urban areas.
This is as a result of a growing population and an expanding middle class. Recent research by the African Development Bank reveals a dramatic growth in Africa's middle class population, with Kenya's having stood at 44.9 per cent of the population in 2010.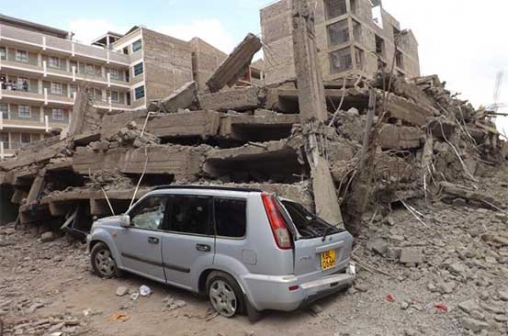 It is for this reason that the country's housing market is witnessing high demand and a chronic under-supply of formal housing. And private investors, seeing an opportunity, are focusing on serving this market.
However, investors' abstract efforts, with a bias on time limitations for fast material gain, are leading to hazardous consequences.
Kenyans have witnessed a number of buildings under construction collapsing, leading to loss of lives and interfering with residents' economic security. The scenario suggests implementation lapses of building and construction legislation.
In Nairobi, handling a construction work starts with receiving building approvals from Nairobi City County (NCC) and the National Environmental Management Authority (Nema). The Nairobi City County requires a developer to furnish them with several key documents
This includes registration certificates for the architect and structural engineer, who are charged with enforcing quality and ensuring structural stability of the building.
These professionals also complete an indemnity declaration that indemnifies NCC of any claims in the case of faulty construction or mishap that may occur.
They also take full responsibility for ensuring that buildings are constructed according to the building codes and design standards.
NCC still demands ownership documents for the property, latest annual land rates receipts and the completed application for approval of a building permit.
The environmental compliance aspect is handled by Nema, which demands an Environmental Impact Assessment (EIA) preliminary report from Nema-registered consultants.
The consultant is required to provide a complete set of architectural drawings to accompany the compiled EIA report. Once these two approvals are obtained, the construction work gets a greenlight.
Haphazard construction in the city — evidenced by cases of collapsing buildings — shows operational lapses of this legal approval procedure by NCC and Nema.
Developers end up using unregistered and inexperienced professionals, but get their decisions endorsed by NCC and Nema.
This unbecoming situation is also as a result of too much focus on preliminary compliances and assessment laxity in the construction phase. Both the national and county governments, therefore, need to review the approval procedure and construction regulations.
Compliance ought to be emphasised when construction is on-going by having authority representatives regularly visit the sites for inspections.
Corruption cases by authorities' agents must be uprooted, and this can be done by having Ethics Anti-Corruption Commission officers operate independently.
Finally, authorities must never allow citizens to occupy buildings under construction as such site are and have never been safe.
—The writer is a consultant in Geoinformatics and lecturer at JKUAT