China fumes over fresh US-Philippines military pact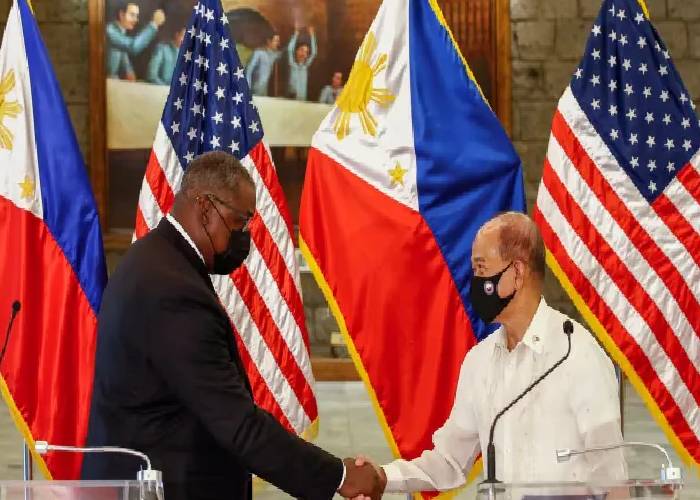 Philippines' decision to restore military agreement with US has left China fuming. For Manila, the agreement gives it the ability to stand up to any possible aggression from China while for Washington; the agreement means that US will be to maintain a considerable military presence in Philippines.
But for China, it is a big setback as it allows US forces to move in and out of the country. The agreement also paves the way for US to meddle into the South China Sea, leaving China upset.
The announcement of restoration of the most awaited Visiting Forces Agreement (VFA) came during the visit of US Defence Secretary Lloyd Austin to Philippines late last week. The agreement has given boosted to Philippines in terms of territorial defence.
The VFA is an agreement between US and Philippines in support of the Mutual Defence Treaty (MDT) 1951 under which they provide mutual support in case of foreign attack. Unlike in the past, Philippine was trying to back out because of Philippine President Rodrigo Duterte's resentment.
President Duterte was reportedly unhappy with the revocation of the US visa of one of his key allies, Senator Ronald "Bato" dela Rosa, a former head of Philippine National Police, who led a signature anti-drug effort of President Duterte, leading to thousands of deaths of Filipinos suspected of being involved in illegal drugs. The US State Department had reported a high level of extrajudicial killings as a result of the anti-drug campaign, specifically while Dela Rosa was Chief.
Contrary to the public demand, President Duterte continued to move away from the US, and started working with Russia for arms sales and developed stronger economic and diplomatic ties with China. However, China's encroachment of Philippine's exclusive economic zone in the South China Sea in the past few months, made him change his mind.
Philippines had not moved its naval forces to the West Philippine Sea to challenge China's militarisation of the area since 2012. In March this year, 220 Chinese vessels at Julian Felipe Reef saw Philippines send four of its most advanced warships to the West Philippine Sea to challenge China's increasing activities at Julian Felipe Reef, which is within the country's exclusive economic zone (EEZ). The Philippines took a tough stand earlier this year over the lingering presence of hundreds of Chinese boats in its EEZ, after China criticised Manila for staging naval and coast guard exercises in the South China Sea.
Duterte said at the time he would not compromise on his country's sovereignty in the waterway. His tough stand sent a clear signal to China that enough was enough, a move which compelled China to blink first. In April, the Chinese vessels dissipated to a couple of dozen.
Why was Philippine so tough with China?
Ever since the standoff between China and the Philippines at Scarborough Shoal in 2012, the latter had opted not to send warships from the navy but relied on vessels from the Philippine Coast Guard instead to assert its presence in the West Philippine Sea. The international arbitration case with China which Philippines eventually won in 2016 had compelled Philippines not to assert itself and be construed as an aggressor. However, it had downplayed Chinese incursions into the West Philippine Sea. But not anymore. Philippines challenged China and asserted for rights. That move left China worried.
Meanwhile, Chinese observers have been rather careful in remarks. They maintained that Philippines and others regional countries would remain practical and keep the balance in dealing with China and the US.
They claimed the VFA will not change the big picture of China-Philippine relations, as long as both sides remain calm on the most sensitive topic and keep distant from the US' trap of stirring up troubles in the region.
Hiding their frustration, observers from Beijing maintained the region will choose what maximises their interests and the pandemic prevention and active economic and trade connections between Southeast Asia and China mean the bloc will not join the US' chariot.