Uhuru, Ruto uneasy ties and why Jubilee has let us down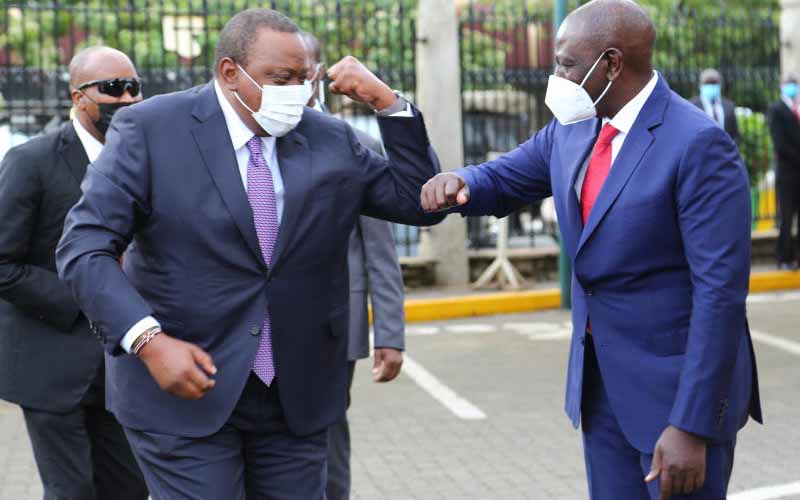 To see politicians go at each other hammer and tongs, one would be forgiven for thinking they harbour deep-seated unresolvable grievances against each other.
Yet history shows that, time and again, they forge and break alliances as the expediency demands. For instance the Jubilee Party of President Uhuru Kenyatta and his deputy William Ruto. Its current unravelling suggests a transient coalition based on personal vicissitudes rather than national interests.
All evidence certainly points in that direction. From the onset, the relationship of the president and his deputy was founded on their predicament, having been jointly indicted by the International Criminal Court. Leveraging on this to form a political union, they won the 2013 national elections even as they pledged to put to an end perennial ethic clashes.
At the time, their "bromance" was seen as the perfect match; Mr Kenyatta with his patrician manner and apparent distaste for the baser instincts of the quintessential Kenyan politician whilst Dr Ruto had the street smarts and perseverance needed to reach out to the masses. It worked like a charm. The apotheosis of their relationship would see them appear in public donning identical attire with shirts folded at the sleeves as if to announce to the world that they meant business.
With the ICC behind them and with the president now serving his second and final term, the bromance is gone. It is disingenuous for Uhuru to ask his deputy to resign following their fallout. Uhuru's invisible hand is clearly seen in the systematic frustration of his principal assistant. The latter has been denuded of all the trappings of power, rendering his office largely ceremonial. Replacement of Ruto's elite protection detail is just the latest of these frustrations.
Yet Ruto is not without blame. Taking the credit for the Jubilee administration's achievements whilst attempting to blame others for its failures is beyond the pale. His gambit is best described by American journalists Sam Rosenfield and Mattias Iglesias in an essay entitled 'The Incompetence Dodge' which talks of "trying to rescue the repudiation of bad ideas by attributing their failure to poor execution."
Former PM Raila Odinga's lectures advising the DP to resign fly in the face of his thin-skinned grievances during the Kibaki administration.
His loud remonstrations over lack of toilets and carpets befitting his status as PM are still fresh in the minds of Kenyans. Despite his obvious disappointment at his mistreatment, he did not resign.
These persistent one-upmanship by the nation's political elite points to a grab for power by any means necessary. Angry recriminations and diatribes are rarely more than skin-deep. Which would be mildly amusing were it not for the fact that these leading politicians have ethnic constituencies that hang on to every one of their words. These constituencies take to heart vituperation directed at their perceived detractors. In fact this is the situation that obtained in 2007/2008 leading to deadly ethnic clashes. What is worrisome is that the same circumstances seem to be unfolding.
One wonders, where is the National Cohesion and Integration Commission when the president's patrician manner is pejoratively described as "dynastic?" Where is their voice when the DP's proposed bottom-up economic model is derogatively branded "tangatanga?" Who will call out civil servants engaged in partisan politics in contravention of their code of ethics?
Kenya does not need sophists fooling citizens with faux indignation at real or imagined political failings. Nor does it need a rehashing of trite ideas passed off as new political philosophies. Citizens need a president who will live up to the mandate of their office and be a true symbol of unity. To that end, the Jubilee administration has disappointed. None of its leaders has any moral ascendancy over the other. All that Kenyans ask is that they desist from vituperation, finish their terms and go home quietly.
Mr Khafafa is a public policy analyst