James Orengo the never-say-die soldier in the Kibaki Cabinet
Like old wine, James Aggrey Orengo appears to ripen with age. In a way, the prominent lawyer has seen it all before. In our second instalment of Kibaki Cabinets, which is published by the Kenya Year Book Editorial Board, the spotlight falls on political titan James Orengo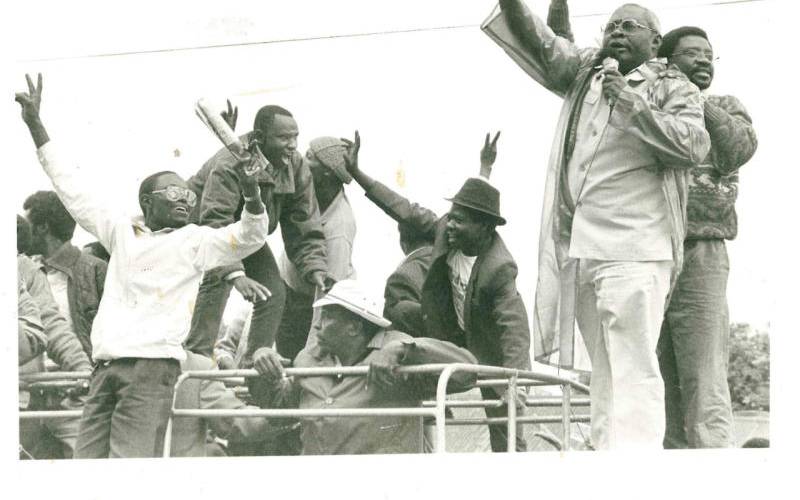 He has been Member of Parliament (MP) for Ugenya, Senator for Siaya County, presidential candidate, arrested and incarcerated several times. He's taken on the mighty and powerful in politics and in government and even headed a national political party. But it doesn't seem like he'll be done any time soon.
Only he knows his next move. But undoubtedly, he's the swashbuckler of current Kenyan politics — daring and in a hurry to tackle the powerful and the mighty, and rarely shying away from divisive matters, such as impeaching the President or Cabinet members.
This has been his fodder for 40 years. And this explains why, just days after his appointment to the Cabinet in April 2008, the Daily Nation reported thus: "any rumour (Orengo) was to visit a corner of the country would see the adrenaline of the police rise with scores of them reaching for either a club, a tear gas canister or any other riot dispersal gear available to them".
As it were, the Presidency is always the ultimate prize for every politician worth his salt. For Orengo, December 2002 was momentous. He ran for President of the Republic of Kenya and came a distant fourth with polling 0.4 per cent of the total vote. Orengo ran on the Social Democratic Party (SDP). Ahead of him were Kibaki (61.3 per cent), Uhuru Kenyatta (30.2 per cent) and Simeon Nyachae (5.9 per cent).
The seasoned politician that he is, Orengo isn't timid about reinventing himself. His plan in 2002 to weaken Raila Odinga's grip on Luo Nyanza politics floundered. But now Orengo is the Orange Democratic Movement (ODM) leader's super ally. That apart, as Senate Minority Leader, Orengo is one of the most powerful elected Opposition legislators in the country, much to the chagrin of his critics who had predicted the end of his political career following his failed presidential bid.
First elected to Parliament in 1980, and despite his proactive approach to politics and governance, Orengo has mostly been in the Opposition. The only time he has been in government was during the Government of National Unity, a coalition government, where he served as Minister for Lands and Settlement, for five years. As documented elsewhere in this profile, he had mixed success in this very sensitive ministry. The Daily Nation, on 24 April 2008, aptly captured his rise, in an article titled 'Orengo's long and windy route to the Cabinet'.
Orengo's Parliamentary tenure has not been without its fair share of drama. Just after President Daniel arap Moi succeeded Jomo Kenyatta, a group of MPs emerged that kept the new government on its toes by challenging almost all repressive policies. It was a group of young MPs, energetic, outspoken and combative. The MPs were Orengo, Abuya Abuya, Onyango Midika, Mwashengu wa Mwachofi, Lawrence Sifuna, Chibule wa Tsuma, Koigi Wamwere. Their close allies included Chelagat Mutai, Wasike Ndombi and George Anyona.
Some of the members of this group remain politically active while others have since retired or died. Abuya's attempt to relaunch his fortunes in Nairobi's Kibera during the 2019 by-elections failed. Midika has retired, as have 78-year-old Tsuma, Wamwere, Mwachofi, and 74-year-old Sifuna. George Anyona died in 2003.
Orengo was born in February 1950. His father, Orengo Snr, went to school with Kenya's first Vice President, Jaramogi Oginga Odinga, at Maseno School. Orengo senior was also a friend of Argwings Kodhek (a member of the Colonial Legislative Council). Orengo schooled in various primary schools in Nairobi, Kiganjo and Ugenya, and later at Ambira and Alliance high schools for his O' and A' levels. He then studied law at the University of Nairobi.
After completing his studies, Orengo worked at the Ministry of Lands and Settlement as an Assistant Secretary.
He was first elected to Parliament in 1980. But before long, he got into trouble with President Daniel arap Moi's government and was forced to flee to Tanzania. He was later extradited back to Kenya in June 1983 alongside the 1982 coup plotter Hezekiah Ochuka. Orengo lost his seat in January 1983 after he fled the country, accused of, among other crimes, forgery, issuing false cheques and stealing client's money.
Luckily, with the onset of multiparty politics in Kenya, he was re-elected in 1992 and retained his seat in the subsequent election.
When Oginga Odinga — at the time leader of the Forum for the Restoration of Democracy-Kenya (FORD-Kenya) party — and President Moi agreed to 'cooperate', Orengo appeared to oppose the liaison. He maintained the same position when Odinga's son, Raila, would later come to an understanding with Moi. While Raila decamped to the National Development Party (NDP), Orengo remained in FORD-Kenya, and this change of status was evident in frequent skirmishes between the two parties.
Eventually, when Raila disagreed with Moi and decided to throw his weight behind Kibaki as his preferred Presidential flag-bearer, Orengo seized the opportunity to run for President, expecting to benefit from a disillusioned community. However, his dismal performance in the Presidential race run jolted him.
But it is instructive to note that the fight for the Luo turf between Orengo and Raila had started much earlier, indeed way back before 1996 when seven of the community's MPs 'anointed' the former as the Luo spokesman and Achieng Oneko as the Chief Adviser.
"We are fed up with talk that the Luo have no leader. And we declare here today for all to hear that Orengo is our political spokesman after he beat Raila Odinga at an election attended by all MPs from the community," said the then Kasipul Kabondo MP Otieno K'Opiyo, as reported in the Daily Nation of 23 September that year.
In May 1996, Orengo, then Vice-Chairman of FORD-Kenya, tabled a motion in Parliament calling for a national convention to discuss the Constitution ahead of the 1997 General Election. This motion, which was ferociously opposed by the KANU leadership, was seconded by Democratic Party (DP) chairman Kibaki, who called on KANU MPs to "stop the pretence and be honest with themselves on the need for constitutional reform".
According to the DP leader, some laws, including the Public Order Act, the Chiefs Authority Act, the Vagrancy Act, and the Preservation of Public Security Act were repressive as they were not in agreement with the spirit of democracy, reported the Daily Nation.
Yet even with all his fiery attacks on fellow politicians, Orengo always avoided antagonising Kibaki — the person who allowed him to work as a Cabinet Minister. Perhaps this explains why, during the back-and-forth negotiations between the then Opposition leader Raila Odinga and Kibaki while cobbling together the Government of National Unity, Kibaki agreed that Orengo should take up the Ministry of Lands and Settlement.
Apart from the respect between the two, Kibaki was aware of Orengo's resourcefulness, not only in the Opposition but also in government. Having worked in the Lands office before joining politics and being a lawyer who is able to discern the legal imbroglio in land matters, Orengo was first among equals in the list of possible holders of this Cabinet portfolio.
Orengo took up the Lands docket with palpable vim. Just days after his appointment, he put land grabbers on notice, promising to implement the Ndung'u Report to the letter and to repossess grabbed land.
-Excerpts from Kibaki Cabinets, Kenya Year Book Editorial Board (2021)