Restarting life after 32 years in jail for murder of politician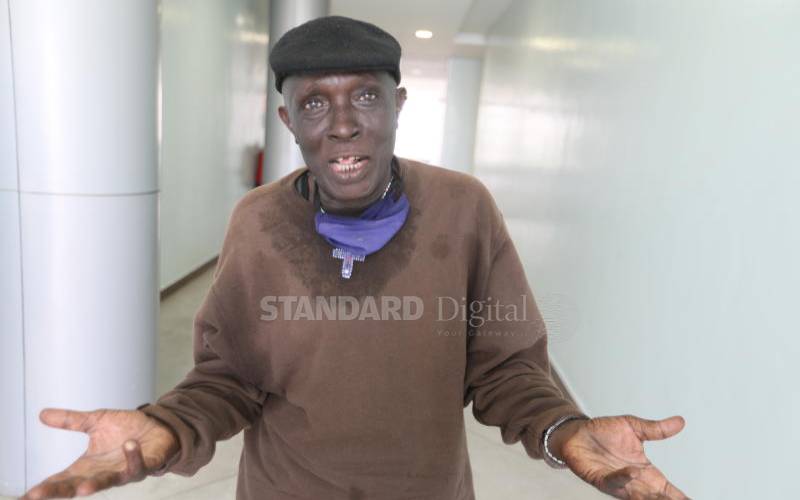 Nahashon Adego Kea is fortunate to be alive and breathe the air of freedom.
Adego, one of the four people sentenced to death for the murder of Mombasa politician Joseph Mwai Karani, walked to freedom after spending 32 years behind bars.
The self-confessed hitman was released by the High Court following the Supreme Court's decision that declared death sentences unconstitutional and referred the matters for re-sentencing.
He had been sentenced to hang by the High Court in Mombasa on May 30, 1989 together with Karani's wife, Mary Njeri, her lover Said Chondo and Fredrick Atulo.
Adego, who confessed to hacking the politician to death in an incident that left residents of Changamwe, in shock in 1987, earned himself freedom for having transformed while in jail.
"I have considered the petition and the submissions. The petitioner is a first offender. He has transformed by taking up courses to better himself. He has been in prison for 32 years; he committed the crime in his youth at 32 years, now he is a remorseful old man of 63 years," Justice Eric Ogola said in his ruling on March 15.
Ogola said he was satisfied Adego served sufficient time in prison and that he is now a changed person.
Take a quick survey and help us improve our website!
Take a survey
"l am satisfied he served sufficient time in prison and that he is now a changed person who can go out there and venture into business as he is now empowered through training he went through in prison. His family has forgiven him and is ready to accept him back," he ruled.
Murder confession
Adego confessed that he was hired along with his friend Fredrick Atulo to kill Karani and regrets the action which made him spend half of his life in prison.
"I knew Chondo and Njeri as lovers despite her being the wife of Karani. They found us seated at Kishada grounds in Kisauni and asked if we wanted money," he says of the murder plan.
He says Njeri and Chondo briefed them how they wanted Karani terminated. Njeri complained that Karani was violent and was always beating her.
Before the attack, Njeri ushered them into the house immediately her husband left for the club at 10pm and took them to a corner in the sitting room where they were given beer as they waited for Karani to return home.
When Karani returned home at around 2am, they attacked him as he knocked on the door to the bedroom and killed him instantly.
"We slashed him using a panga and hit him at the back of his head with an iron bar as he was knocking on his bedroom door," he confessed.
According to Adego, Njeri then opened the door to the bedroom and showed them the safe where they took all the money. They used keys from Karani's pockets to open the safe door.
He narrated that they later drove with his colleagues on Karani's pick up and abandoned it at Kibarani on the way to Mombasa and shared the loot. He recalls each got Sh50,000.
The following day, police mounted a crackdown and arrested Njeri as they went into hiding. Chondo was arrested immediately after Njeri when it emerged that he was her lover. Atulo was arrested later.
Adego says he hid in Mwembe Legeza in Mombasa and then fled to Malindi but came back to Bamburi where he was arrested three weeks later.
He says police arrested him when he went to collect the money after selling Mr Karani's wristwatch. The buyer tricked him and called the police.
The four were sentenced to hang in 1989 by Justice Erastus Githinji who relied on circumstantial evidence and confession statements.
After losing the case in the High Court, the four appealed but still lost. The Court of Appeal also upheld the High Court decision.
The judges said their confession statements corroborated circumstantial evidence which proved there was malice in each appellant who played a role in the killing. The Court of Appeal upheld the findings of the high court.
They were transferred to Kamiti Maximum Prison while Njeri was taken to the Lang'ata Women Prison.
At Kamiti Maximum Prison, they were taken to Block A reserved for condemned prisoners waiting for the hangman, a place where he recalls how his colleagues worked out their ways and were released under the Presidential Mercy.
Following Supreme Court's ruling, Adego whose co-convicts were set free by the Presidential Mercy applied for re-sentencing after the death penalties were outlawed. Since then most condemned prisoners are serving life imprisonment but some have managed to secure their release through re-sentencing.
New chapter
Adego, who is now looking for a wife, says Justice Ogola's decision caught him by surprise as he thought he would be jailed for 50 years as had been applied by the prosecution.
"This day came as a surprise after Justice Erick Ogola set me free on March 15, 2021. I had spent more than 30 years behind bars and I had lost hope of either getting freedom," said Adego.
He told The Standard that he thought he would be re-sentenced to serve few years in jail as had been the case with other appellants, but that was not the case.
Pondering what awaited him outside the confines of prisons, tears rolled down his cheeks when he walked out of Shimo La Tewa prison and his brother and cousin waiting to receive him.
He says a prison warder who was at the main gate office escorted him to the general gate where his cousin William Kepher and brother Ismael Ambaka Kea received him with open arms.
Kepher says they have no problem with Adego who has been in jail for 32 years. "We are trying to help him start a fresh life and are also appealing to well-wishers to help us find how the man can start living alone so that he start a family," said Kepher.