Kenya reveals al- Shabaab's terror links within its borders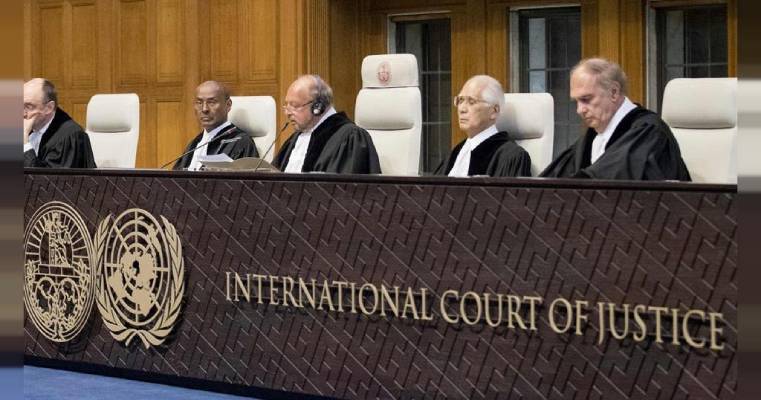 Kenya has had several attacks from al-Shabaab over the years and it has pegged its argument on the operations of the terror group in the country as among reasons why the International Court of Justice (ICJ) should not grant Somalia its prayers on the maritime boundary dispute.
In its documents filed before the ICJ, Kenya discloses that al-Shabaab has links to Kenya, agents and has been sending insurgents through the aid of their sympathisers in Kenya.
According to the confidential documents, al-Shabaab is associated with Mombasa Muslim Youth Centre, which later changed to Al Hijra.
It explains that Al Hijra merged with al-Shabaab in 2012.
However, Al Hijra's operations have been disrupted by unexplained killings. Sheikh Aboud Rogo, who was killed on August 27, 2012, was the outfit's ideological leader, according to the documents.
NEW RECRUITS
Other Al Hijra members who have disappeared without trace include one of its 'Amirs', 'Musa Osodo' (Sylvester Opiyo), and senior individuals such as Jeremiah Okumu and Steven Mwanzi Osaka.
In the document, a former Al Hijra fighter named Ahmed Mwarabu explained that it was easy to get new recruits especially in the slums, but its members grew cold feet after 'observing how things are being handled.'
Take a quick survey and help us improve our website!
Take a survey
"Towards the end of 2012, with the fractious state of al-Shabaab and its loss of Kismayu, a known Al Hijra zone of operation in Somalia, Al Hijra's setbacks became more evident. The group's ability to recruit and radicalise new members to be sent to join al-Shabaab in Somalia was weakened. In addition, its operational ability to prosecute its declared "war" inside Kenya on behalf of al-Shabaab by dispatching fighters from Somalia started to diminish," the 720-page document reads.
It is said that although the outfit has been ineffective, it continues to be a threat to peace and security in Kenya and beyond as it also has ties with Ansar Muslim Youth Centre (AMYC) in Tanzania.
Court documents also state that evidence obtained suggests that Al Hijra had attempted to forge relationships with other Salafi-jihadi groups beyond Africa.
Preliminary indications are that Al Hijra had conducted a liaison mission to Syria in 2013. On May 30, 2013, at 2.10pm, an Al Hijra member "Abu S" confirmed to be in Syria communicated to a member in Kenya claiming, "We are only here (Syria) for a short while. We are waiting for word from our Amir for the next course of action."
The Monitoring Group which prepared the documents now before court explained that following little success and the nearly kinetic counter-terrorism approach of the Kenyan security services, Al Hijra in partnership with its Tanzanian ally, AMYC, had sought operational direction and guidance from individuals with former ties to Al-Qaida East Africa and self-styled Al-Qaida affiliated individuals, including UK national Jermaine John Grant and Abubakar Shariff Ahmed 'Makaburi'.
The British national, 32, was charged in a Mombasa court with conspiring to carry out bomb attacks. According to the document, while still in prison, Grant had remotely provided assistance to plots involving both Al Hijra and 'Makaburi'.
At the same time, it discloses that Mzee Mwai Abbas is a key Al-Shabaab financier and recruiter. And with the approval of Ahmad Iman in Somalia, together with officials from one of Nairobi City mosques secretly appointed Issa Mugai 'Carragher' as the new 'Amir' to oversee Al Hijra's affairs.
It reads: "In particular, he was to ensure material support was being provided to returning Somalia-based Al Hijra fighters sent by al-Shabaab to carry out attacks against Kenya. The Monitoring Group has learnt that other reasons for 'Carragher's' appointment include drawing the attention of security services away from Al Hijra as al-Shabaab's Kenyan arm, and avoiding incidents similar to the one involving former 'Amir' 'Osodo', who human rights organisations claim was abducted in 2012, along with Al Hijra member Jacob Musyoka".
According to the document, 'Osodo', a suspect in a number of terror incidents, and Musyoka had previously provided a safe haven and posted bail for Jamil Mukulu's son, Bikumbi Hassan Mukulu, the rebel leader of the Allied Democratic Forces, a Ugandan-led Islamist group.
The document further reveals that following Aboud Rogo's death, Makaburi contacted senior al-Shabaab leaders in Somalia for assistance in carrying out attacks in Kenya as reprisals. Mwarabu explained that fighters from Somalia were ready to come attack on call.
"There were these other boys (Somalia-based Al Hijra returning fighters) who had come back (from Somalia) and Buda (Abubakar Shariff Ahmed 'Makaburi') had to put them on standby first, but the boys were ready to act. But I knew the problem with Buda was cash. You know putting all of us in one place with no money might create problems," Mwarabu is quoted saying.