Woman creates safe space to offer respite to Dandora children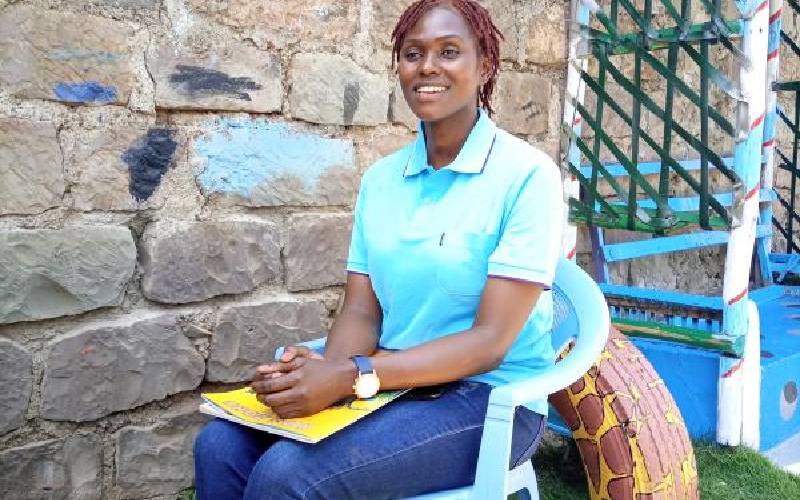 Dandora is full of human endeavour and misfortune in equal measure, young people specifically, are at high risk of coming to a violent end.
Several success stories of residents doing goodwill projects to change the tainted reputation of Dandora have been documented.
Mercy Wanjiru, is now among those who have chosen to challenge the norm by turning a neglected, waste land into a safe space for children.
Safe spaces for children do not exist in this part of the city, Wanjiru saw this gap and decided to create a place where children can play, learn and grow in a conducive environment.
Her dream started in the year 2019 when she started Sister Brother Love Organisation with the support of her family and like-minded individuals. But it is in 2020 that she decided to take advantage of the available space near her to create a botanical garden and a small library for children.
Most of the children are considered vulnerable, who come from disadvantaged families with a lot of parents having financial challenges, and some can only try.
"I wanted to make a change in my community, so I felt the need to do it. I only sought permission from the area chief to use the land and it was granted," said Wanjiru.
Wanjiru is a trained teacher, she also hold a Master's Degree in Social Work.
She started with only 12 children in 2019, with time they increased and now they are up to 54 with the youngest being six years and the oldest 18.
There are after-school programmes where children get to read storybooks, do their homework and play. During weekends, they play board games, learn poetry and music free of charge.
"The first thing children learn is affirmations, I always want them to know that they are smart and beautiful inside and out, so that they know they can become whatever they want," Wanjiru said.
She added: "Considering this environment, most kids are hopeless with no one to look up to, so when they come here we try to fill that gap by encouraging and empowering them to dream bigger than this environment."
She noted several projects around the area are run by men, through this project she has been able to curve her way. It was hard for her initially because people could not understand what she was trying to do.
"I overcame that by just doing it, you can find me painting, yes, I can do it. It is more like having my own table and inviting people to it, that is what I am doing," said Wanjiru.
Soon, the available space will be limited as the number of children continues to increase and there is also lack of professionals to handle the kids, Wanjiru noted these as her main challenges.
"We tried to get volunteers, but of course it is not easy to get those who fit the ones we are looking for. At the moment there are nine volunteers," she said.
Wanjiru would love to see similar safe spaces spread across the communities because children population is high and they cannot all fit at the Sister Brother Love space. "We need other spaces where kids can go and feel safe, be mentored," she said.
Currently, the available library which also stands as an office is small, but Wanjiru hopes to start a street library out Sister Brother Love premises where people can donate books and children can come and read books at their will.
For Wanjiru, giving up is out of the question. She admitted that being a human being, sometimes she gets overwhelmed, but the thought of giving up has never crossed her mind.
"I am passionate about what I am doing, this is my dream, and it does not even feel like work, everyday spent with these kids is always a learning point. I can see growth in these kids, from the first time they came to now, seeing that keeps me going," said Wanjiru.
Safe spaces in the country are countable, however the ones available are for girls and women. Creating Child friendly spaces are interventions used mostly by humanitarian agencies to increase children's access to safe environments and promote their psychosocial wellbeing.