Delicate balance that pro-BBI team must strike to win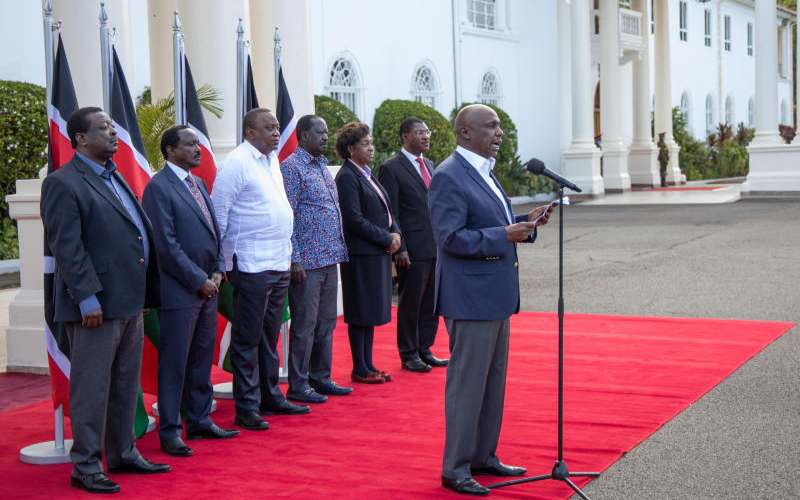 Intense pressure is mounting on the 'Super Seven' to strike a delicate balance in facilitating passage of the Building Bridges Initiative (BBI) while also maintaining a united front good enough to form a post-referendum government.
Despite the momentum created by the endorsement of the document by counties, there is the Deputy President William Ruto factor, who has been running a lone race, raiding rival political blocs and enjoying the benefit of a united team.
Ruto has been taunting his opponents to put their houses in order, and prepare to take on his organised team in the contest to succeed President Uhuru Kenyatta who still has 17 months in office. If the 'Super Seven' brigade does not play its cards right, Ruto could benefit from the spoils of its victory in passing the BBI.
They must therefore get it right, including slowing down on intra-alliance attacks. A meeting at State House on Thursday reinforced need for a strategic approach to BBI politics.
ODM leader Raila Odinga, ANC's Musalia Mudavadi, Kalonzo Musyoka (Wiper), Gideon Moi (Kanu), Moses Wetang'ula (Ford-K) and Charity Ngilu (Narc) attended the meeting convened by President Kenyatta.
In the meeting, the need for a well-knit team to counter Ruto was discussed and sources indicate that it was agreed that unity of purpose be maintained for the "Super Seven" to clinch the prize.
Speaking in Trans Nzoia yesterday, Ruto scoffed at the political caucus opposed to him, saying tribal chiefs would play no role in next polls. He embraced the widely held claim that he was mobilising around the poverty theme.
"The election will be determined by hustlers who know no tribe, with the only thing uniting them being poverty," he said.
A day earlier in Nandi, the DP told residents that the political alliance as seen at State House was meant to block him from succeeding his boss.
"When they are planning for alliances in Nairobi, I am reaching out to people in grassroots for they are the ones mandated to elect who is supposed to take over the next government," he said.
With possible frustration that the DP has not swallowed a bait to oppose the BBI Bill and lead a No campaign, the top politicians have been forced back to the drawing board.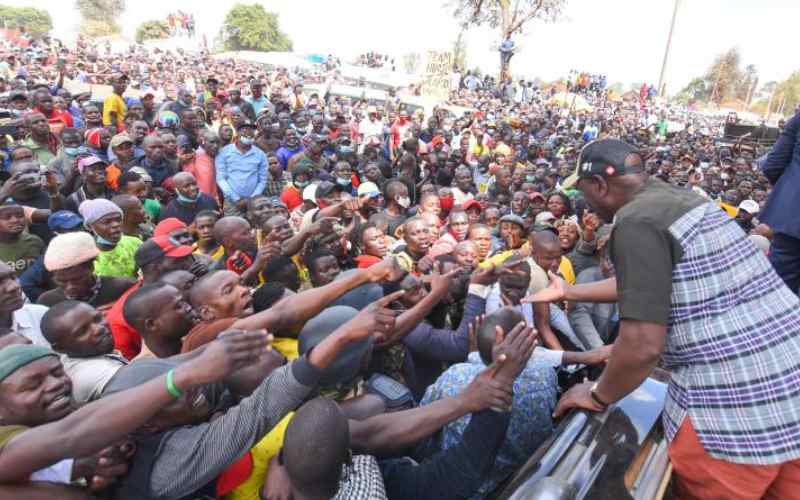 There had been hope, according to a Jubilee Kieleweke MP who sought anonymity, that Ruto would oppose the push to change the Constitution, which would have pitted him against the 'Super Seven'.
Non-contested referendum
"The coming together in the Yes and No campaigns would have built formidable teams that would take their momentum to 2022 polls. Now with a non-contested referendum, no politician will get an edge after the popular vote," said the MP from Mt Kenya.
Raila, a political master tactician, has picked cue and prepared an elaborate plan to not only put himself ahead of the 'Super Seven' pack but also size up with Ruto.
In the last two weeks, Raila has been holding meetings with new allies, town hall meetings and now a tour of the six Coast counties in an attempt to cover political ground.
Raila has been under pressure from allies to begin his 2022 presidential campaigns, fearing Ruto was making a strong headway, including in his political bases.
Last week, Raila met with former UNCTAD Secretary General Mukhisa Kituyi and Makueni Governor Kivutha Kibwana, who have also declared interest in the 2022 presidential contest.
In the Coast tour, coming after he received a donation of 2022 campaigns sound system and allegations that he had assembled three choppers, Raila is expected to receive a group of politicians to ODM.
The planned visit comes after a week of political heavy artillery shelling between him and his National Super Alliance (Nasa) brigade that he seems to have fallen out with.
The "noisy and messy" altercation pitted Raila against Mudavadi, then Kalonzo against Raila and back and forth in what was a nasty exchange, signaling an acrimonious divorce.
In an interview with the Sunday Standard, Wetang'ula said he together with Mudavadi and Kalonzo were working with Raila to ensure the Constitution of Kenya (Amendment) Bill 2020 is passed and that they could still work together politically despite the trio "moving on".
He said he together with Mudavadi and Kalonzo were crafting a new political partnership. The trio has joined hands with Gideon and have been holding joint campaigns for their candidates in Kabuchai and Matungu parliamentary and Machakos senatorial by-elections.
Mudavadi has affirmed that a new political formation is in the offing but maintained his resolve to be in the ballot in 2022.
"My sight is firmly on the ball in the countdown to the next General Election. I will not settle for anything short of the presidency in 2022. BBI will not in any way hamper my journey even with the emergence of new formations," said Mudavadi.
Mudavadi said Nasa that brought him, Raila, Kalonzo and Wetang'ula together in 2017 was currently suffering from breach of trust. He equated the outfit to a sick person on a ventilator.
New formations
"Initially, majority of Nasa architects embraced it as a noble cause, which has been raided by betrayal. We had strong aspirations for this coalition. The dreams of millions of Kenyans were pegged on Nasa," he said.
"We have since let them down and moving forward, if we don't fix the challenges, then the need to anticipate and embrace new political formations is on the cards."
Mudavadi denied claims that the State House meeting was indicative of a lineup that Kenyans should expect as a new coalition.
"We meet on matters of commonality. We are all leaders in our various capacities, but for sure, after the referendum, new formations will emerge. Politics is dynamic and as people we need to be ready to anticipate what decisions we will make when that time comes," said Mudavadi.
However, political pundits believe the gathering was part of the party leaders' strategy to ensure they form the next government and share power.
"The priority of the Big Seven (Uhuru, Raila, Musalia, Kalonzo, Gideon, Wetang'ula and Ngilu) is to pass BBI then strategise on how to win the next General Election and share power as they all want to be in government," said Moi University don, Prof Nyaga Kindiki.
"Their common enemy now is Deputy President William Ruto whom they want relegated to the opposition."
Kindiki believes the pro-BBI leaders are to form another party or coalition ahead of the August 2022 elections.
"The new outfit will be the ruling party. Jubilee is not going to work as is Nasa. It is likely there is going to be a new coalition with a new name and new party leaders," he said.
Uhuru and Raila who are seeking to use BBI to unite the country and cement their legacy, Kindiki noted, are keen on having each of the big tribes have a political kingpin to influence their supporters to back their game plan.
"Uhuru and Raila are to ensure Central and Nyanza are under their lock and key, Kalonzo and Ngilu are to take charge of Lower Eastern, Gideon (Rift Valley), Musalia and Wetang'ula (Western), while Governor Hassan Joho is likely to be approached to take control of Coast," Kindiki said.
Kindiki said Uhuru and Ruto want to be in the next government "but the problem is Uhuru is finishing his second term as president and it is not possible for him to be Ruto's deputy."
The don described the recent outbursts between Raila and his Nasa colleagues as "friendly fire" as the group could still work together.
Raila has indicated he would not back Mudavadi, Kalonzo or Weteng'ula for the presidency for failing to accompany him during his swearing in as people's president in 2017.
Jubilee Party vice-chairman David Murathe and nominated MP Maina Kamanda have in the past indicated that the Kieleweke wing of the party will work for a political partnership with other like-minded parties with an intention of forming the next government.