How ex-MP's love for books made him 'enemy' of State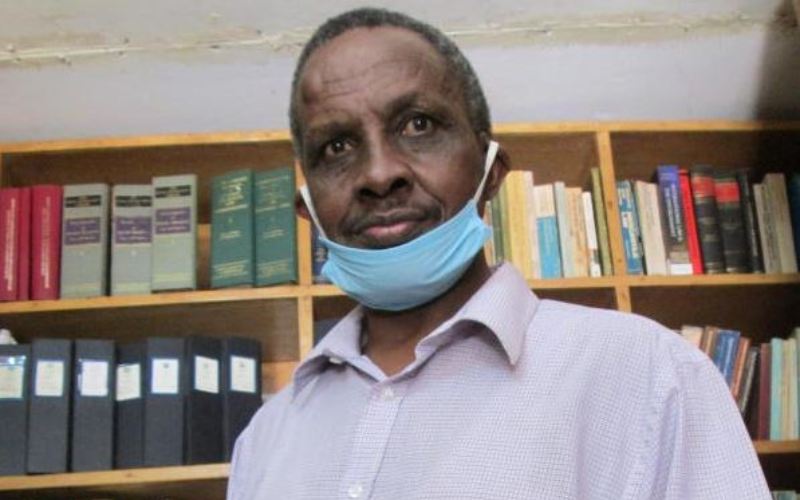 A cabro-paved driveway under the arch formed by a bushy kei apple hedge leads to a private treasure house of knowledge.
Former Nyeri MP Wanyiri Kihoro's residence has an air of defiance. Although situated in the posh Milimani estate, off Dennis Pritt Road, just a few kilometres from Yaya Centre, it has refused to conform or surrender to trending mansions or blocks of flats nearby.
The focus of the Saturday Standard visit is a garage with a makeshift canopy which, like the rest of the compound, displays a face of resistance.
To an outsider, Kihoro's world may appear lonely, but there is never a dull moment for him. Behind the doors of his garage-turned-library is another world waiting to be discovered or revisited by the lawyer whose burning ambition is also to write books.
When giving directions to his address, he chuckles that Pritt was a lawyer who made a name for losing the biggest case in his day: that of representing Jomo Kenyatta and for that he had an entire road named after him.
The 1957 colonial bungalow is dwarfed by two 10-storied apartment blocks on the left side of the bushy fence.
And just outside the closed metal garage doors, a stiff backed wooden armchair, patiently sits, waiting for its master to reclaim it when he has time. The armchair's back is carved like a map of Kenya and has bold inscriptions: Kenya Independents. This too has its own story for Kihoro is the chair of independent candidates.
Behind the closed doors, there is a sense of independence on the shelves. It is a theatre of political ideologies whose proponents are long gone but their ideas are still persuasive to those willing to flip through the tomes in search of knowledge.
"I think I have more than 4,000 titles. I have spent quite a fortune in acquiring them. My books are so many that getting ample space to store them has been a problem. I have been collecting books from 1970s," he explains.
His love for books started in 1959 at Nyeri's Blue Valley Estate after a neighbour, Amina, introduced him to Fred Kago's "wirute Guthoma' (Learn how to read) when he was only seven years old and had just started schooling at St Mary's School.
The former Nyeri MP, is however quick to explain how he had to pay the ultimate price, by being detained and thereafter living in exile all because of his books.
He was first bitten by the collectors' bug in 1975 after attending JM Kariuki's funeral at his Kanyamwi farm in Gilgil.
As a student leader at the University of Nairobi university Student leader, he played a key role in protesting the assassination and ultimately attended the burial.
After the burial, Wanyiri explains that he approached The East African Standard newspaper and bought pictures taken during the burial. His album of pictures, however, became subject of criminal investigations when he contested and failed to wrestle the Bahati parliamentary seat from Fred Omino. To endear himself to the electorate in the unsuccessful race, Kihoro published a small booklet, a campaign manifesto, whose promises to the voters, his contemporaries complained, contradicted the Kanu policy. He was marked as a radical who was not loyal and deserving of the Kanu ticket.
"Although I started buying books when I enrolled for my law degree with the University of London in 1978 as an external student, my first brush with law was in 1981. I was accused of being a revolutionary. The government could not sustain the charges and released me. However, all my pictures of JM Kariuki's burial were confiscated."
The Special Branch officers also took a number of books, among them the memoirs Kihoro had written at Alliance High School. He maintains that none of the books found in his house in Buruburu was banned.
Kihoro married Wanjiru in 1982 and later migrated to Britain in June before the coup on August 1.
While in London, Kihoro, who was now pursuing his law degree in Britain, visited the official public records office in Kew, London, where he spent quite a fortune on procuring some of the classified documents which had spirited out of the country by the colonial authorities shortly before Kenya became independence.
These papers, now bound in three coffee table size volumes, are so precious to Kihoro that he has a special place for them in the house. They are not on the shelves of his garage-turned-library.
Kihoro says that he spent 2,000 sterling pounds (about Sh280,000) to buy some of the papers, which had been stolen from Kenya and rightfully belonged to the National Archives.
Although his collection is biased towards law, human rights, land and Kenya's fight for independence and post-colonial struggles, there are rare gems on Pan Africanism, medicine as well as biographies of some of the most prominent people of his times such as Bill Clinton, Jaramogi Oginga Odinga and Thomas Sankara.
The library in Milimani is just a fraction of his collection, for he has dedicated the entire upper floor of his mansion in Gatitu Nyeri to books.
"My favourite authors are Nelson Mandela, whose work, No Easy Walk to Freedom I read while still in school. I also devoured Jaramogi's Not Yet Uhuru in 1967 at a time the government considered it somehow seditious."
He is also a big fan of Chinua Achebe, and his masterpiece, Things Fall Apart has a special place in Kihoro's heart and uncatalogued library.
When he came back with these papers and some other books in 1986, they miraculously escaped being confiscated when he was arrested on July 28, and detained for three years. One of the books seized was titled Searches, a law book on how to conduct searches on land. The State said he had been spying on its agents on how they do searches for dissidents!
While in solitary confinement in Naivasha, he was not allowed any books except those vetted and okayed by government censor. The Bible, to the government, was harmless and so was The Session Paper on African Socialism by Tom Mboya, the Kanu manifesto and other government literature.
Ironically, when he was freed from Naivasha in 1989, the government confiscated the few books its own censor had allowed him to read, including his Bible, fearing he had annotated some seditious or ungodly thoughts. He nevertheless wrote about his odyssey in prison in his book, Never Say Die.
And since not all his papers and books can fit in his "library", Kihoro has converted part of his bungalow to accommodate his collection, which he believes is worth over Sh20 million.
The government still has many of my books and pictures. As a trained valuer, I would put the value of this material to be about Sh500,000. I have sued the State but it has not yet returned them," he says.
And just like his home has relics of colonialism, some of Kihoro's records are stored in the obsolete floppy discs which can only be read and deciphered by an equally out-of-fashion IBM computer.