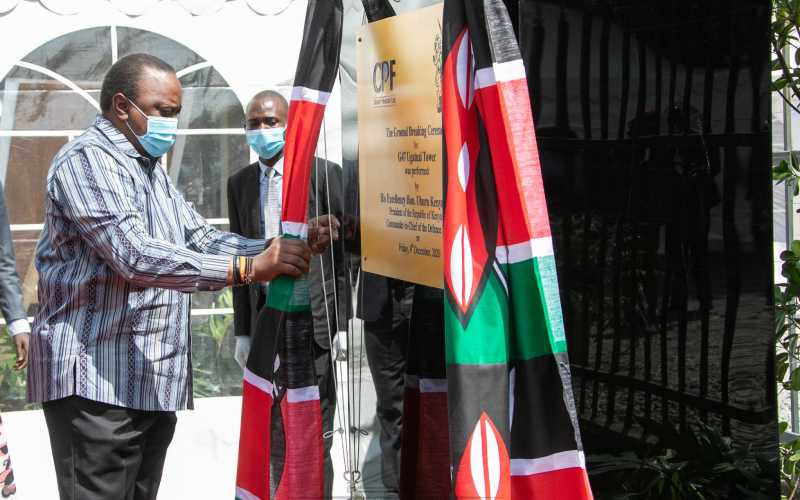 President Uhuru Kenyatta has asked foreign donors to refrain from meddling in Kenya's affairs saying the country values its sovereignty.
Speaking during the groundbreaking ceremony for the G47 Ugatuzi Tower in Hurlingham, Nairobi, the Head of State said he appreciates the efforts of the United Nations and all other development partners but will not allow them to dictate the direction Kenya will take.
"We thank the officers of the United Nations and all development partners who have been close collaborators but at this juncture, I must make it clear that while we appreciate your support and look forward to your collaboration you must remember that Kenya has its owners, and its owners are 50 million Kenyans.
"I ask you to refrain from trying to direct us in which way we should go. We are clear about where we want to go. We ask you to join us, to support us in that endeavour. But do not interfere because we shall not allow for you to dictate to us which direction that should be. Nawaomba kwa heshima kubwa mutushemu ndio tuwaheshimu. Kila mtu ako na shida zake even they have their own problems to resolve huko kwao," he said.
"I say that in good faith. I shall not allow that and we shall not allow that as a country," added the president.
Read More
The 50-storey G47 Ugatuzi Tower will be constructed through a partnership between the Council of Governors and the County Pension Fund (CPF).
Speaking to devolution stakeholders at the launch event also attended by Deputy President Dr William Ruto, the President said the close working relationship between counties and the National Government had helped the country deal with Covid-19 better.
He noted that one of the positive returns from the fight against Coronavirus in the country is the strengthening of relations between the two levels of Government saying, the collaborative framework should be cascaded to other frontiers of service delivery.
"Together we have expanded our physical healthcare infrastructure, installed new and more medical equipment, recruited additional healthcare workers, upskilled our health services labour force, and deployed a testing and contact-tracing system that has been a role model for other African nations," the President said.
The Head of State rallied Governors to focus their collective efforts in implementing the strategy saying, Kenyans are counting on them to deliver the country from socioeconomic disruption brought about by Covid-19.