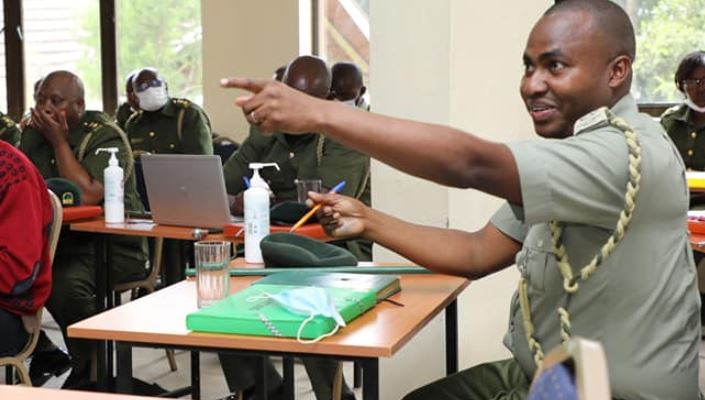 The annual Kenya Forest Service senior law enforcement and compliance (ENCOM) workshop kicked off this week at the Kenya Forest College (KFC) Londiani.
Through this year's workshop, the ENCOM division will be planning the entrenchment of the human rights-based approach (HRBA) which the Service in collaboration with the Kenya National Commission for Human Rights (KNCHR) has developed to inform the Service's engagement with members of the public such as forest adjacent communities in delivering her mandate, as well as within the organisation to foster human rights.
The workshop will also inform the development of ENCOM's Financial Year 2020/21 annual planning, strengthening of the standing orders for disciplined officers, and the enhancement of enforcement and protection of forest resources in the country.
Speaking during the workshop, the Chief Conservator of Forest Julius Kamau appreciated the performance of the division over the past year since he took the helm of office. He said that from his first ENCOM workshop in the previous year, the Service has achieved tremendous milestones.
The CCF noted that over the past year, KFS has developed a code of conduct of disciplined cadre, acquired a Service flag which was an honour and mark of excellence bestowed upon the Service.
Read More
He also appreciated the division for the operations that had been conducted to protect Kenya's forest resources such as the Maasai Mau forest reclamation and Kirisia/Leroghi forest voluntary relocation by communities who had earlier encroached into the forest. These efforts have seen the Service reclaim more than 48,000 ha in the past one year.
CCF Kamau also committed his office's support to build capacity within the division, adding that all cadres within the Service function better together.
He noted that the Service have procured 3,000 sets of uniform for ENCOM officers, with 2,500 boots already delivered.
He also noted the challenges still facing the division, due to the lean number of officers mandated to protect vast forest resources, and green spaces countrywide.
He thus called on the senior officers present to adopt and exercise HRBA within their areas of jurisdiction and inspire their juniors despite the challenges which the government, through the Ministry of Environment and Forestry was cognizant of and working towards addressing.
The meeting, being attended by ten regional commanders, eight base commanders, one joint enforcement unit Commander, commandant forest law enforcement academy (FoLEA), and other senior ENCOM staff, is a week-long workshop funded through the green zones Development support project phase II.