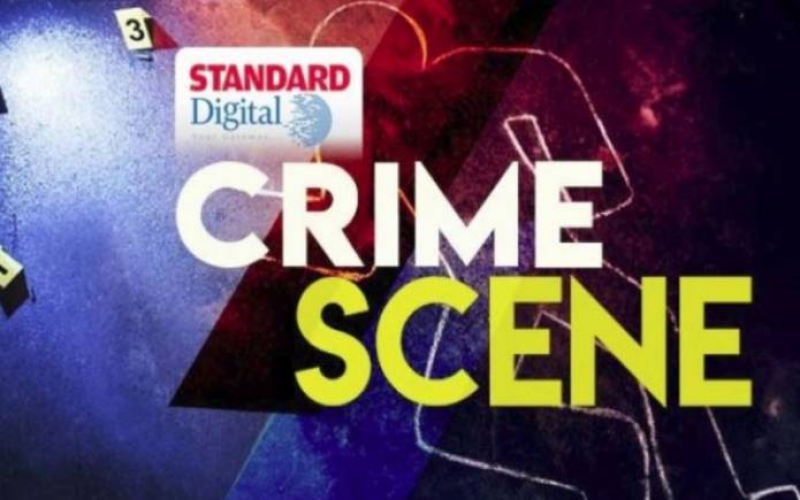 It is 7am in the morning, and one man's daily routine is about to be dramatically interrupted. The typically peaceful walk to the bus stage for one white collar worker ends in a shocking attack in broad daylight.
The neighborhood is Kilimani estate, one of Nairobi's suburbs which boasts a serene ambience and ample security for the families that reside within. The pedestrian is captured on CCTV footage walking along Lenana Road when two men approach him head on and begin to ransack him at knife and gun-point.
The robbers make away with the victim's valuables, including a backpack containing a laptop as well as his mobile phone. Keen observance of the now viral clip shows a motorbike slowing down ahead on the street towards which the thugs run, perhaps providing their getaway. The attack lasts for only 8 seconds and appears to be planned out in advance.
The video has since caused outrage on popular social networking sites, with many expressing disgust at the daylight robberies that threaten the peace within estates known to be home to families with young children and other vulnerable populations.
Read More
Further inquiries demonstrate that the viral early morning Kilimani robbery is not an isolated incident, with many victims coming forward to speak about their similar experiences. This alarming trend shows that thieves are becoming emboldened and dare to attack unsuspecting victims during the day and at all hours, changing their ways from the known narrative of late night attacks.
Felix Odhiambo was working as a consultant for a company based along Ngong road the first time he was attacked. His work entailed using lots of the companies' heavy equipment including a laptop, Garmin devices, phones and many others.
"A few months back, after a busy work day, I alighted at my normal bus stop within Karen, kawagai-miotoni stage at around 5pm. I noticed that a man who was on his phone alighted with me," said Odhiambo.
He further explains that the terrifying ordeal began after the man who had followed him appeared to correspond with another robber who was waiting near the bus stop.
"The man behind me lifted my bag and being puzzled initially, I held on to it. He then placed a pistol on my right rib and commanded me to release the bag. I tried to argue but the thief's partner soon dashed onto the scene on a motorbike, cocking a gun and commanding me again to start giving them everything I had, says Odhiambo.
The victim says that the two culprits took everything except his Identification cards and a phone that was in his inside jacket pocket. He reported the matter to Karen police station.
For another victim, Alex Mudaha, the traumatic ordeals have happened to him on three chilling occasions.
The second attack on Mudaha occurred soon after the curfew directive.
"I think that because of the curfew the robbers started operating during morning hours. I had come from a morning run when all of a sudden two men yet again appeared on a motorbike, with one pointing a gun to my head. They took my phone and earphones." says Mudaha.
Mudaha says that he was since highly suspicious and cautious, and when on an early evening in May, after curfew time extension, he saw three men on a motorbike, he took no chances and decided to sprint past them.
"When the motorbike turned around I knew it was them and I had to run 50 meters to my apartment. I had a small shopping bag in my hand as well as a phone. Once I saw my residence's gate, I tossed my valuables into the compound and lifted my hands up to show surrender," says Mudaha.
Mudaha says that the culprits then placed two guns on his head and made away with the little supermarket change he had in his pockets.
Another victim, Lucy Maina says that she experienced the terrifying burglary at around noon within one of Nairobi's Donholm estate.
"I was headed to an Mpesa shop with some money in my hands. Seemingly out of nowhere, a man silently creeped up behind me while I was walking through an alley between two residential flats and pulled out a knife threatening to stab if I scream. He then proceeded to take the money.
Maina says she resisted when he tried to take her phone and instead attempted to make a run for it, screaming for help and thereby alerting people who were nearby.
According to Maina, the burglar swiftly walked away, camouflaging himself in the crowds of people that had gathered.
Now, many Nairobi residents are living in terror, not knowing just how cautious to be in the evolving times that have seen the daytime become just as dangerous as the nighttime.
Nairobi County police boss Philip Ndolo says that they have enhanced operations and will take stern action against crime, further encouraging victims to report every incident.