Report: Somalia is giving KDF secrets to the Al Shabaab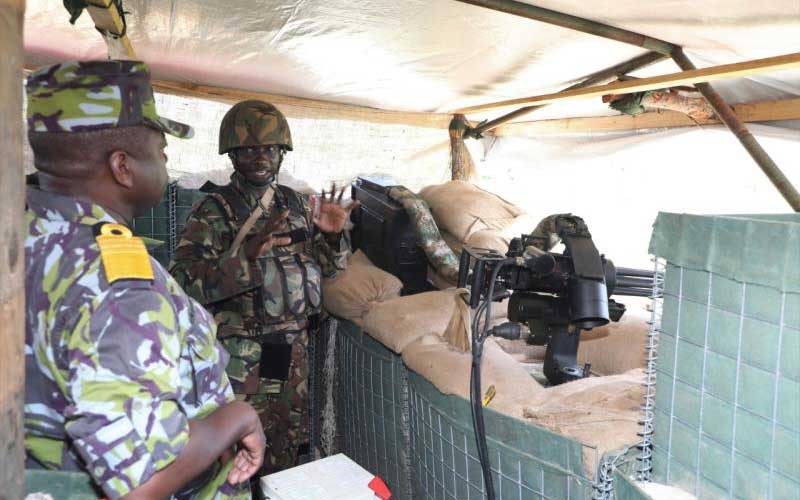 Kenya is investigating suspected links between Somali's National Intelligence and Security Agency (Nisa) and the Al Shabaab terror group.
A confidential report seen by The Standard suggests the Al Shabaab and Nisa have been jointly working to defeat the African Union Mission in Somalia (Amisom) operations.
According to the report, top Al Shabaab and Nisa officials have been in constant contact in operations both in Somalia and in Kenya, targeting Kenyan security personnel in the front-line in the battle against the militant group.
The report indicates that some top Nisa officials who have been trained by Kenyan security agencies have been providing highly confidential information to the Al Shabaab to facilitate the militant group's operations.
A top Nisa official is named as the main contact person who has been in constant communication with the militant group.
He is suspected of facilitating the Al Shabaab through financial and material support, including armaments and critical information on Amisom troop movement, particularly the Kenyan contingent.
An official aware of the developments said Kenya has launched independent investigations to inform the next action.
"There are communications between the intelligence officials and the militants directing them on where to hit and when. It is a serious issue," said the official.
One of the latest financial facilitation to the Al Shabaab from Nisa was a cheque of US$1.5 million (Sh158 million) signed by the intelligence official. Using the Nisa networks, the official also identifies soft targets for Al Shabaab along the Kenyan border.
Kenya's officials feel the actions by top Nisa officials are betrayal to the people of Somalia and the goodwill of neighbouring countries.
They regard cooperation between Somalia's intelligence and the Al Shabaab as a stab in the back.
"It should not be forgotten that Kenya is one of the countries that have helped Somalia at the height of incessant Al Shabaab attacks that threatened to completely destroy the country," said the official.
According to the report, recent tensions between Kenya and Somalia that proliferated to Mandera from the Balad Hawo and Dolow towns of Somalia precipitated the ongoing collusion between Nisa and the Al Shabaab. Nisa officials are believed to have instigated the deployment of Somali National Army on the border with Kenya.
The agency is also said to have deployed some of its telecommunication jamming systems to compromise mobile phone networks in Mandera and other adjacent areas to facilitate Al Shabaab operations in the area.
Recently, Kenya has experienced a spike in the number of attacks in areas bordering Somalia.