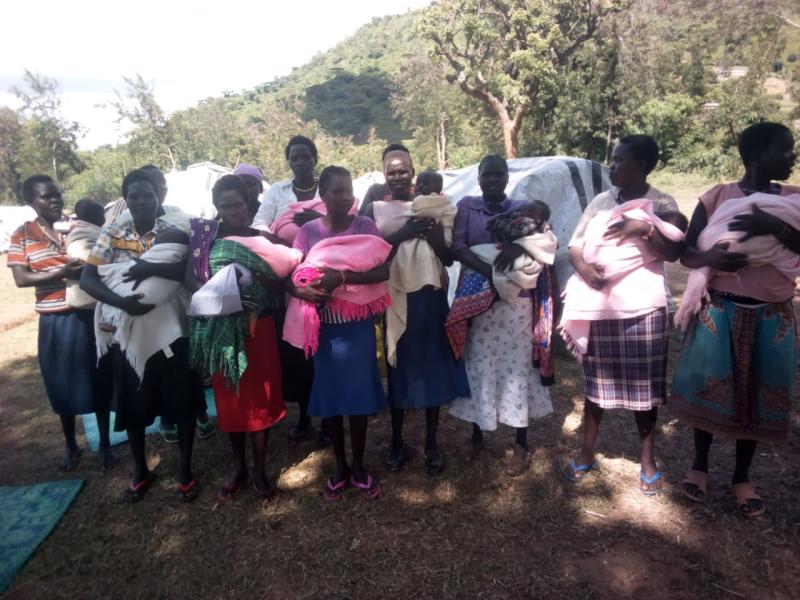 Thirteen women displaced following landslides triggered by heavy rains in West Pokot have delivered in evacuation camps. The mothers successfully delivered their bundles of joy at Paroo evacuation camp in crowded tents that were erected last November by humanitarian agencies after the tragedy. County authorities report that babies were also born at Nyarkuilian and Parua evacuation camps. Saddled in adversity, the new mothers could still afford a smile as they admired their little ones.
SEE ALSO: Two years later, locals sleep easy as guns go silent
Maureen Loitalima, one of the mothers, said: "I feel good because I delivered my baby... Regarding the future of my daughter, God knows the plans he has for us." She delivered her baby three days ago. Another mother identified as Loitalima feels bitter but at the same time happy after giving birth. She says she is worried about her baby's future in an evacuation camp. Ms Loitalima lost one child during the landslide, but she is thankful to God for giving her another child. For Anne Chepyatich, delivering her baby in a camp came with mixed emotions. After fleeing her home due to the floods that swept away her entire home, killing some of her family members, she became devastated but as she holds her bundle of joy, she is hopeful that the newborn will help her forget the misery of 2019.
SEE ALSO: Girl killed, two rescued in West Pokot gold mine collapse
She found shelter in a local school, now transformed into a camp. She had no choice when she went into labour and delivered in the camp with the help of midwives. "The living conditions in this camp is not conducive for an adult, let alone my baby whom I am scared might contract an infection. We have lost everything to the floods. Things are going to be more difficult now because I have to fend for my children as well as my newborn baby," she said. Also caught in this web of mixed emotions is Dianah Domosia, who welcomed her third baby. "We lost everything – our business and our houses. I have nowhere to go to... We could not afford to go to hospital so I had to give birth in the camp," she said. The mothers who lack antenatal and post-natal care have pleaded with the county government to send doctors to check on them. In the camps, there are other pregnant women who also need ante-natal care.
SEE ALSO: Alarm raised over measles outbreak in West Pokot County
Josephine Kapel, who is eight months pregnant, lost her seven children after floods swept them last November in Muino location. The mother, who was left with only one son, says she is optimistic that she will safely deliver in a month's time. "I lost my seven children. Life in the camp has been with a lot of challenges. No food and clothes, but God has kept us," said Ms Kapel. The mothers said they lack warm clothes for their newborns. They are also in need of supplementary foods to aid in milk production for their babies. The pregnant women are at a much higher risk of adverse birth outcomes, including low birth weight and preterm births. Muino chief Emamuel Chesta said 13 babies were born in camps in December under appalling conditions. "They had been receiving treatment from doctors who visit the camps. The mothers were helped by midwives who were in the camps during delivery," said Mr Chesta West Pokot Health Executive Geofrey Lipale said his ministry has been providing healthcare in many of the displacement camps, with particular support to pregnant and lactating mothers where they can, but the health needs remain immense. "Our doctors visit the camps to check on the mothers and their children. We are aware they need close care and attention. We have provided medical support for them because they are vulnerable," he said.