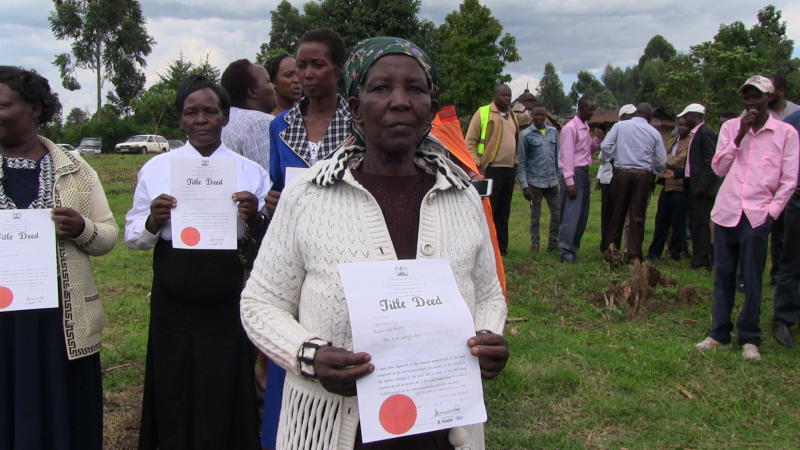 A lobby group wants women included in title deeds of land owned by their husbands. Kenya Land Alliance (KLA), based in Kericho, also wants women allowed to inherit their father's property. According to KLA's Women Lands Rights Programme Officer Winnie Chepkemo, persistent discriminatory cultural norms and practices are among the strongest barriers to women and their right to property, including land. "Weak implementation of policies, insufficient capacity to enforce laws, and a lack of societal will, compound the problem," Ms Chepkemo told a meeting to educate members of the Kalenjin community on land matters. The meeting brought together Myoot Kipsigis Council of Elders, religious leaders and the Land Registrar in Kericho County.
SEE ALSO: Resettlement of locals cloud dam construction
She told The Standard the meeting was aimed at promoting cotenancy, co-ownership and joint titling to secure the rights of women in the Kipsigis community. "The discussion is motivated by six sisters land inheritance case that witnessed the sidelining of the council of elders and religious leaders in solving succession disputes," she said. Justice Mumbi Ngugi sitting in Kericho, granted Rachel Korir, Esther Korir, Alice Korir, Jane Ruto, Elizabeth Sang and Sarah Rotich — right to inherit family property in a ruling delivered on July 2014. Justice Ngugi in her judgment, stated that the Constitution in Article 27 prohibits discrimination on any basis such as race, colour, ethnic origin or sex. Nonetheless Chepkemoi argued that to work towards the realisation of women owning land and more, a campaign to persuade the Myoot Council of Elders who are the custodians of culture in a community and religious leaders, must be undertaken so that they can support women land rights and joint titling.
SEE ALSO: Kericho journalist Timothy Kemei dies
Myoot Kipsigis Council of Elders Chairman Paul Lelleito, however, opposed married women going back to reclaim their fathers land. "The issue of married women going back to claim their fathers land has never been part of the Kipsigis traditions and culture. As we have always said, the only women who can get a chance to inherit their fathers land is the unmarried women," he said. Even members of the clergy led by Rev Jonathan Rotich of the African Inland Church(AIC) in Bureti, leaned toward the elders view. "The Bible states that when Abraham wanted to look for a wife for his son, he dispatched his workers to Rebekah. She left her home and settled with Abraham family and never went back to her maternal home to lay claim on any property," he said.