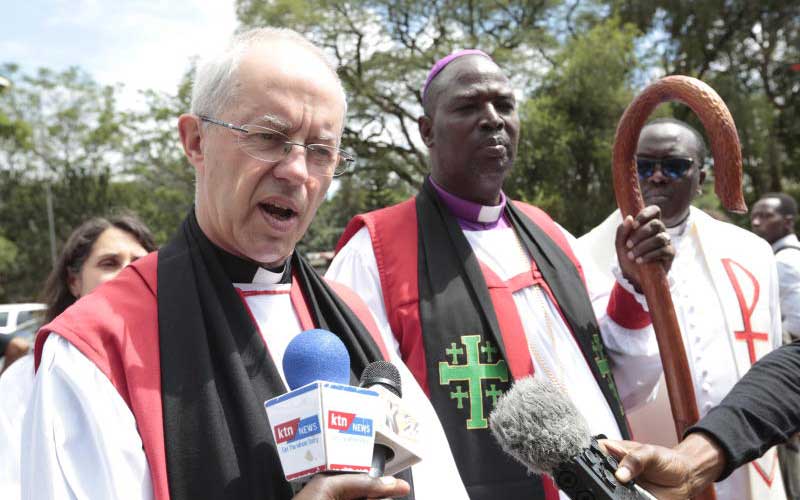 The Anglican Church has declared it will not officiate same-sex marriages.
The stand comes just weeks after the High Court in Kenya declined to declare unconstitutional some parts of the Penal Code, which criminalise same-sex unions.
Yesterday, Archbishop of Canterbury Justin Welby said the church believes in the biblical definition of marriage and relationships.
Welby, the most senior bishop in the Church of England, called on Christians to respect each other's differences in order to preach God's word.
"There exists many differences in the world today which the Church has to deal with.
Read More
"My own view of the Christian marriage is the traditional marriage (between a man and woman)," said Welby, who is visiting Kenya.
He steered clear of the High Court ruling, the latest upset of the global gay community, saying he is not fit to comment on it. "But just so you know, in England, it is not possible to have same sex marriages in the church," he said.
Same sex marriage is, however, legal in England.
Welby made the remarks after a service at the All Saints Cathedral in Nairobi, where he was accompanied by Anglican Church of Kenya Archbishop Jackson ole Sapit.
Sapit said they will keep doors open to all people no matter their backgrounds as per Romans 3:23, which says 'all have sinned and fallen short of God's glory'.
But he maintained that despite modernity, the church will stick to the teachings of the Bible as far as marriage is concerned.
"We cannot conduct same sex marriages as it will mean we are promoting it. Let them come and be preached to know what they are doing is wrong," he said.
He said the church would act as a "correctional facility" for those involved in what goes against the Bible and Constitution. "But having them walk down the aisle or ordain them is wrong," he said.