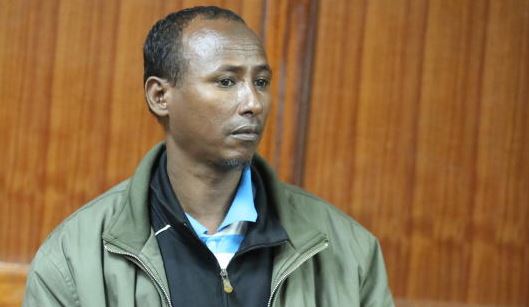 A driver who worked for the two Cuban doctors abducted last month will be detained for five more days, a court has ruled.
Isaac Ibrein Robow, who police allege colluded with kidnappers to abduct the doctors, Assel Herera and Landy Rodriguez in Mandera, was arraigned at a Milimani court yesterday.
State prosecutor Harrison Kiarie read a sworn affidavit by Chief Inspector Nicholas Kimanthi of the anti-terror police unit, opposing the release of the driver on bail.
Mr Kiarie explained that a few kilometres after picking the Cuban doctors, a Probox car blocked them and its occupants opened fire.
He said the information gathered so far indicate that Mr Robow (pictured) was involved in the plot, having been in communication with other suspects.
Read More
"Your honour the charges facing Robow are very serious, which upon conviction, could see him face life in prison. This makes him a flight risk," Kiarie said.
Milimani Principle Magistrate Martha Nanzushi directed that Robow be remanded. The ruling on the bail application will be made on March 28.