UN leads united push on green tech solutions as global temperatures rise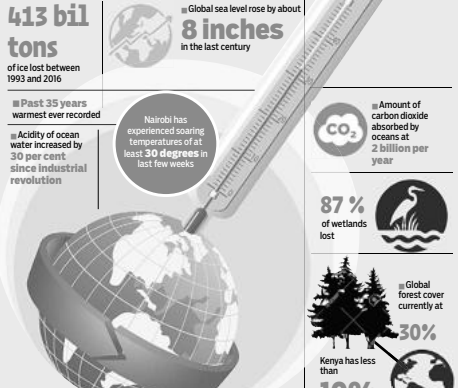 The UN, tech giants, and policy, finance and science communities yesterday teamed up to launch major new pushes on using cutting-edge technology to create cleaner, greener and more efficient solutions to sustainable development.
Key figures from these sectors are joining civil society representatives in Nairobi at the second UN Science-Policy-Business Forum on the Environment, meeting for three days in advance of the fourth UN Environment Assembly.
The Assembly kicks off tomorrow and runs to Friday, bringing together players from all over the world to deliberate on environmental matters.
UNEA has 193 UN member states and brings together over 2,000 participants including heads of states and governments, ministers, UN heads, executives, private sector and civil societies.
The goal of the Science-Policy-Business Forum is to uniteinfluential organisations and individuals from different sectors in the common goal of using the environment sustainably for the benefit of all.
This year, the Forum sees the launch of two major initiatives: the first international Working Group on Big Data and Artificial Intelligence Convergence and the Green Technology Startup Hub.
Open-source platform
"There is no doubt that rapid technological advancement played a major part in the troubles we face," said Joyce Msuya, acting Executive Director of UN Environment. "But it is that technology – through humanity's ability to invent and innovate – that can help to save us. The Fourth Industrial Revolution offers a real opportunity to create cleaner, greener and more efficient solutions to sustainable development."
The working group aims to build an open-source platform for big data on the environment, and explore new spaces in Artificial Intelligence and machine learning. It unites techgiants, Earth Observation institutions, the science and policy communities; green tech start-ups, citizen scientists and the worlds of finance and industry.
"We cannot ensure implementation of the 2030 Agenda without concrete data, which allows us to identify opportunities, ensure evidence-based decision making, direct investment and track progress," said Siim Kiisler, President of the Assembly and Minister of Environment for Estonia. "I am confident that we will make immense progress."
The Green Technology Startup Hub, meanwhile, will act as an accelerator and incubator of start-up innovation for the environment, as it examines the enabling policies and actions required to use such innovation to transform the world into greener and more sustainable living.
Startups are not only transforming markets and economic growth, some are helping to save the planet.
Venture capital investment in startups has surged to its highest level ever – $148 billion last year alone. More than 40 Venture Capital-backed companies have achieved billion-dollar valuations.
This year's UNEA, themed Innovative Solutions to Environmental Challenges and Sustainable Consumption and Production, is expected to have over 100 events.
Some of the challenges that will be up for discussion will be pollution, global warming and the rapid loss of biodiversity.
UNEA was created in June 2012 to mainstream environmental matters to capture attention given to issues like peace, poverty, health and security.
In a welcome note by Siim Kiisler, President of the UnitedNations Environment Programme (UNEP) states that there is a need to shift global economic systems towards more sustainable means.
"As never before, the time to act is now. We know we can build more sustainable, prosperous and inclusive societies with sustainable consumption and production patterns that address our environmental challenges and leave no one behind.
But we will need to create the enabling conditions for this to happen. And we will need to do things differently," says Kiisler.
The conference will have three focus areas: tackling environmental challenges related to poverty and natural resources management, including sustainable food systems and halting biodiversity loss; introducing life-cycle approaches to resource efficiency, energy, chemicals and waste management; and ensuring sustainable business development.
The meeting comes at a time when Kenya is grappling with polluted rivers, increased carbon emissions, forest fires and declining wildlife populations. President Uhuru Kenyatta and Environment Cabinet Secretary Keriako Tobiko are expected to address the Assembly.