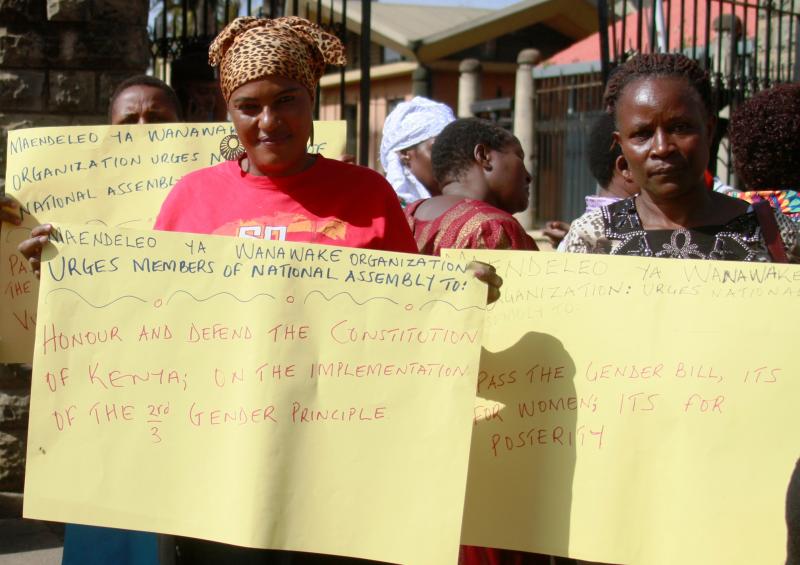 The road to legislating the two thirds gender Bill has been bumpy and tumultuous, but nothing describes it better than the hypocrisy and lack of commitment from major political parties.
For the umpteenth time, failure by Parliament on Wednesday to take a vote on the gender Bill signifies complete indifference and nonchalant attitude by MPs and may signify a deeper opposition.
The Bill tabled by National Assembly Majority leader Adan Duale, that seeks to amend the Constitution to provide for special nomination seats for women to bridge the gender gap in Parliament flopped for the fourth time, with only 174 members present.
Among other things, the Bill sought to create special nomination slots for women in the National Assembly and Senate and ensure not more than two thirds of seats in appointive and elective bodies will be of same gender.
Caught up on the crosswind is the National Assembly that risks dissolution over the constitutional requirement.
Read More
In December, immediately after failure by the National Assembly, two petitions were presented to the court seeking to have Parliament dissolved for being unconstitutional.
The petitioners - Stephen Owoko and John Wangai - want Chief Justice David Maraga to dissolve the National Assembly and Senate.
In March last year, High Court Judge John Mativo ruled that any Kenyan could petition the CJ to dissolve Parliament for failure to pass the Gender Bill. Even as the risk stands, it is evident that the move to pass the law, which publicly enjoys support of President Uhuru Kenyatta, his deputy William Ruto, opposition leaders Raila Odinga and Kalonzo Musyoka, is silently trivialised.
Majority of the male MPs remain opposed to the Bill, accusing their female counterparts of trying to intimidate them into supporting it.
By extension, their hardline positions presented to Parliament a remarkable show of defiance and shifting party loyalties, right under the noses of their party heads.
Duale said the country had continued to lose on the opportunity of having increased women leadership.
"Great nations of Germany and United Kingdom are led by women. Time is ripe for us to have our own Theresa May; it is time we have our own Angela Merkel," said Duale.
Jubilee Nominated MP David Sankok believes the Bill is not a priority for anyone including the President and opposition leaders.
"Forget what they are saying, do not read their lips, watch their acts," Sankok said.
For the Bill to pass, Parliament required 233 MPs of its 349 members in the National Assembly to support it.
"A manual head count shows there are only 174 members present in the House. This motion is therefore lost," said National Assembly Speaker Justin Muturi. In December, only 212 MPs were present.
Last year, Raila and Kalonzo sat at the Speaker's gallery to demonstrate their support for the proposed law but this also became a cropper as a mutiny by their MPs and those of Jubilee was evident. "The MPs exercised their independent rights, this should not be seen as defying party leaders," said Kiharu MP Ndindi Nyoro.
His Kipkelion West counterpart Hillary Kosgei said the genderrule can be achieved in the vote and there is no need to legislate it. "The country has been progressing; everyone can attest to economic, social or political development. We will progressively achieve the numbers," said Kosgei.
Now a new Bill that enjoys support of male MPs across the political divide has been mooted to change section 81b of the Constitution and have elective positions exempted from the two-thirds gender rule.
The Bill has been sponsored by Turkana South MP James Lomenen and his nominated counterpart Sankok.
The Bill enjoys bipartisan support of male MPs but it is unclear if it will get the two-thirds required to occasion the intended change in law.