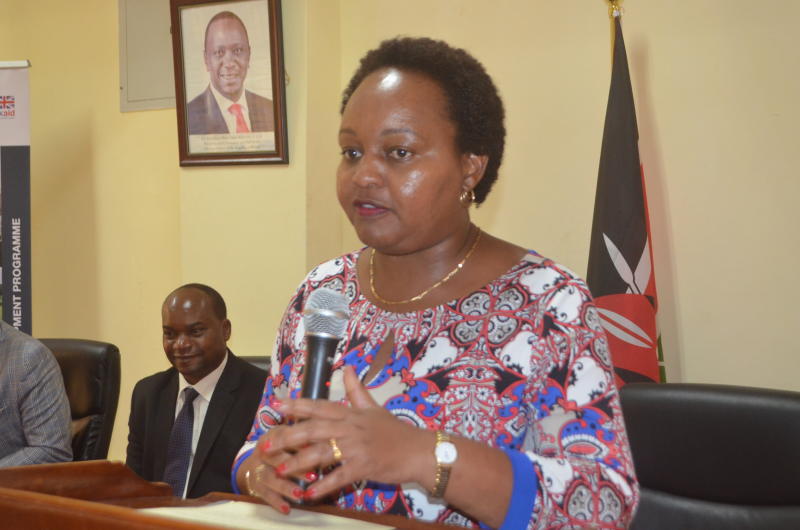 With the sixth Devolution Conference only a few hours away, there is a beehive of activity at the Kirinyaga University grounds. The constructors are doing final touches on the VIP tents for the over 6,000 delegates attending the conference for a week. Various television stations have already brought in their outside broadcast equipment ready to air live the proceedings of the conference that runs from tomorrow to Friday. Though none of the security agents is willing to confirm how many law enforcers will be deployed, about 500 police officers will man the conference.
SEE ALSO: Waiguru blames Kibicho for budget impasse, political hostility
The officers have been sourced from neighbouring counties of Embu, Nyeri and Murang'a to help the hosts beef up security. Some temporary tents have also been set up for the law enforcers to operate from within the venue. Just opposite the VIP tents, a parking lot for the delegates has been set up with maximum security detail. Local hospitality providers said their premises have been overbooked and cannot accommodate more visitors. Kirinyaga Governor Anne Waiguru said since this will be the first devolution conference in a rural set up, the organising committee was aware of the acute shortage of accommodation facilities.
SEE ALSO: EACC grills Waiguru over graft claims in failed impeachment motion
Worked out
"We all agreed that due to the proximity of the conference venue and the neighbouring counties, such counties will provide alternative accommodation arrangements for the delegates and this has since worked out well since none of our visitors has not been catered for," she said. The governor said hotels in Embu, Murang'a and Nyeri counties have made accommodation arrangements for those who could not get space in Kirinyaga. "We have also made transport arrangements for the delegates, and since from either direction or county it cannot take more than 30 minutes to get to the venue, I'm sure this move will work out well for our visitors," said Waiguru. Local hotel owners and operators said business had picked up. Kabui Mwai, one of the operators, said they have formed a hospitality consortium to ensure the delegates are properly fed. "We are more than prepared to provide high quality services to the delegates who will also be able to sample our local delicacies, including home grown and aromatic Mwea Pishori rice," Mwai said.
SEE ALSO: High octane politics awakens the dormant Kirinyaga county
County Commissioner Samson Ojwang assured delegates of enough security. "We have not left anything to chance since our law enforcing agents both uniformed and plain clothed are already on the ground," he said. This afternoon, there will be a precursor football match between governors, senators and MPs at Kerugoya Boys' High School. The pitch has received a facelift.