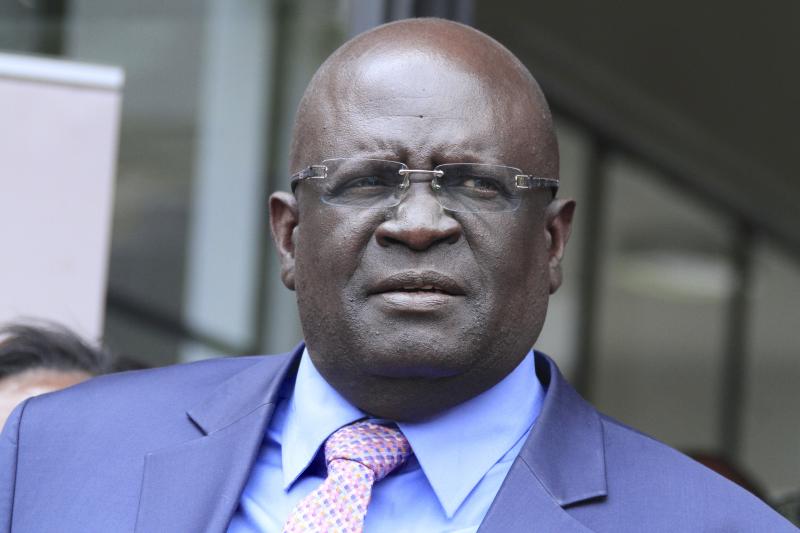 What happens when a bright Form One student sneaks out of Starehe Boys Centre to ride a borrowed bicycle in the heart of Nairobi while his peers are in class?
What if the same boy comes in the crosshairs of one of Kenya's most dreaded law enforcers, Patrick Shaw?
The newly nominated Cabinet secretary for Education, Prof George Magoha, has the answers and some very unpleasant memories.
Magoha, who had joined Starehe Boys in 1967, was shocked when he was caught red-handed by a man who could make hardened criminals pee in their boots, Patrick Shaw.
"My proverbial 40 days came one day when I was caught by Mr Shaw riding a borrowed bicycle in town during class hours. He smashed the bicycle to smithereens and took me back to school. When the director returned to his office at NYS headquarters, it was six of the best for me," writes Magoha in his autobiography, George Magoha: Tower of Transformational Leadership.
Read More
Magoha's early life, it appears, was dictated by the spinning wheels of other people's bicycles.
As a young boy, he was hit by a bicycle while he was on his way to Jina Primary School in Yala in a freak accident that left him with a broken collarbone and other side effects, which demanded the attention of a specialists at King George's Hospital (current Kenyatta National Hospital) in Nairobi.
He had difficulties breathing and a swollen neck, and his parents thought he was going to die because he developed asthma.
Concerned, his father took him to King George's Hospital, where he was treated by Dr James Angawa who was in charge of infectious diseases unit.
Angawa, Magoha explains in his autobiography, influenced his perspective on life and made the budding scholar yearn to be a medical doctor.
It so happens that even after being selected to join Starehe Boys, where he passed a test at Wilson Airport and won a slot in Form 1T, a class for future engineers, he approached his teachers and begged to be let out as he wanted to become doctor.
Prior to joining Starehe, Magoha recalls how he had joined a band founded by the legendary musician, Ochieng Kabasseleh.
"I was a band member of L'Ochestre Lunna Success De La Capital founded by Ochieng Kabaselleh, who was a student of Pumwani High School. All the members of the band have since passed on," he writes.
Recorded a song
And for a year, the teen strummed the strings of his guitar, specialising in bass, and proudly went to Melodica Studios, where their band recorded a song and sold the rights for Sh300.
When the money was shared out, Magoha remembers taking home only Sh30. This was not a lot of money then, for when he joined Starehe a year later, the annual school fee was Sh200 for day scholars.
But he was not destined to be a musician for long, given the strict discipline demanded by the new school whose motto is still ingrained in his minds, more than half a century later.
The school motto then was "To mould a whole man ardent in piety towards God, strong in patriotism and not petty tribalism, devoted to duty, willingness to go an extra mile, courageous in adversity, peaceful at temper, not a coward, protector of the weak, prudent in decision making, temperament and honourable."
It is against this background that he dropped out of the band.
Although at the time he regarded the school's founder as a dictator who was curtailing his teenage aspirations, the renowned doctor says he is forever grateful to the values inculcated in him by Starehe.
When he sat his Form Four exam in 1970, he passed with a Division One, proceeded to Strathmore and was admitted to the University of Nairobi (UoN), although his future was elsewhere, hundreds of miles away.
When he was admitted to the UoN, he applied for a scholarship to study at the University of Zambia, but things changed because another student, the daughter of Leo Odero, who was Kenya's High Commissioner to Zambia, had also won a scholarship.
Swap places
She was supposed to go to the University of Lagos, but was unhappy and the father requested Magoha to swap places. That is how he ended up in Nigeria, where he did his undergraduate and postgraduate studies, secured a job and a wife. According to Magoha, his return to Kenya in the UoN School of Medicine in 1988 was a climb down, for he was to get a paltry Sh6,000 a month salary, compared to the Sh100,000 he had been earning in Lagos.
One of his most trying moments was the day Kenya Revenue Authority (KRA) froze all the UoN's accounts because the university had not been paying the statutory Pay As You Earn (PAYE) tax deducted from staff salaries.
His nightmare came in January 2005 after he was appointed UoN vice chancellor. He says he was in a meeting with other VCs at Egerton University when he learnt that the accounts had been frozen because of a Sh1 billion debt.
Although he had anxious moments, he saw this as an opportunity to hone his managerial and leadership skills, for he was able to successfully convince the government to reopen the accounts.
This acid test and techniques he employed to tame riotous students, who had at one time made the streets of Nairobi unlivable, armed him with the nerves of steel he deployed to eradicate examination cheating at the Kenya National Examinations Council (Knec).
The lessons from Shaw's hiding and Starehe's motto will come in handy as the celebrated urologist midwifes the new education curriculum as he takes over the troubled Ministry of Education.