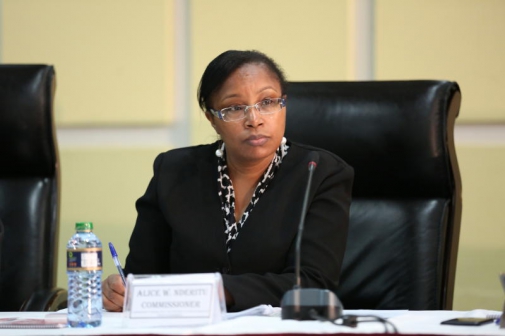 On the day an anti-nuclear lobby was being unveiled as the 2017 Nobel Peace Prize winner in Oslo on Friday, a Kenyan woman was being honoured with a related global award in Ottawa, Canada.
After spending years in rusty villages in Nigeria negotiating peace between rival communities, the former National Cohesion and Integration Commission (NCIC) member Alice Nderitu was honoured with the inaugural Global Pluralism Award for promoting respect for diversity.
The award is sponsored by Global Centre for Pluralism founded by His Highness the Aga Khan in partnership with the Government of Canada. It features 50,000 US Dollars award kitty to further her work.
At an announcement in Nairobi on Friday ahead of the actual ceremony in Ottawa on November 15, Nderitu was celebrated as one of Kenya's unsung heroines by family, government officials, elders and activists.
"She has successfully mediated peace processes in Kenya and Nigeria and against great odds. Her style is exceptional in terms of involvement of desire to promote diversity. She deserves our utmost respect and I truly admire her strength and conviction," Canadian High Commissioner to Kenya Sara Hradecky said.
Read More
Nderitu's colleague at the Centre for Humanitarian Dialogue Meredith Preston-McGhie said the ex-NCIC commissioner has a unique capacity to win trust in both high and low places.
"She does not approach it from the point of sharing the cake. She approaches it from the point of making a bigger cake for all to share. She's a unique peace-maker," Meredith said.
Risk taker
In Oslo, the Norwegian Nobel Committee settled on the International Campaign to Abolish Nuclear Weapons (ICAN), a coal a coalition of grassroots non-government groups in more than 100 nations for 2017 winner.
"We live in a world where the risk of nuclear weapons being used is greater than it has been for a long time," said Berit Reiss-Andersen, the leader of the Norwegian Nobel Committee.
In Ottawa, Nderitu was distinguished by former Canadian Prime Minister Joe Clark as "peacemaker, conflict mediator and gender equality advocate" par excellence.
"Her values-based approach helps parties to envision a viable alternative to conflict. She has led them to appreciate diversity, allowing the interests, values and participation of different groups to be respected. Her example offers a much-needed path forward for the many ongoing conflicts around the world," Clark said of her.
In 2015, Nderitu mediated an armed conflict among 29 ethnic communities in Southern Kaduna Nigeria. Last year, she moved to Nigeria's Southern Plateau where she was the lead mediator in an inclusive dialogue between 56 ethnic communities. She was the founder and co-chairperson of the Uwiano Platform for Peace, a conflict prevention agency that relies on crowd-sourcing.
"It is an incredible honor and although our work is far from over, the feats we have scored here and elsewhere are not in vain. The spectacle I have caused in Nigeria as a first woman mediator has been thrilling. Above all the pleasure of seeing communities speaking to one another once again has been satisfying, and now this!" Nderitu told Sunday Standard.
Nderitu is also part of an eminent group of volunteers working behind the scenes to avert violence in the upcoming presidential election.