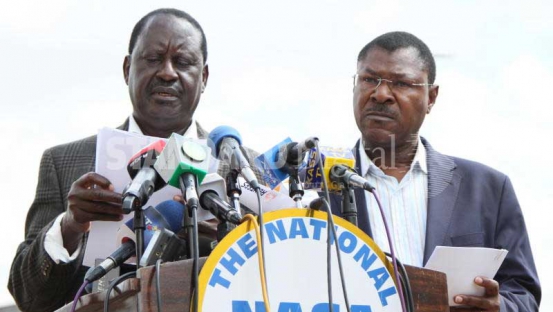 Opposition chief Raila Odinga has reignited the tetanus vaccination debate, claiming it was a State-sponsored tool for mass sterilisation.
Raila, in rare support for the Catholic Church which at some point opposed the vaccine, accused the Government of what he termed 'State-sponsored infertility in women'.
In January 2014 and 2015, the Catholic bishops vehemently opposed the vaccine, claiming that one-third of the vials tested contained a hormone linked to birth control.
The church claimed that the vaccine was targeting women of child-bearing age and that it contained elements that prevented them from conceiving.
Raila seems to be reading from a similar script, claiming that multiple results from health experts had confirmed that the tetanus vaccine used in the immunisation exercise triggered infertility in women aged between 14 and 49.
Forced practice
"Sterilisation without full, free, and informed consent globally is an involuntary, coercive, and/or forced practice and is a violation of fundamental human rights," said Raila.
The National Super Alliance (NASA) leader demanded that the Government provide a complete list of all those who took part in the vaccination, apologise to them, and explain how it intends to reverse the damage.
He said should NASA form the next government, it will set up a task force to establish the vaccine's victims, recommend appropriate compensation for them, assign responsibility, and initiate ways of reversing the damage.
"This is the greatest crime against humanity ever committed against the women of Kenya and the most diabolical attempt at social engineering. No one can tell the worth of a woman's fertility or sterility," said Raila.
Growing populations
He said that as a result of the administration of the vaccine, thousands of girls and women aged between 14 and 49 from the fastest growing populations in the country will not have children because of what he described as 'State-sponsored sterilisation'.
"Based on results that are now available to us, it is clear that the tetanus vaccination is one of the most callous human rights abuses committed against innocent girls and women in Kenya," he said.