Kyanguli School fire tragedy that claimed 67 lives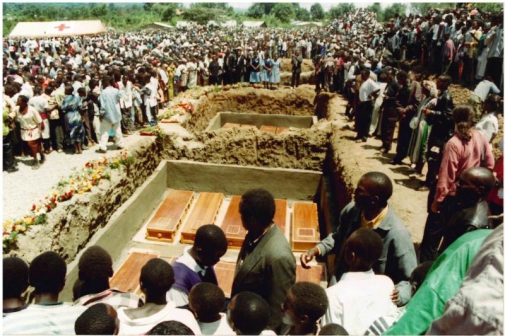 On March 27, 2001, I was woken up at about 3am by persistent ringing of my phone. The name of then Director of Criminal Investigation (DCI) Francis Sang's flashing on the screen was all it took to fully awaken me.
"Please don't bother us with calls for stories today. Proceed to Machakos where students have died in a dormitory fire," the DCI said.
It was to be a day I would willingly spend without appetite for food save for an occasional swig of water. I called the office to request for a car. With photo editor Yahya Mohammed and John Munge the driver, we left for Machakos.
The sight that welcomed us at Kyanguli Secondary School at about 5:30am will forever remain etched in my mind.
Police had cordoned off the scene and parents were not allowed inside the school. The three of us were allowed in. Surviving students quietly sat in groups in the field. In the dormitory, the scene of charred bodies was only comparable to those of the August 7, 1998 US Embassy bombing in downtown Nairobi.
Smell of petrol
Sixty seven students died in the fire, one of the country's biggest fire death toll to date. Twenty one were injured while 70 survived from a dormitory of 200.
So shocked at the scene of charred bodies in one corner was Munge that he quickly excused himself and returned to the car. After the incident, Munge became a staunch Christian. Some bodies had shrunk to the size of an inflated football while others were partially burnt.
Meanwhile, Yahya continued clicking pictures of the devastation as I talked to students from whom I quickly established that the fire had been started by some of their colleagues.
One survivor, Benson Mbithi (then 16) narrated how he woke up to screams, smoke and the smell of petrol. His petrol narrative was collaborated by another student, Musango Mwinzi.
Survivors claimed both doors were locked from outside. This was evident from the many bodies piled next to a window whose barricade they had been trying to rip off. The fire brigade never reached Kyanguli.
Shocked, then President Daniel Moi visited the school that afternoon and ordered a thorough investigation. The Government declined requests by parents to view the bodies because they were unidentifiable. All bodies were buried in one grave.
A day before the fire, two notes had been pasted in school toilets urging students to boycott classes after the results of more than 100 of their colleagues had been nullified by the Kenya National Examination Council (KNEC) over alleged malpractice.
A hand-written note on March 23 had asked the students to boycott the morning parade. The school did not take appropriate action over the two notes.
Then Divisional Criminal Investigations Officer (DCIO) John Maritim requested me to help gather more information.
I gathered that on the fateful night, some students had sneaked out of school for a disco. They sneaked into the school five litres of petrol.
Deep sleep
Police investigations later established that a group of students led by Felix Mambo Ngumbao started the fire before escaping from school.
Detectives traced and arrested Ngumbao in Nairobi's Dandora estate where he had fled. Also arrested was Davies Onyango. They were both charged with murder.
One of the suspected students was also linked to the strangling to death of his sister in Umoja's Innercore estate.
The parents of the Kyanguli fire victims were in 2016 awarded Sh41 million by the court for the deaths. Each family received Sh650,000 in compensation for what the court ruled as negligence.
Like in the Moi Girls School fire, parents knew of the Kyanguli fire either through news outlets or phone calls from relatives and friends. In both incidents, the fire began in the wee hours when students were in deep sleep. Students scrambled to get out through a single door from congested dormitories.
Despite commissions of inquiries established for both the Bombolulu (where 25 girl students were burnt to death) and Kyanguli tragedies, their reports have never been made public nor recommendations implemented