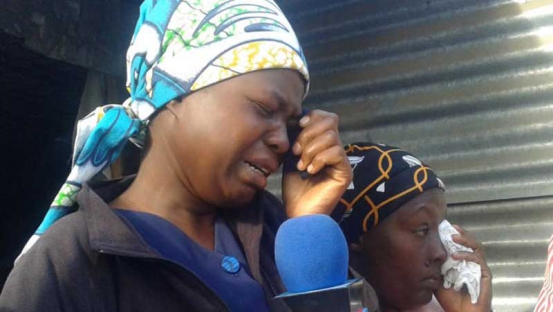 A woman Thursday lost four children in a fire in Kajiado's Maloi estate, Kiserian.
Ruth Wangari left her house at noon to buy vegetables for lunch, leaving a sufuria of water on a stove.
"I feel as if life has become worthless. I have lost everything," she said, as tears ran down her cheeks. She now has only one surviving child.
Her husband, Evans Ndereba, could not hold back his tears as he narrated the story.
"God gives children and it is He who takes them. He has taken them from us," said Mr Ndereba.
The 39-year-old father who works at a bread depot in Kiserian town was at work when the fire broke out. He had left for work at 6am and did not expect that he would not see his children again.
"I left them while they were still asleep but a neighbour called me at 12.30pm and informed me that something bad had happened at home. He declined to give me the details. I boarded a motorcycle and when I arrived, I asked where my children were but a neighbour told me that they were no more," he said.
Struggle to survive
The badly burned bodies of Esther Mumbi (six), Joseph Wa Kagwe (four), Timothy Mwangi (two), and Jane Wangoi (one) were pulled out of their parents' bedroom.
When The Standard visited the home, the bodies were lying on the bed. It appears the children sought refuge in their parent's bedroom from the raging inferno.
"The children might have sought refuge by covering themselves with a blanket on their parents' bed after the fire started in the kitchen," said Ann Waithera, a neighbour.
Household goods were strewn all over the three-room iron sheet structure as neighbours talked to one another in low tones, struggling to come to terms with the tragedy that had befallen their neighbour.
"I was in my house preparing lunch when I heard children screaming. I came out of my house only to see smoke bellowing from the house. I screamed, attracting the attention of the neighbours, who rushed to the scene," Ms Waithera said.
She added: "After a few minutes, the children went silent and we knew that the worst had happened; they died."
Grieving mother
She said the fire might have started in the kitchen before spreading to the rest of the rooms.
The mother of the children was overwhelmed and could not give many details about the fire.
"I had gone to buy vegetables to prepare lunch for my children but when I came back, the house was on fire. I had struggled to raise these children and I cannot imagine that they are no more," said Ms Wangari.
She could not remember whether she had locked the door from outside when she left. Julia Evans, a neighbour, said that by the time the residents realised that there was a fire, it was too late to save the children and salvage any property.
"I was washing utensils and I heard women screaming. I hurried from the kitchen to get a glimpse of what was going on. My neighbour's house was ablaze. Some women rushed to the scene, but it was too late," Ms Evans said.