Kimathi's widow reveals her role in Kenyatta and Odinga battles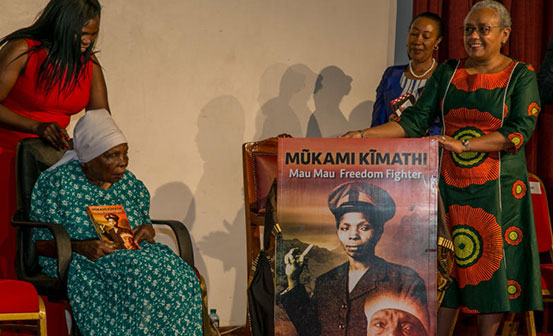 Widow of hanged freedom fighter Dedan Kimathi rebuffed political overtures from Kenya's founding President Jomo Kenyatta and founding Vice President Jaramogi Odinga.
In her new book, "Mukami Kimathi: Mau Mau Freedom Fighter", launched Friday, Mukami Kimathi tells of the pain of Mau Mau land dispossessions, the shame of post-independent bickering and the joys of living with colonial government's worst enemy — Dedan Waciuri Kimathi.
"I was under heavy pressure from both Jomo Kenyatta and Jaramogi Odinga to take sides with either. Odinga created a new political party and needed my support and that of Mau Mau. Kenyatta on the other hand wanted Mau Mau to resist Odinga's overtures. I was tired of the divisions," she says.
She writes of the irony of the two gentlemen 'fighting over the food already on the table' after Mau Mau heroes and heroines had paid the ultimate price for it in the forests.
"Before my husband died, he had said the harvest was ready. He had done the work that needed to be done but these two men, both whom I respected, could not agree on how to share the harvest and therefore build Kenya together. I decided not to take either sides with any of them," she says.
The book, a first for a Mau Mau heroine, is written for Mukami by former National Cohesion and Integration Commission (NCIC) commissioner and neighbour of the Kimathi's Alice Nderitu.
In the book, Mukami talks of how home-guards, collaborators and loyalists turned the tables on Mau Mau after independence. She writes of the humiliation she felt in national days when school children praised their leader's role in kicking colonialists out of Kenya.
"Nobody spoke of their role as a collaborator, loyalist or homeguard. Every African was now a hero who had fought for freedom," she says.
She writes of how her life sunk after Kanu failed to renew her nomination as a Councillor, how she almost lost custody of her children to a children's home.
Mukami also writes of her life in detention with country's founding First Lady Mama Ngina Kenyatta and the mistreatment they went through a cruel prison warden only identified as "Musyoki."
"He routinely taunted the women picking in particular on Ngina Kenyatta and myself. On one occasion he refused to give us food for ten days. Ngina Kenyatta and I peeled termite soil from the wall, mixed it with water and ate the paste," she says.
She says at the Kamiti Prison's "Kambi ya fisi", Ngina was assigned the duty of taking care of all the children of the prisoners working in the fields. She had more than 50 children in her care and would feed and clean them all day.
"I would come from the farms or quarries and find Ngina with a child strapped to her back, another on her stomach while rocking two more with her hands," she recalls.
In the book, Kimathi's widow writes of the humiliation she was forced to go through after her husband's hanging and after she was released from prison in 1957. She says she found home-guards completely in charge, seizing Mau Mau land and demarcating them.
"The Chief made me work for them in the most humiliating of assignments, that of demarcating the land for people. The land I worked on included my own husband's inheritance from his father, the Kimathi family land. I was forced to dig trenches demarcating the Kimathi land for other people as home-guards whipped my back," she says. Mukami also confirms some of the myths of Kimathi prevalent in Central Kenya tales. She says it is true Kimathi could imitate the sounds of many wild animals like elephants, rhino and lions.
In the book, Mukami bares it all except the contents of the Mau Mau oaths that she took. She also adamantly refuses to disclose the how, why and what her late husband came to do in Nairobi severally in the course of the emergency.
"I will never, ever reveal what I swore to in the oaths I took. I will never betray the oaths I took," she says in the book.She says Kimathi was troubled over failure to meet or see his dad who had perished in the First World War as a carrier corp.
She also writes of how South African freedom fighter Nelson Mandela wept on her after an emotional visit to Kenya in 2005. She says Mandela was full of admiration for her late husband.
The book was published by Mdahalo Bridging Divides Ltd and the foreword was done by Mau Mau historian Prof Maina wa Kinyatti.