Motion proposes hefty fines and jail terms for illegal dumping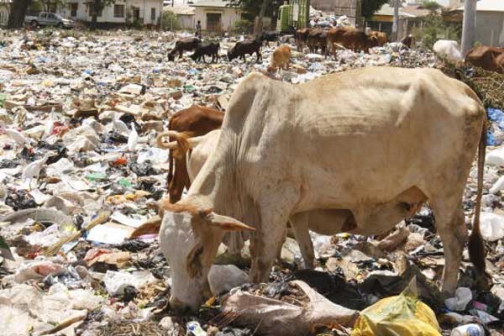 New proposals seek to impose a Sh100,000 fine on anyone found dumping hazardous waste in undesignated areas.
Those who cannot raise the fine will be imprisoned for not less than a year.
Nominated MCA Mohamed Hatimy tabled a motion, Maintenance and Enforcement of Environment Hygiene, that seeks to review the fines upwards.
"Any person who places or permits to be placed any refuse anywhere except at designated collection points shall be guilty of an offence and upon conviction, a fine not exceeding Sh3,000; dumping of hazardous waste per tonne, discharge of waste water a fine not exceeding Sh100,000 or imprisonment to a term not less than one year."
The proposals were tabled in the county assembly yesterday.
Although the county government has provided trucks in different parts of the county, littering and dumping of garbage in undesignated areas has continued unabated.
Governor Hassan Joho's Environment Advisor, Vipul Patel, said the county was trying to inculcate proper waste management and disposal strategies but had been encountering challenges due to lack of legislation for implementing the measures put in place.
The Department of Environment is working closely with sub-county administrators to ensure required garbage management standards are achieved. The county has also closed some undesignated dumpsites at the fish market, Kongowea and Changamwe, and is clearing the Mwakirunge and Kibarani dumpsites.
"Although the county enforcement officers have been arresting people who dump garbage carelessly, the by-laws have not been punitive enough to discourage the trend," Mr Patel said. He added that the new law would complement the county's efforts to make Mombasa a clean and healthy environment for all.
The motion seeks to compel every household or business owner to ensure clean and sanitary disposal of waste, and to keep clean and well-swept courtyards, walkways and premises.
"They will be compelled to make sure that no foul water emanates from their building. Occupants of those buildings should also make sure that their houses and premises have dustbins with fly-proof lids attached to them," Mr Hatimy said.
If passed, residents will have just 21 days from the date of passage to implement the new laws.
Under-fire Wenger calls for Arsenal unity
Arsenal manager Arsene Wenger has urged everyone connected with the Gunners to remain "united" despite seeing the club slip further behind in the Premier League title race.