Why 2017 will mark end of the Kenyatta, Oginga rivalry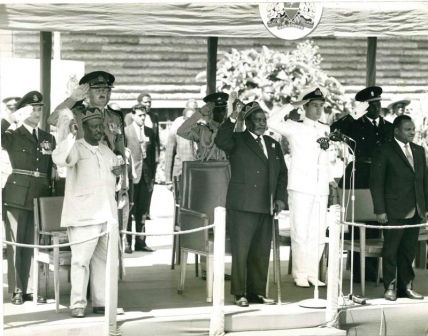 The biggest news in Kenya's New Year agenda is the August 8, 2017 General Election. It is a political watershed moment that will bring the curtains down on a 50-year political rivalry involving sons of Kenya's independence-era politicians.
It will be the final time that Uhuru Kenyatta, the current President and son of Kenya's founding President, Jomo Kenyatta, will face off with his formidable rival Raila Odinga or a protégé of the former Prime Minister in the opposition super alliance currently under delicate gestation. Raila is the son of Kenya's first Vice President and doyen of opposition politics Jaramogi Oginga Odinga.
The rivalry has a bloody history that has claimed hundreds of lives in episodic moments of madness. Their fathers were ideologically disconnected shortly after independence: The senior Kenyatta was a capitalist; the senior Odinga was a socialist. The government was too small for the two egos and strong independent minds. Kenyatta, being the President with all the instruments of power, triumphed.
There was a lull when the senior Kenyatta died in 1978 and as the sons – who had played together in their childhood — grew up. Then in 2002, that undeclared ceasefire was shattered when Raila's political endorsement of Mwai Kibaki as the sole opposition candidate locked him (Uhuru) out of State House. Fast-forward to 2017, these scions of the two strong leaders are tucked in their respective corners, firing provocative political missiles and stirring their respective fanatical supporters into battle-ready mode.
They are engaged in a populist duel, where one, President Kenyatta, is riding on the dividends of incumbency and painting Raila as a power-hungry opposition leader; while Raila is playing the people's champion painting Uhuru as the mastermind of a plutocratic elite, sustained by looting public coffers, which needs to be defeated.
The final political bout is taking place in a very different environment. It is a different time: The civil society has been intimidated; the diplomatic community is docile as foreign envoys struggle to supplicate and pledge loyalty to the Uhuru government; the Church, which during the earlier duels was a voice of reason, is now rudderless – a lone voice in the wilderness.
The times have changed so much that the President can threaten the US government by reneging on an agreed programme of electoral reforms, and instead of sanctions or even pulling the funding, the answer has been meek diplomatic statements that don't mean much in the charged Kenyan political terrain.
Then, there's the age factor, Raila is 72, Uhuru is 56. With nearly two-thirds of the population under 25 years – if the figures of the Kenya Demographic Health Survey are anything to go by—Raila's reform credentials are unlikely to remain relevant after this year's election.
In case he loses, and he has the energy to vie again, he will be 77, and the allure of fighting the Kenyatta's directly would have lost its sheen – plus the reform narrative would not make sense to the majority of young voters who view the liberation record as old history. It is perhaps because of this that Uhuru has styled his 55-year-old self as young and hip.
Reading through rare records of Uhuru's private conversations about politics, the impression that comes across is that he really believed that Raila's "last real chance at the presidency" was in 2007. Then, Uhuru was 46 years old, while Raila was 62. But five years later, Raila ran against him in 2013 and is poised again to try in 2017.
Then, like now, Raila herded the opposition bigwigs to his corner, and vigorously campaigned against a government that was deeply corrupt and one that had deeply alienated some regions of the country through skewed tribal appointments. The government then was so worried to an extent that Francis Michuki, the son of a then powerful minister John Michuki, approached the Americans and put a pointblank question: "Can't you help us rig this thing?"
The Americans, in their classified records that were made public by Wikileaks, said they rebuffed that request.
Raila believes it is his "last bullet" to capture the presidency and is pulling all stops to ensure he kicks Uhuru out of power.
This time, Uhuru has publicly attacked the Americans for trying to topple him through funds being channeled into the country for civic education. The Americans have denied that claim. Uhuru's supporters have sensationally claimed the opposition plans to rig the vote with foreign help. They don't say how. Though the Ipsos polls and Global Intelligence think-tank, Stratfor, say Uhuru is "popular", his administration has been clumsy. Doctors are on a debilitating strike that has paralysed the country's public hospitals, yet he remains unusually quiet.
The freshest blunder that will be carried over into the New Year is Uhuru's move to change the electoral laws, a political howler that has sparked a three-pronged attack from the country's opposition: a political fight in Parliament, a legal fight in court, and a street fight in the name of "peaceful, non-violent and legal mass action."
Graft scandals
The lecturers of public universities too are poised to go on strike over pay; and still Uhuru's government has been riddled with corruption scandals, that have made anti-corruption activists such as John Githongo, to declare this government as the most corrupt in the country's history and economist David Ndii to urge Kenyans to elect "anyone but not Jubilee".
All these at a time when the economy is experiencing an undeclared crisis, with massive layoffs in dozens of private firms, erosion of riches at the Nairobi Securities Exchange, a ballooning public debt – which more than doubled to Sh3.6 trillion during Uhuru's term—and an unprecedented crash of the government's payment system – the Integrated Financial Management Information System (IFMIS).
The taxman too has failed to meet his targets. The situation appears so bad, that Odinga, who came second in 2013 General Election, which he believes were stolen from him (even though the Judiciary ruled that Uhuru won) has declared rather extravagantly that "the country is broke."
When they speak, Uhuru and Raila have no kind words for each other. When he was in his stronghold in Mt Kenya region, he called Raila "a mad man"; his deputy William Ruto called him a mganga (witchdoctor).
And when Raila's supporters – actually an angry opposition lawmaker Millie Odhiambo— responded with insults, Uhuru dismissed those insulting him as "idiots".
Raila has labelled Uhuru's administration as irredeemably corrupt, "anti-reformist" and one that has "no interest in free and fair election".
If you dig through the archives to retrieve the New Year messages that President Uhuru Kenyatta and Opposition chief Raila Odinga sent out to the country a year ago today, you will note that they spoke the language of "unity", "national cohesion", "peace" and "dialogue".
In fact, there's a distinct line that appears in both their messages emphasizing the need to "talk to each other rather than at each other".
But they broke that promise and have fought publicly. Every time the two get into a direct political duel, which often has a potential of escalating into violent conflict among their deeply loyal and fanatical supporters, you can feel the political tension.
The lingering threat of violent conflict as the country approaches 2017 has the clergy worried.
In separate interviews with The Standard on Sunday, Canon Peter Karanja, the Secretary General of the National Council of Churches of Kenya, and Hassan ole Naado, the Deputy Secretary General of the Supreme Council of Kenya Muslims, warned the two that the lives of 44 million Kenyans are more important than just the two of them.
To Raila, the Reverend Karanja said there was no point of issuing threats, because, the political decision will be made peacefully at the ballot; to the President, he warned him to stop being "provocative and to follow the law".
"This time round as religious leaders, we are not going to be disinterested parties in the election process," the NCCK boss said.
Civic education, monitoring the politicians' rhetoric and "listening sensitively" to the grievances of the political actors, will remain top priority for the clergy, Karanja said.
The NCCK boss and the top Supkem official agree that incitement and war-mongering politicians should be stopped, but the needs of the country and especially the desire for free, fair and credible polls, ought to be met.
"Everybody wins if the loser loses in a transparent process, but everyone loses if the winner wins in a corrupt and unclear process," said Hassan ole Naado. For Ole Naado, Kenyans have to look for new faces and stop recycling dynasties.
"Kenyans need to liberate themselves and stop this nonsense of becoming slaves of political families... we need to change the landscape," the Supkem official said. Whatever happens on Election Day – August 8, 2017— it will mark the end of a political duel, at least until, their children come of age and renew the fight. But what is clear is that come 2022, unless Uhuru loses in 2017 and bows out with the disgrace of being Kenya's only one-term President, and tries again in 2022; or unless Raila loses in 2017 (in his fourth presidential attempt) and tries again in 2022 – a highly unlikely event, there is no possibility of another head-to-head duel.
If Uhuru goes home this year and decides to vie again in 2022, he will be 61 years old, a year younger than Raila was in 2007 (when Uhuru thought it was Raila's last chance), and Raila will be 77, a year younger than Kibaki when he began his second and final term after the controversial 2007 poll.
President Kenyatta has repeated he won't give up power just yet; that he is in it for the long haul, and the only time he will step down is in 2022 and when he hopes to give his Ruto another decade in office.