Kenya: MPs differ over Afya House mobile clinics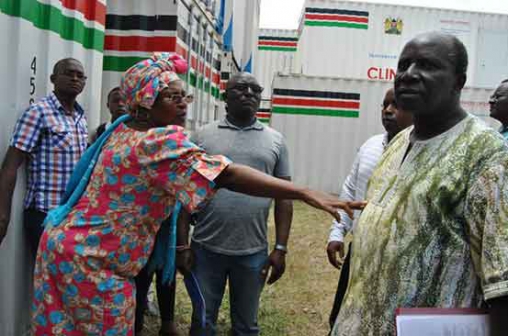 Members of the National Assembly's departmental Committee on Health yesterday toured National Youth Service grounds in Mombasa where containers modified into mobile clinics have been lying.
Disagreements emerged among committee members over whether officials on the ground had sufficient technical know-how to ascertain the value of the containers and equipment inside.
Another issue that came up was whether the national government through the Ministry of Health is justified to procure medical equipment for counties when health function has been devolved.
After back and forth from the team comprising medical professionals, each of the containers was opened by Ministry of Health (MOH) officials in the presence of the legislators.
At the end of the inspection, Committee chairman Rachel Nyamai said: "We can confirm that we have 99 containers which have been modified into mobile clinics."
Taveta MP Dr Naomi Shaban said she was impressed by what she had seen. "So far so good because the need [for these equipment] has been identified," she stated.
But Dr James Nyikal of Seme said the Committee was not able to ascertain if the containers and equipment were worth the quoted value of Sh10 million per unit.
"There are other things we can't ascertain especially the [cost of] building material. These are technical things," Dr Nyikal said, and added that the true position is that the mobile clinics have not been officially received by the MOH despite an earlier assertion.
Take a quick survey and help us improve our website!
Take a survey
Clean bill of health
Endebess MP Dr Robert Pkose, the Committee vice chairman said following the inspection tour, they were able to see the specified samples in the containers.
''After we compile our report, we shall seek the input of the Budget Committee that has specialised personnel to determine whether there was value for money in the whole process,'' Dr Pkose said.
But Mr Robert Mbui, the Kathiani Member of Parliament walked out on the Committee before the end of the inspection following disagreements with colleagues. ''What I am seeing here is a complete circus. We are being take round and it is as if this committee leadership is micromanaging the whole process of inspection,'' he said. "I do not want to be part of a process to rubber stamp this whole saga where only certain people are allowed to speak to media."
Health Ministry official Dr Isaac Odongo who is also Head of Curative and Rehabilitation Services said the portable container clinics were to be deployed to 100 designated locations, mostly in slums.
"It is here where there has been issues to do with accessibility and as part of the Jubilee flagship project- health care ranks high,'' Dr Odongo said, and added site identification and preparations where the portable clinics will be stationed was going on.
''We expect when all this is done the supplier will move on site to install the portable clinics before inspection and then launch is done,'' Odongo said.
The Standard on Saturday got a list of the designated sites for placement of portable clinics in Mombasa county. The sites include Muoroto and Mburukenge slums in Mvita constituency, Changamwe /Jomvu at Kipevu Mbuyuni.