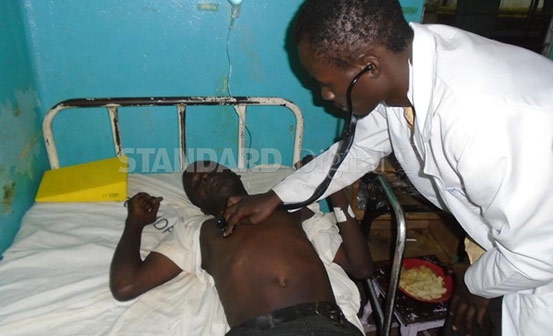 Saleh Wanjala, 41, is at pains to explain what transpired moments before the helicopter lifted as he hanged on in Bungoma.
The father of four, three girls and one boy, says he had taken a local brew 'busaa' with his friends before proceeding to Posta grounds to view the body of fallen businessman Jacob Juma.
"After we had taken our busaa, I proceeded to Posta grounds to view the body of our fallen hero Jacob Juma, when the helicopter carrying his body and that of his family members arrived, we proceeded to sit on the trunk of the helicopter, I can't remember what happened because the next thing I saw myself dangling on the same helicopter as it lifted from the ground," he says.
The casual labourer, is handcuffed on the hospital bed at Bungoma County Referral Hospital, under tight security of Administration Police officers who are waiting for him to be discharged to be arraigned in court for attempted suicide.
"I don't know where I got the energy to survive the strong wind while hanging on the helicopter, but something urged me to hang on because if I let go I could have fallen and died," he says. Wanjala is lucky that the pilot turned the helicopter back to Bungoma airstrip to save him.
Read More
"When I saw him turning back to the airstrip I was happy although scared, the pilot had given me a chance to jump from the helicopter and that is what I did while the helicopter was still hanging five metres up the ground," he says.
Wanjala says an X-ray showed he was injured on the right side of his body with the hip and the right hand slightly dislocated. "The devil is a liar, I never planned to commit suicide, things happened so fast and I found myself midair, if I was to choose the mode of dying hanging and jumping from the helicopter mid air was not one of them," he says.
Bungoma County Commissioner Mohamed Maalim said Wanjala will face charges of attempted suicide and endangering the life of the pilot and passengers.
"We will not tolerate such behaviour, it is very dangerous to hang on a moving machine, he will definitely be arraigned in court for endangering his life," he said.