Will burning ivory stop poaching or is it an insignificant ritual conducted periodically?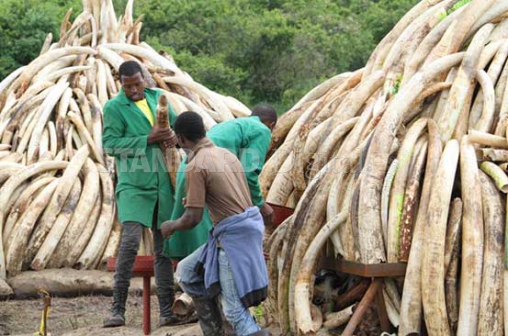 Today, the world will witness the burning of a huge stockpile of elephant tusks and rhino horns.
But as President Uhuru Kenyatta undertakes what has now become a ritual, questions abound about the identity of the real people behind the killing of the jumbos and rhinos.
The President destroyed 15 tonnes of ivory in February last year. One year later, he will lead a group of visiting dignitaries in burning 105 tonnes of ivory and one tonne of rhino horns.
But even as he leads this exercise, the question that begs is; How safe is Kenya's most treasured heritage as poachers continue to decimate these animals?
It is estimated that more than 1.3 million elephants roamed Africa in 1979 before a poaching fuelled by an insatiable appetite for ivory in the Far East and poor wildlife management policies, brought down the numbers to an estimated 401,650.
The Forest Elephant – from Central and West Africa – and the Savanna Elephant – from East and Southern Africa – are facing a population decline, mainly due to the illegal trade in ivory.
Elephants in Kenya have been a major target for poachers. Official data shows that the jumbo population declined from 167,000 in 1973 to 20,000 in 1990. Currently, the population is approximated at 40,000.
When the ivory ban came into effect in 1989, Kenya, which was just emerging from its worst poaching years, burnt 12 tonnes of ivory. Two decades later, another five tonnes of ivory was burned and another 15 tonnes in February last year. But somehow, the carcasses still keep piling up.
Take a quick survey and help us improve our website!
Take a survey
From whatever angle, the statistics paint a grim picture for elephants and rhinos. Data from the London-based Environmental Investigation Agency indicates that 100,000 elephants were killed illegally between 2010 and 2012, an average of 33,630 each year – in excess of what is thought to be the average annual population growth rate of the African elephant.
Investigative bodies currently put the price of a kilo of ivory in traditional markets such as China at Sh300,000.
Largest haul
According to data from the Kenya Wildlife Service, poachers killed 164 elephants in Kenya in 2014, compared to 302 in 2013 and 384 in 2012.
Regional leaders and top celebrities will witness today's burning of the largest ivory haul recovered from poachers and their accomplices.
But exactly how will today's events help the conservation efforts?
Many conservationists have lauded Kenya for taking the lead in destroying the ivory to send a strong message to criminals responsible for butchering thousands of elephants.
Mary Rice, the Executive Director of EIA's Elephants Campaign, believes the burning is a step in the right direction.
"Kenya is sending an unequivocal message to the major consumer markets of China and Japan that ivory has no place or value anywhere other than on living elephants," Ms Rice said.
She argued that pro-trade interests want people to believe that consumer demand can be satiated with stockpiled ivory supplying the market for a legal ivory trade, controlling prices and putting criminals out of business.
Rice argued that the 1989 international ivory trade ban was working well until parties to the UN Convention on International Trade in Endangered Species (Cites) undermined it by authorising 'one-off' sales in 1999 and 2008.
"These served only to confuse consumers, stimulate fresh demand and provide a cover through which to launder black market ivory. It resulted in a swift and bloody spike in poaching which has made the past decade a catastrophe for elephant populations," she said.
For others, the public burning of ivory only achieves the objective of sending a message. Dr Francis Owakah of the University of Nairobi looks at the ceremony as nothing more than a ritual because slogans and statements will not help the elephants and rhinos from well-connected poachers.
"It's a ritual, a fun thing. Let's enjoy the ball of fire," Owakah, a cultural value analyst who also teaches philosophy, told The Standard on Saturday.
Owakah says the main problem with ivory poaching is lack of political will because leaders are neither interested in evidence-based solutions to poaching nor in borrowing best practices from other places.
"There is also a class phenomenon to this ivory trade. The people involved are not small fellows. They are not poor people. The fact they are able to bribe through the entire chain and still remain with profits should tell a lot," Owakah said.
He complained that anti-poaching campaigns have become a huge donor-driven business: "If you put in place effective anti-poaching measures, you are essentially closing taps for this huge donor funding which fund the slogans we see around."
Former anti-graft boss John Githongo concurred and said the ritual of ivory burning was more of a spectacle than anything else.
"It makes for good press photos. We all know the poachers of historical importance are associated with government at all levels," Githongo said. He proposed that the country should use the opportunity to re-look at its value system, recommit itself to tackling graft.
Consumers Federation of Kenya (Cofek) Secretary-General Stephen Mutoro was also skeptical. He said the government should think of a different strategy of saving the jumbos, because the burning of the trophies will not work.
"This is the fourth time an ivory burn is being conducted. The destruction of the trophies are not helpful at all," said Mr Mutoro.
He proposed that the ivory, which has an estimated black market value of Sh31 billion, should have been sold and the proceeds ploughed back into wildlife conservation efforts or donated to charity.
"Torching is an insensitive thing to do. If selling doesn't work, they should have been kept and preserved well for our future generation to see," said Mutoro.
Kwame Owino, the Chief Executive Officer of the Institute of Economic Affairs (IEA-Kenya), expressed similar views, and said rather than burn ivory, it should be used for something else.
"I am not saying that they should not be burnt. I am saying there are choices with what we can do with ivory from animals that died naturally and those that were seized from poachers and those in the illicit trade," he said.
"The first ivory burn was in 1989 but the number of elephants killed has not declined. The burning of the ivory should not be connected with wildlife conservation. All the torching does is send a statement on the levels the government is willing to go to protect its animals," added Owino.
Another option proposed by Mr Owino, who heads a public policy think tank based in Nairobi, is emulating Botswana, which has chosen not to destroy its ivory stock pile but preserve it for posterity.
"The government of the Southern Africa country has decided to preserve its ivory remains and use some of it as a reminder of how mankind's greed leads to the extinction of wildlife," he said.
A sculpture made entirely from elephant tusks has been constructed.
Clear message
However, the government and conservation experts see the torching of wildlife trophies as a show of commitment to the total ban of ivory trade.
But Paul Matiku, the executive director of Nature Kenya, a conservation organisation, hailed the burning "because Kenya is sending a clear message that it does not value ivory but the animals that carry the ivory".
"This is a clear message to countries which support trade in ivory and rhino horns that Kenya values wildlife," says Matiku.
Kenya was also sending a political signal to neighbouring countries that support trade in ivory, that it has no intention of legalising the trade.
"Kenya stands with countries like India that also conserve elephants while telling countries like Tanzania and China that it will not be used as a conduit for the trade," said Matiku.
David Manoah of Born Free Foundation Kenya agreed with Matiku that Kenya stands to gain by burning the tusks.
"If you look at the trend since the first tusks were sent up in smoke, then you realise the pile is becoming bigger, but Kenya will not be deterred in its drive to protect wildlife," says Manoah.
Additional reporting by Nzau Musau and Jeckonia Otieno