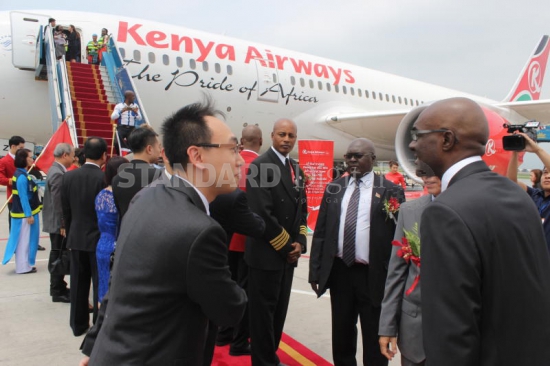 It was an epic moment for Kenya Airways as it became the first African airline to launch a direct route into Vietnam with a spectacular entry at Noi Bai International Airport in the capital, Hanoi. The red, white and green Boeing 787-800 from Nairobi with the slogan 'The Pride of Africa' stenciled conspicuously on its flank broke through the clouds for a smooth landing and taxied to a halt at 11.55am Vietnam time, nine hours from takeoff from JKIA under the command of Captain Eric Mbugua to be greeted with water sprays hosed from a waiting tanker. The gleaming aircraft christened 'Serengeti plains' was still dripping with water when the doors opened, letting out the largest batch of black passengers ever seen at the newly refurbished airport, interspersed with Vietnamese citizens happy to enjoy the first direct flight home from the African soil, among them the ambassador of Vietnam to Tanzania Mr Vo Thanh Nam whose mandate includes Kenya among other East African countries. Also on the maiden flight that proceeded to the Chinese city of Guangzhou was the new Kenya Airways Chief Executive Mbuvi Nguze.
SEE ALSO: Kenya airways suspends flights to eight destinations
He said Kenya Airways was in healthy co-operation with Vietnam Airlines courtesy of the Sky Team partnership. "We expect a heavier traffic to Africa and vice versa now that this launch has enhanced our partnership," said Mr Ngunze. He said Vietnam's economic growth had been remarkably stable in recent years necessitating increased trade between the South East Asian nation of 90 million and emerging African markets like Kenya. "Our direct flights to Hanoi from Nairobi have links to our 50 plus destinations, 42 of them in Africa alone." His sentiments were echoed by the Vietnam Minister of Transport Mr Dinh La Thang who urged his compatriots to venture more into Africa for tourism and business. "We too have a lesson to learn not only from your young fleet, but from your embrace of the most technologically advanced passenger flying machines on offer today that makes KQ truly 'The Pride of Africa'," he said. Mr Thang was flanked by his deputy Mr Pham Quy Tieu, the Director General of Civil Aviation Authority of Viet Nam (CAAV) Mr Lai Xuan Thanh and CAAV Deputy Director General Mr Vo Huy Cuong.
SEE ALSO: Kenya Airways cuts flights