Police bosses to visit Busia, Bungoma over insecurity
KENYA
By - | May 2nd 2013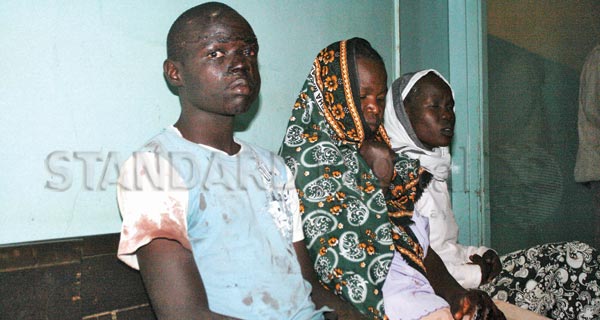 Residents injured following brutal attacks by terror gangs in Busia County.
By Cyrus Ombati
Nairobi, Kenya: Senior police officers from Nairobi are Thursday expected to visit parts of Busia and Bungoma Counties over rising incidents of insecurity.
The officers led by Deputy Inspector General of Police Ms Grace Kaindi, AP's Deputy Samuel Arachi and CID director Ndegwa Muhoro want to know the cause of the attacks and offer a solution.
They will also listen to the locals and assure them of security as they investigate attacks on villages by unknown assailants that have left at least two people killed and more than 130 injured, the office of Inspector General of Police said.
Police boss David Kimaiyo confirmed the visit by his officers to the area and vowed to tame the attacks.
"We are serious with the issues of insecurity and assure the locals and Kenyans at large of our commitment to protect them. They were to leave Wednesday but the chopper broke down and now they are airborne," said Kimaiyo.
Already a special police squad of investigators has been dispatched to the area with a mission to get those behind the incidents.
The squad from Special Crimes Prevention Unit and CID headquarters in Nairobi left Nairobi on Wednesday with a mission to investigate the motive of the attacks and arrest those behind it.
Police took the action after at least two people were killed and 17 injured when unknown assailants attacked a village in Teso, Busia County on Tuesday night.
This is the second attack to occur after a similar one happened in Bungoma where at least 100 people were injured in the attack on three villages with the motive remaining a mystery.
Muhoro said they will not spare anyone if he or she is found to be involved in the attacks.
"This is a serious attack on innocent Kenyans and that is why we want to visit the villages to talk to them," he said.
Software developers feted in Ericsson competition
Members of the two Kenyan teams – Tokelezea and Easy Parking - that emerged winners in the Ericsson "Apps for African City Life" awards that were announced in February this year have been awarded their prizes.