Coastal transit town turns into choice destination for property investors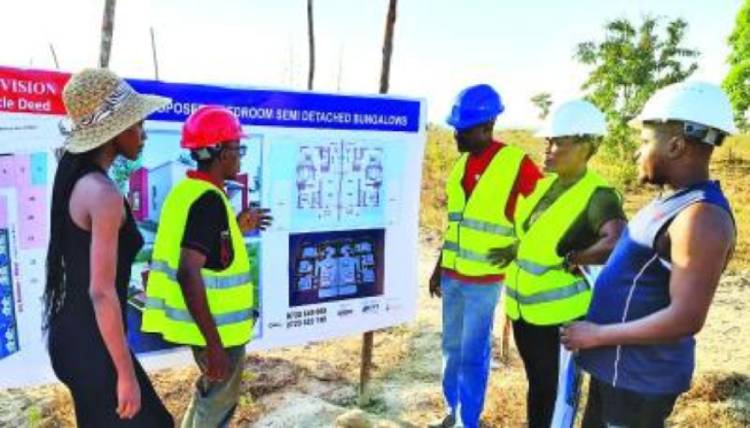 Mariakani town is fast gaining traction as the next frontier in real estate development at the Coast after Mombasa and Vipingo in Kilifi.
Real estate developers are attributing the growth of the once sleepy town at the border of Kilifi and Kwale counties to the availability of land, proximity to Mombasa and economic activities.
In the 70s and 80s, Mariakani was famous for its dairy sector and animal products such as hides, which were transported to the port for export on the Mombasa-Kampala railway.
Later, the town began to be the preferred destination for transporters looking for parking space. Property developers said the transport firms opted to move from Mombasa's Changamwe to Mariakani because of relatively cheap land.
But with the shrinking of port transport business following construction of the Standard Gauge Railway (SGR), the parking spaces are now giving way to industries.
For instance, the new entrant in the real estate market, Oligro Group Ltd, has announced plans to assist potential investors to own property in the town.
"Many Kenyans dream of owning a place of their own, but if your net monthly income is below Sh50,000, chances of you owning a home are slim," said Oligro Head of Business Development Mwiti Njeru.
"If put on a one-way street, we would appear like marathon runners chasing an invisible trophy, one which seemingly remains just a step ahead," he told Home & Away.
Take a quick survey and help us improve our website!
Take a survey
Numerous real estate developers have recently emerged, promising all manner of goodies to potential home buyers.
However, many of them end up not being genuine and, unlike their noisy and colourful entry into the market, they disappear quietly, taking down with them innocent Kenyans' dreams and hard-earned money.
"As at 2017, the production of housing units countrywide was less than 50,000 units annually, well below the demand and leading to a housing deficit of over 250,000 units," said Mr Mwiti.
This is largely due to majority of property dealers focusing on the mid and high-end markets.
"At Oligro, our focus is the common mwananchi right at the bottom of the income pyramid. The company is targeting Kenyans seeking to buy an affordable plot for immediate or future development of a family home or rental units such as bedsitters," the manager said.
Oligro's current housing project, Bomma Estate Phase Three, is a planned gated community in Mariakani, approximately 55 minutes' drive from Mombasa town. It was launched in February this year and comprises of 50 by 100 feet plots.
The company says it has diversified into construction of three-bedroom bungalows to meet the rising demand by clients for ready-made budget-friendly houses.
"It is possible for ordinary Kenyans earning low income to own a home if we developers reduce our appetite for huge profit margins," Mwiti said.
He added that in construction, the most expensive part of the budget is cost of land.
"If we manage to lower this cost, then the prices of houses will significantly reduce to relatively affordable levels. Mariakani is a ready market for affordable houses due to the current low prices of plots."
"But this won't last long, as witnessed elsewhere in the country. We expect land prices to significantly increase in the near future,'' Mwiti said.
Mariakani has grown into a vibrant town attracting investors in the transport, industrial, construction and banking sectors.
FORTUNES CHANGED
Notably, it is home to Mabati Rolling Mills headquarters, the Kenya Defence Forces 15th and 77th Artillery Battalion and several banks and schools.
The town is linked to the SGR through the Mariakani Terminus.
The fortunes of this otherwise little-known town changed from 2017 after the completion of tarmacking of the Mariakani-Kaloleni-Mavueni bypass, which serves as a link to Kilifi and onwards to Malindi and Watamu.
The road is an important transport corridor for farmers, tourists and investors traversing Coast region due to its strategic position linking Mombasa, Kwale and Kilifi counties.
It also forms an alternative entry into Tsavo East National Park for tourists from Kenya's South and North Coast regions.
"More people are now buying and building in Mariakani due to affordability of plots and easy accessibility of construction materials, especially quarry stones from Kilifi," said an investor, Said Kalandar.
"This compares favourably with areas such as Bamburi, Utange, Mtwapa and Diani."
Majority of new home owners who have settled in Mariakani work elsewhere in Voi, Kwale, Mombasa or Kilifi where they commute daily, further evidence that the town is pulling in property buyers.