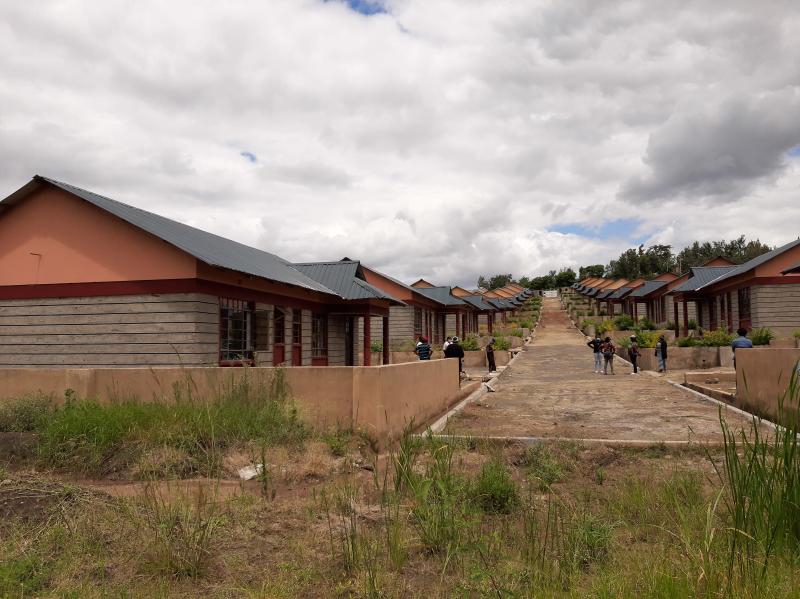 Towards the end of last year, the High Court in Kiambu had a determination to make in a suit involving various parties in the construction industry.
Willow Park, a property developer, had borrowed Sh180 million from Jamii Bora Bank (now Kingdom Bank and a subsidiary of Co-operative Bank) and was carrying out off-plan developments.
The firm contracted Gokul Builders to undertake the construction, with interested buyers paying upfront to have their homes constructed.
But the developer was unable to honour repayment of the loan to Jamii Bora, leading the bank to proceed to take steps to recover its money after negotiations, according to court documents.
Read More
This was in spite of extension of the loan repayment period.
"The loan facility to the tune of Sh180 million was secured through a charge registered in August 2015 against the suit land. The loan was to be disbursed in tranches, and was to be repaid in 24 months," said the bank.
"However, the repayment period was subsequently extended, initially by six months, and later by nine months. Despite this, the sums loaned out remained unpaid."
Willow Park filed an application to restrain the bank from selling the charged property by public auction pending determination of the suit.
Gokul, also claiming compensation for their services, contested the auction, as did home buyers who stood to lose money if the promise Willow Park had sold them disappeared.
The court declined to stop the auction.
"The certainty of financial transactions between banks and borrowers would be severely compromised if any and every kind of third party or debtor, who transacted with the borrower howsoever, were allowed to defeat the chargee's statutory rights, especially in the realisation of a security in the event of default by the borrower," said the judge.
"For all these reasons, I have found no merit in the application by Gokul. It is equally for dismissal."
The individuals who had bought the off-plan units were equally dismissed. The bank had the right to recoup its money, they were told.
Within the last few years, several other firms have been crucified after their off-plan deals went awry.
But most have only faced vitriol on social media, which is easier to shrug off than a court summon.
Earlier in the year, social media was awash with complaints of unfulfilled off-plan deals.
A number of the buyers told Home & Away that they had recorded statements with the Directorate of Criminal Investigations (DCI) over frustrations regarding owning homes they had paid for with one of the developers, Banda Homes.
"Even after we completed payments, our house, as is the case with many others, is not ready," said a woman named Lucy Wanjiru back in May.
"After numerous protests, we were told that the units would be handed over to us in April 2019. To date, after sinking all that money, we have not received our houses."
Wanjiru said she paid her first installment in April 2017, while the fifth and last payment was made a year later on April 18, 2018. Three years since the first deposit, there was nothing to show for it.
Just recently, 14 buyers of one of Suraya's distressed estates lost their bid to stop the auctioning of the property after they failed to produce a sale agreement as evidence that they paid for the units.
In essence, that meant the auction of Suraya Group's land at Fourways Junction on Kiambu Road by Transnational Bank would proceed.
The plaintiffs had asked the High Court to temporarily stop the auction because they had an interest in the property, having paid for the units before they could be developed under the off-plan scheme.
However, Justice David Majanja said the buyers did not present a sales agreement to prove their claim on the property.
The curse of off-plan investing in Kenya has been seen for long.
From dishonest developers to clueless ones, potential home owners and lenders have been left in losing situations.
Lack of regulation has meant that many of the housing companies are led by quacks, and Covid-19 is exposing them. Those that took clients' and lenders' money to eat are now hanging to dry.
Cytonn Investments Chief Executive Edwin Dande says the major difference between who will survive and who will go down due to the coronavirus pandemic might be the financial might and sizes of the companies.
Companies with bigger profiles will find it easier to survive while smaller companies with "weaker corporate governance" have been affected.
"Covid-19 has taken away credit and made it harder to develop because one cannot develop without credit. Those with bigger balance sheets, better structures and better corporate governance are more likely to survive," Dande told Home & Away.
"But even for the bigger guys, it is impossible to develop as much as they were developing before."
But the mist is soon clearing and things will be flowing at speed close to normal, he says.
"Cessation of movement had made everything slow down. Opening up has opened economy."
The Cytonn boss says that housing is still a fundamental need that is under-supplied, especially for "comprehensive housing lifestyle".
"The fundamentals of housing are intact. In the long term, this industry is a good place to be."
Andrew Muriungi, the founder of Rhino Mabati, insists that Covid-19 has not slowed things in the construction industry.
He says people have taken time to reconsider what they want while rechanneling their funds to construction.
"We will have more home owners than renters in the near future," he says. "People were previously using their houses in shifts. One goes to work, the children to school. When you come in the evening, the children are asleep.
"But now, with all of them huddled indoors (with schools closed and movement generally curtailed) they realised they do not have space they always thought they had."
Institution of Surveyors of Kenya (ISK) president Abraham Samoei says the government should set up a regulatory framework for developers and impose penalties for default on their obligations.
In addition, directors of real estate firms should be qualified and registered with professional bodies.
Developers should be registered members of the Institution of Surveyors of Kenya, or the Real Estate and Valuers' chapters, adds George King'oriah, a lecturer at University of Nairobi's School of Built Environment.
Most important, investors should be keen to check if the developers are qualified before committing.
"If the directors are registered members of a professional body, then the investors, if swindled, can seek redress from such a body," Prof King'oriah told Home & Away.
"Such professionals will also be keen to guard their reputation and will avoid engagement in fraudulent schemes to maintain future clientele."
Dande of Cytonn Investments says investors should also know who the directors of the company are, how they have delivered in previous projects if they have any, to gauge their workmanship, delivery to promise, timelines and proof that they are actually developers.
"This will prevent one from investing with a briefcase company run by fraudsters," he says.