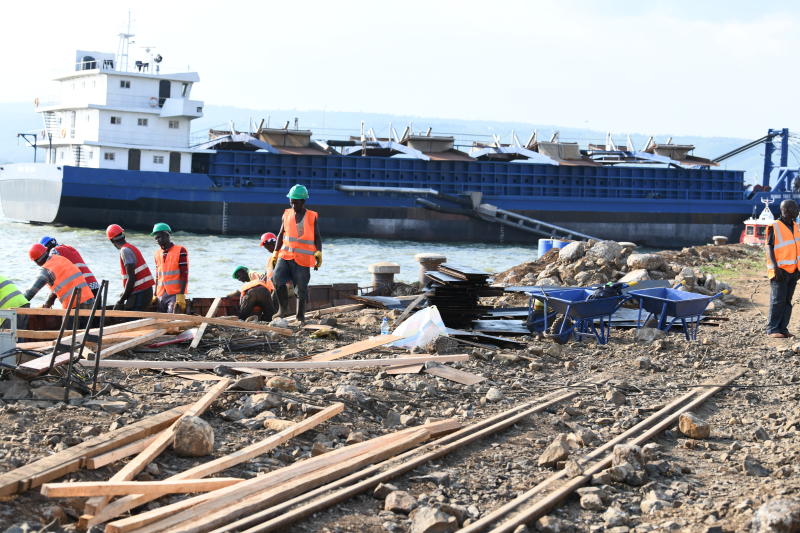 The rebirth of Kisumu is coming at heavy cost than was anticipated, with politicians allied to ODM leader Raila Odinga paying the price and thousands losing livelihoods.
Former Gem MP Jakoyo Midiwo, Kisumu Senator Fred Outa, Raila's elder brother Oburu Oginga and a prominent Nairobi businessman William Osewe are among those who lost businesses and plots running into millions of shillings as Kenya Railways moved to demolish business premises and recover houses and land.
More than 10,000 people have been rendered jobless within just two weeks after their business premises were reduced to rubble in one of the most expensive and elaborate attacks on Kisumu's informal businesses that run the town's economy.
Ordered to close
The Kenya Railways management has taken advantage of the clean-up ordered by a committee supervising the Sh3 billion expansion of the Kisumu port to reclaim property it had leased to individuals.
Mr Outa's business was barely one month old at the hitherto abandoned Railways station when he was was ordered to close it despite a lease agreement with Kenya Railways. The senator claims he lost Sh10 million after his bar and restaurant was demolished. "I'm saddened that I had to lose such a huge investment in a short notice. I also feel for other casualties," he said
But he was quick to say that despite the loss, the much-needed port infrastructure would benefit more people and create wealth and jobs. "I will get an alternative place to relocate my business. We welcome the port's infrastructure development," he said
The senator said plans by President Uhuru Kenyatta and the ODM leader and AU envoy for Infrastructure will ensure the people benefit from development of the town.
Mr Midiwo's upmarket bar - the TLC- was demolished at night while the Roan Club where Outa has a major stake was shut down and workers ordered out by the Kenya Railways demolition squad.
Mr Osewe faced the same fate after his Ranalo Kisumu Club was closed. He runs a similar hotel in Nairobi.
Last month, the Ethics and Anti-Corruption Commission announced it had helped the corporation, which owns hundreds of acres of land in Kisumu, to recover a prime plot from Dr Oburu, who has since protested saying he legally acquired the land.
He claimed he was being targeted because he is Raila's brother.
Midiwo's business partner at TLC , Omondi Akoth, said they had a lease that was to expire in October.
Akoth said besides job losses, they lost millions of shillings in destroyed equipment and missed business opportunities. "This is unbelievable. Destroying business worth millions of shillings just like this?" Asked Mr Akoth. Kenya Railways Managing Director Phillip Mainga said all leases on the property were cancelled.
The parastatal pushed out traders and tenants from the expansive old estate near Kisumu port to pave way for the facility's expansion. In a phone interview with Sunday Standard yesterday, Mr Mainga said they considered all tenants, including former employees, permanently removed from the parcels of land.
Mismanagement of property
Asked what they planned to do with the land, Mainga said: "We do not want to talk about it but you will soon see."
In an earlier interview, officers from the county government who are members of a committee overseeing the project said there were plans to demolish the old houses to pave way for an overhaul that would cater to the port and Kenya Ports Authority and Kenya Railways staff.
Sunday Standard has, however, established that the evictions may have had more to do with mismanagement of the property than the urgent need for land to expand the port.
The evictions started after Interior Cabinet Secretary Fred Matiang'i was told the port's expansion was being hampered by delays by Kenya Railways to cede land, during an inspection tour in June.
The demolitions started three weeks ago at the Lwang'ni beach makeshift hotels, popular with fish delicacy. Also brought down were shops and hotels.
[Additional reporting by Kepher Otieno]