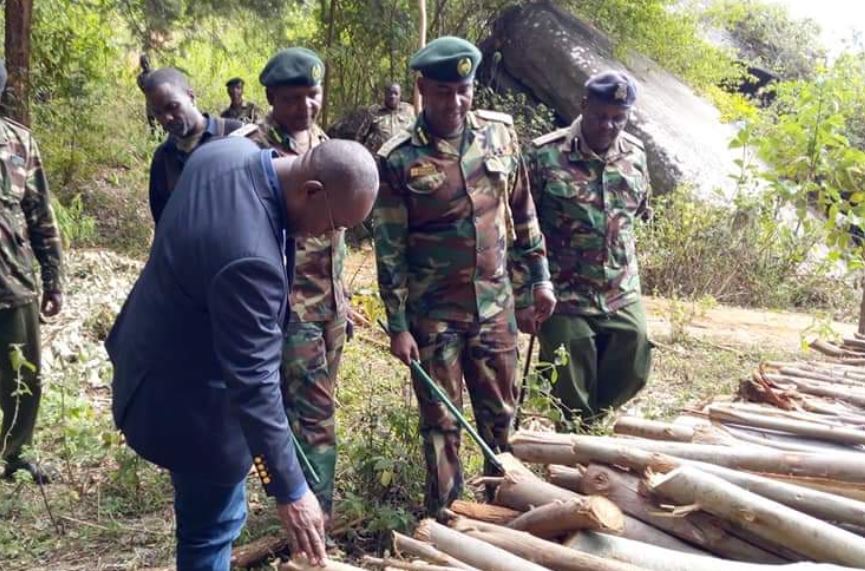 MBOONI, KENYA: The Kenya Forest Service has confirmed illegal logging in Mbooni Forest and embarked on measures to bring the culprits to book.
This week, the forest crew including chief conservator Mr Julius Kamau and KFS Chairman Peter Kinyua visited the forest to confirm the illegal logging activities.
They held a discussion with the sub-county security committee on the matter and deliberated on collaboration to deter recurrence of such illegalities. While speaking to the staff at the station, Mr Kamau reiterated that officers found culpable will be held responsible and shall be subjected to a disciplinary process.
The CCF further announced the deployment of the rapid response unit to the area to crack down any form of illegal forest activities in the entire Mbooni Forest. A team of KFS surveyors is already on the ground to ascertain whether there is encroachment into the forest reserve.
On the role of Communities in forest conservation, the CCF noted that there was no Community Forest Association (CFA) as required by the Forest Conservation and Management Act of 2016.
Read More
He directed the forest officer in charge to commence the process of establishing a CFA. "This will enable participatory forest management between KFS and CFA providing an opportunity for the community to be engaged in nature-based enterprises such as beekeeping," he said.
He urged the residents to be vigilant while commending the people of Mbooni for being great ambassadors of forest conservation and for providing information, which has assisted the KFS to address the issues.
Kenya needs to plant and protect 1.8 billion seedlings between now and 2022 to achieve 10 per cent tree cover.
Illegal logging is a setback to government's plan to have at least 10 per cent forest cover by 2030, a move, that is part of the measures being undertaken to mitigate climate change.
In 2018 while receiving envelope with key suspects in illegal logging, Deputy President William Ruto announced a plan to employ the services of the National Youth Service and the Kenya Forest Service (KFS) in an aggressive replanting of indigenous trees for at least three years, to help the country's forest cover regenerate.