Cries and cheer as Sh40 billion buildings to be demolished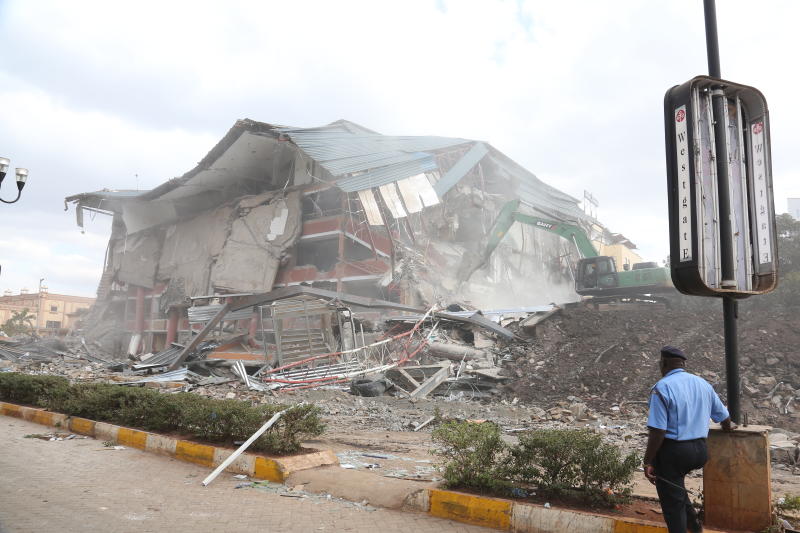 NAIROBI, KENYA: It is an exercise that has gripped the nation. The green excavator is a celebrity in its own right. Sany, as it is now called, has more photos on Facebook than a Kenyan socialite. Today, the first thing social media users want to know in the morning is where it is headed. Welcome to Kenya's latest soap opera, the 'Bomoa Bomoa Edition'.
It is evident that the ongoing demolition exercise is not stopping soon. Investors in real estate are already counting loss of assets worth billions of shillings, with more houses set for demolition in the next two months.
Institution of Surveyors of Kenya (ISK) chairman Abraham Samoei estimates cost of structures to be brought down at Sh40 billion.
ISK is one of the stakeholders that is urging a rethink of the exercise.
President Uhuru Kenyatta has already vowed that the demolitions will go on. Speaking during the opening of the Kings Prism Towers in Upper Hill Nairobi, Uhuru said officers involved in approvals of the buildings on riparian land will also be prosecuted.
This has come at a time when according to the World Bank, Kenya's real estate is rated as the third most developed sector in sub-Saharan Africa, with assets equivalent to more than 2.5 per cent of the country's gross domestic product.
According to the Nairobi Regeneration team, more than 5, 000 structures and approximately 4,000 buildings and facilities across the city will be demolished in the exercise.
Nairobi Governor Mike Sonko said the demolitions will be carried out in a fair but firm manner. "The exercises will only be affecting buildings that have contravened set laws and regulations. The buildings will be demolished only to the extent of their encroachment to the river ecosystem," Governor Mike Sonko said through a press statement.
According to Sonko, in spite of the fact that some of the affected buildings are commercial centers providing employment to hundreds of Kenyans, those that are conducting business in these locations are advised to re-establish their businesses elsewhere.
Biggest casualties
Already, a number of structures have faced the axe of demolition. The biggest names so far include section so of the iconic Visa Oshwal Centre, Ukay Centre and Southend Mall. The management of Village Market and Tribe Hotel have come out to say that their properties are not on riparian land or targeted for demolition following media reports that the upscale facilities were among those condemned.
Some of those affected and on whom the axe has already fallen on have already begun to estimate the worth of their investment that has been lost.
Among the first to speak on their loss is billionaire businessman Atul Shah who has already approximated that he has lost at least Sh125 million as a result of the demolition of the 1994 building that housed the Nakumatt Ukay supermarket, which is located on the outskirts of Nairobi's CBD on the corner of Mwanzi Road and Ring Road in Westlands. Institutions that support the real estate industry have also begun to share their worry on loss that is being caused by the demolitions.
Although majority of them are supporting the exercise, they have reservations on how it is being done.
ISK has said that although it is in full supports of the demolition, some of the development obtained necessary approvals from the various agencies including the Physical Planning Department, Department of lands, Surveys department, County government of Nairobi, Nema and the Water Resources Management Authority, approvals, on which they used secured lending from the banks.
Legal battles
"It is our advice that the multi-agency team thinks through this exercise to forestall possible legal battles over compensation as a result of the property demolitions," Samoei says.
According to ISK, the demolitions could have serious impact on the economy since some of the investments that are set to be demolished were built on loans and grants from partners.
"The authorities involved in demolitions should be more vigilant in the exercise. Also, a proper audit should be carried out," ISK has said.
Among the most affected river in the city are Nairobi River, Ngong River, Rui Ruaka, Gitatharu, Kirichwa Kubwa, Motoine, Karura, Thigiri, Kirichwa Ndogo, Mutundu and Kabage.
Kenya Property developers Association chairman Mucai Kunyiha has also weighed in on the matter and said that a lot of uncertainty and fear has already gripped developers whose land could be close to water ways.
This has great economic impact on real estate industry which depends on developer's investments who are expected to push on the Agenda four pillars of the Jubilee administration.
"A lot of uncertainty and fear is set to get into the real estate industry as it is not clear anymore which permits are valid and there is no process to validate them either," Kunyiha says.
According to the property developers' chairman, the real estate market is also experiencing a reduction in value of the properties close to waterways, which is not good news to thriving industry's economy.
However, Kunyiha says that since what is happening has caught many unaware, real estate being a capital intensive and a long term venture, the industry should see policy and legal certainty in the coming future managing the industry.
This means, to avoid such happenings in future, clear and transparent process should be applied so that developers and investors can forecast outcomes.
"The management of the riparian land is a technical matter involving urban planners, environmentalists, hydrologists and engineers. Expert advice should be sought on the best way forward over this exercise," Kunyiha says. But that is not the only problem.
Kunyiha says the demolitions are being carried out poorly and are themselves a danger to the environment and the workers.
How should it be carried out?
"You saw what happened at the demolition of Ukay mall in Westlands. It almost took a tragic turn after one of the walls being brought down fell on the excavator," he says.
Ideally, he says, the fittings should be removed first and as much material as possible salvaged for future use.
In addition, works areas are required to be boarded so as to protect the general public.
Kunyiha says that laws should also be streamlined before such an exercise is carried out. He adds that, the law has been absent, vague or overlapping thereby giving regulators and the planning system a lot of discretion that has not always been applied evenly or fairly.
"We suspect, due some loopholes created by Law, like in other sectors of the economy, there has been a lot of corruption occasioned by these gaps in law and policy," Kunyiha says.
To fight drought, involve communities
According to the latest information from the Meteorological Department, rainfall will be poorly distributed in April, May and June, and this will have a serious impact on agriculture