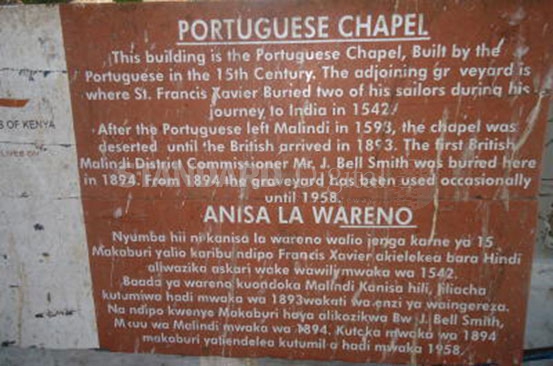 The little-known Portuguese Chapel, also known as St Francis Xavier Chapel, is located on the seafront about 100 metres from the waterline at Shella area on Mama Ngina Road in Old Town, Malindi.
Clocking 517 years now, the walls have defied time and still stand strong. It is sandwiched between flats near Malindi Law Courts and you can hardly see it.
"The walls are usually repainted white whenever they start fading and the roofing replaced after five to seven months," says Bendricks Masha, the caretaker of the chapel.
It is thatched with makuti and has a cross on top. It was built by Portuguese explorer Vasco Da Gama in 1498 while passing here on his way to India before St Francis Xavier visited Malindi in 1542.
It is said that St Francis Xavier passed through there with his two sailors who died and were buried at the chapel in 1542.
The chapel, measuring five-by-five metres, has white walls that were made of coral rocks and sand.
There is a security 'window' in one wall that was allegedly used to see enemies from the ocean.
The church also has an altar with Catholic religious paraphernalia, two chairs and eight wooden benches on a cemented floor. It can accommodate 40 people seated and 50 to 60 standing.
It stands on an eighth of a plot and hosts 36 graves of sailors and prominent people in the compound.
The graves include those of Malindi pioneer Commander Lawford of Lawford Hotel, first Malindi District Commissioner J. Bell Smith who died on September 1, 1894 and Charles Arnold Frank Matthews, who was buried in 1968.
He was the son of Canon Matthew, a pioneer tea grower in Kericho and had gone to Malindi on holiday when he drowned while swimming.
According to Masha, Vasco Da Gama built a nearby pillar and the chapel to prove that he passed there on his way to Goa, India.
The temple was gazetted by the National Museums of Kenya as a monument who took it over when they found it neglected.
It is a little-known tourist attraction that if popularised can be a big income earner for the county, going by the number of visitors that have signed the visitors' book.
"Many of the visitors who come here are maybe those who are directed after visiting the pillar, which is a stone's throw away," says Masha, who has worked here for the past 24 years.
Apostle of the Indies
The chapel is open from Monday to Friday but if there are special guests, Masha or someone else from the Vasco Da Gama pillar or museum, is called upon to open it.
Masha says most visitors who come here are foreigners from as far as North America, South America, Europe, Australia and Asian countries.
He says he gets six to 10 visitors per day, depending on the season. April and August are high season months during which 500-1,000 school pupils and students come to see the chapel.
"To access the fenced chapel, adult residents above 18 years pay Sh100 and those below 18 years pay Sh50 while non-Kenyan resident adults pay Sh500 and children below 18 years pay Sh250," he says, noting that the charges allow the visitors to visit the Vasco Da Gama pillar and Malindi Museum free of charge.
The chapel is sometimes used by local Catholic churches for special masses once or twice per month in remembrance of St Francis and sometimes some faithful come here for prayers free of charge.
According to Masha, people now travel from all over the world and country to pray in this small church because they believe that St Francis Xavier's powers still exist in it.
St Francis died on December 3, 1552 at the age of 46. It was the goal of Xavier to extend his missionary preaching to China, but he died in Shangchuan Island before he could achieve that.
He was beatified by Paul V on October 25, 1619 and was canonised by Gregory XV on March 12, 1622.