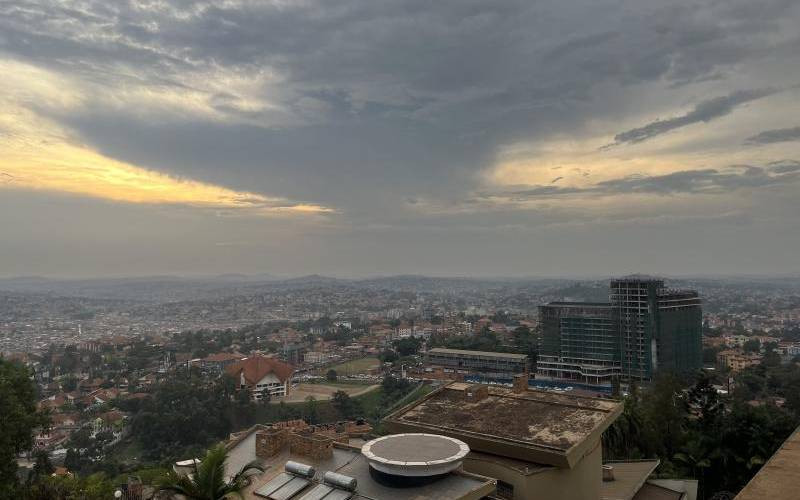 Prof Joseph Kimura, an alumnus of Makerere University gave me clear instructions. "Check if the forest inhabited by bats at Makerere University is still there."
He was there in 1969. I shared some photos, he will mark my assignment.
From a hotel on one of the many hills in Kampala, I took a bodaboda to avoid traffic jam and did his assignment. There was the Makerere University we sang about when young, on a hill. The main gain commemorates 100 years of this institution (1922-2022).
I asked some students where the faculty of commerce could have been when Prof Kimura was there. They talked of COBM but confessed they did not know where it was. Makerere Business School moved to a new site away from the main campus.
An imposing building housing the college of computing and information sciences welcomes you. It perhaps shows how much the institution has evolved in the last 100 years. What did students admitted in 1922 study? 1969? The content of their curriculum then could surprise us.
This visit was nostalgic. How did Kimura and others feel going to school in a different country, compared with current students who school in the same county?
New cultures, new perspectives welcomed them. Think of being in class with Tanzanians, Ugandans, Kenyans and other nationalities. The faculty was probably more diverse. That diversity must have forced the students to 'grow up'.
Think of a parent's feeling when their son or daughter was leaving for Makerere or Dar es Salaam. University of East Africa had three campuses and you could choose to join any of them.
This must have been the luckiest generation. It is no wonder it has overstayed in leadership. That early exposure to the outside world emboldened them. I experienced that growth when I left my village as a schoolboy to come to Nairobi in Form 1. And it was my first time.
Going abroad was another shock. But each shock emboldens and makes you more resilient.
The University of East Africa should have been left intact and each country set up its own universities. Curiously, just outside Makerere University, a big sign board advertises for International University of East Africa. If we have other East African institutions like courts, why not university?
The East African or African dream will never be realised when we are so insular. How many Kenyans have interacted with Ugandans or other East Africans? Education is one good avenue to interact.
The beauty about early shock is that you have time to implement new ideas in your life or make adjustments. The outstanding benefit of leaving the comfort of your village and hamlet is becoming outward looking, thinking without the box. That is how entrepreneurs and change drivers are made.
Diluted outlook
Unfortunately, while devolution was supposed to bring services closer to the people, it diluted the national and global outlook. That could blunt our national competitiveness. Bringing services closer to the people is counterproductive in education in the long run. You may save on food and bus fare because of schooling nearer home, but you lose on experience.
Enough on Makerere. Uganda is a quiet country, and in my opinion lacks the vibrancy of Kenya. Some could add lacks the 'chaos' of Kenya, but on traffic jams, they compete favourably with boda boda as a favourite means of transport.
Kampala may not represent Uganda, but capital cities give the national pulse. Kigali seems to be taking all the branding air from the rest of East African capitals. In construction, Nairobi seems to be sucking in more investors, going by the number of buildings and their height.
From a hill in Naguru, the many hills that make Kampala are breathtaking. Kampala could compete with Nyeri on hills but they are farther apart.
The food is pleasant, with bananas, eaten for breakfast as katogo and matoke for lunch or dinner. In gastronomy, West Africans are unbeatable. Ugandans are kind and have time for you unlike Kenyans who are always in a hurry. Even customer care employees are in a hurry!
Admiring people
I was at a conference listening to intellectual ideas on logistics and supply chains and how they can be used to catalyse economic growth and mitigate climatic change. That did not stop me from admiring the people on the streets, their attire, pace and grace. A dance in the evening left no doubt who are leading dancers in Africa. Definitely not Kenyans.
Dancing could not stop me wishing our students could be get back into University of East Africa, studying in now seven countries, exposing them to new cultures and thinking, as Kimura and others did almost 60 years ago. How about a new rule that a certain percentage of university dons should be non-local?
Such an experience would be the seedbed of Africa's Agenda 2063 and Africa free trade area. We must start by freeing our minds through new experiences.
How about interacting more with Ugandans and the rest of East Africans to mute our unbridled capitalism, make it more human? The extreme inequality evident in Kenya is muted in Uganda.
I never get tired of meeting Ugandans who were teachers or refugees in Kenya in the 1970s and 1980s. We shall always be grateful for their contribution to the Kenyan economy. At Uganda Golf club, I met three. Back home they seem to have done well in public and private sector.
Did you go Makerere or University of Dar es Salaam? Share the memories with us.
Related Topics