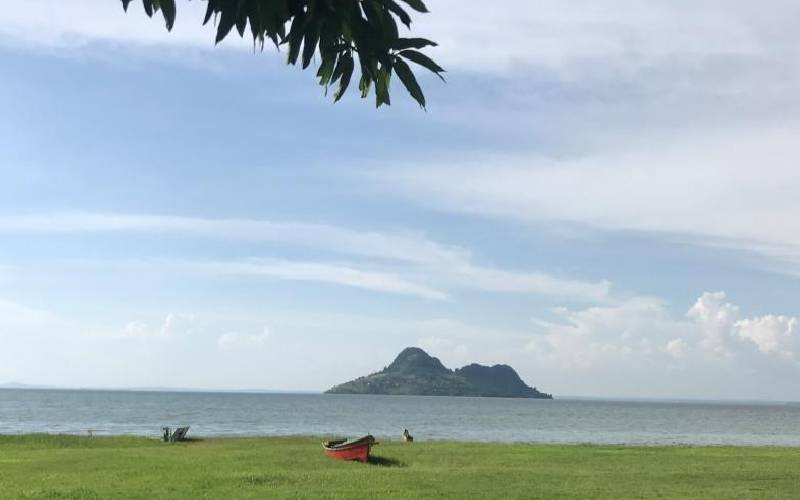 Homa Bay County on the southern part of Lake Victoria (Lolwe) is different from Siaya. Rusinga Island, off Mbita by a bridge was the starting point of my visit. Why don't we name our bridges like Americans?
The idyllic island has a ring road that takes you about an hour to cover. The road is untarmacked -surprisingly. I turned left after the bridge past Wakiaga Vocational Training Institute and Kakrigu Health Centre before turning back; this route to Tom Mboya mausoleum was blocked and under repair.
But not before noticing a signboard indicating that the owner of one homestead is a graduate!
Driving anti-clockwise through Wanyama, Kaswanga, past an airstrip, I got into the mausoleum with a roof that mimics a bullet.
Inside, the life and times of Tom Mboya are captured through photos and artefacts. I was told there are more artefacts about him either with the family or in bank vaults.
One key interest was his gifts or memorabilia from all over the world, reflecting his international stature. The curator seems to understand Mboya's life very well, from birth in Kilimambogo, near Thika to his resting place on Rusinga island.
And his short and illustrious political career that spanned many countries. The island has no matatus and motorbikes do a brisk business. The islanders seem to get all their shopping from Mbita.
I never saw any shopping Centre on the island. Some resorts are keeping the island vibrant such as White Stones, Blue Ridge, Rusinga Island Lodge, and Chula Beach Resort among others.
The island does not look as economically vibrant as expected. A tarmac road would change the fortunes. Christmas festive season and sadly once terrorism threatened our coast is a boon to this island.
Ngodhe Rao island, smaller than Rusinga makes photography alluring, more so at sunset. There is something magical about sunsets on Lake Victoria which you can't get along the coast.
At Chula Beach Resort, I ate fish, a big tilapia; in Nairobi, we are sold "watoto wa fish ." Rusinga Island to Homa Bay has towns like Koyani, Kodiera, Ojuogo, Waondo, Maelela and beaches like Mirunda and Kaugege. And a school named Lala. But I know a professor who went through Lala Primary School! Is it a Luo name?
More freedom
Just like in Siaya, no fenced homesteads in Homa Bay. It seems this region enjoys more freedom than the epicentre of Mau Mau). I did not notice overcrowding like in the adjoining county to the East.
Exploring Rusinga Island denied me time to explore Takawiri and Mfangano Islands and Migori County. That is the next phase of my exploration starting with the emotional Mageta Island.
Homa Bay town is a linear town with the road to Kendu Bay lazing through it. It has some vibrancy espoused by new hotels, very reasonably priced and would give Nairobi five-star hotels a run for their money.
From the rooftop of a hotel in Homa Bay, a flotilla of canoes coming ashore after a night out fishing looked like Normandy Beach landing in 1944. The southern part of Luo Nation seems more economically vibrant than the north. The names are different with fewer vowels. Abasuba influence?
Religion also changes to the Seventh-day Adventist Church (SDA), its Anglican Church of Kenya ACK in the north.
Two historical names balance the two counties, Mboya and Odinga. In a curious twist of events, Tom Mboya married from Siaya. You can derive your own interpretation of that.
I also learnt that child custody in this region mirrors central Kenya where wife inheritance was also standard - perhaps a form of social security. And the women traditionally keep children in both places -in case of divorce.
Sunday was time to go home with my eyes open. Rice paddies near Nyangweso, building stones on sale, all the way to Kendu Bay.
The stones come in all colours; brown, yellowish and black. I was told they even have white. That is a gold mine. Where are capitalists?
Beyond Kendu Bay I noted two busy fish landing bays. There was an Obama Road near Kanyadhiang bus stop. I will visit K'Ogelo next time. The name resort is very common in this region. At Regen Resort, I was told there is no tea but food at 10am! How?
Njeri town after Kadel heading to Kendu Bay left my head spinning. How did the name get there? Kendu Bay like Homa Bay is also a linear town traversed by the highway.
Saw some mud-walled houses in this area. Pragmatism, appropriate technology, or economic reality? Most residential houses in this region are square in shape. Why?
Rice paddies at Ahero marked the end of my 500km trip through the Luo nation and cost Sh8,000 in fuel despite driving a hybrid car. No regrets; experience is priceless. I noted tree planting is not well embraced in this region.
Waiting for my flight back to the city, I reflected. I will miss innocent men and women. Ask someone where Osieko is and he offers to take you. The same for Tom Mboya mausoleum. Some might see this as idleness. But I see it as a remnant of what makes us human.
This exploration convinced me in very good faith that the region needs an economic facelift.
Is that why its people are wrongly labelled as violent? Please note that I did not get into the hinterland and relied on what I saw on the road.
Manyala beauties
Would diversity catalyse this region's economic growth? No wonder signposts like "plots on sale" are rare - except near Kisumu city and Migori? I did not see or feel the spirit of East Africa, except for Manyala beauties at Osieko beach.
Great weather, proximity to Nairobi, and a confluence of three countries are perfect conditions for tourism and trade to thrive.
Familiarity may not unlock this potential. Can the county tourism ministers be "outsiders"?
Domestic tourism can thrive if we change our mentality, there is more to see in Kenya than sandy beaches and the big five. Thank you for your patience. Now let's close by finding out why Luo elites (Luopeans) marry from the mountains and beyond leaving elders complaining of "too much Swahili."
One, there is more variety away from home. Two, I was told educated ladies from the lake are hard to handle because of "rights."
Men prefer "soft targets" in other communities. There is another disguised explanation supported by engineers or architects. In design, do you prefer looking at the front or side elevation? Oriti.
Related Topics