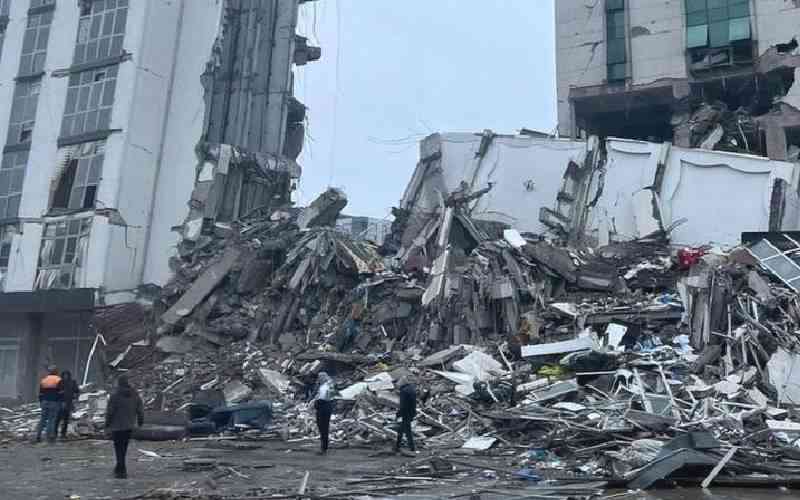 The February 6 earthquake that hit Turkey and Syria caused Sh5 trillion in damage according to a World Bank rapid damage assessment report.
Turkey was the most affected with the damages amounting to $34.2 billion (Sh4.35 trillion) while Syria accounts for $5.1 billion (Sh653 billion, or Sh0.65 trillion).
More than 40,000 people from both countries were killed.
The report estimates that 1.25 million people in Turkey have been left homeless due to damage to buildings.
The 7.8 and 7.5 magnitude earthquakes that were followed by more than 7,500 aftershocks and two additional earthquakes resulted in the largest such disaster to hit Turkey in over 80 years.
This affected 11 provinces in South Turkey, which have some of the highest poverty rates in the country and are home to more than 1.7 million Syrian refugees.
According to the report, 81 per cent of the damages occurred in Hatay, Kahramanmaras, Gaziantep, Malatya and Adıyaman provinces.
These four regions are home to around 6.45 million people which is 7.4 per cent of Turkey's population.
Damages to residential buildings in Turkey are estimated to be Sh2.3 trillion, accounting for more than 53 per cent, while the damage to non-residential buildings (health facilities, schools and government buildings) is Sh1.2 trillion, which accounts for 28 per cent. Infrastructure damages are Sh819 billion and account for 19 per cent.
In Syria, Aleppo, Idlib, Hama and Lattakia were the most affected areas, and the damages may have directly affected 10 million Syrians who reside in the four regions.
The direct damages to buildings account for Sh320 billion, which is nearly half of the Sh653 billion damages. Damages in non-residential buildings (health facilities, schools and government buildings) account for Sh217 billion and infrastructure damages account for Sh115 billion.
Cultural heritage sites in Aleppo, Margat and Kobani were also affected by the earthquake.
The report warns that continued aftershocks of the quake are likely to add to the damage over time, and that the recovery and reconstruction costs are expected to be higher.
Related Topics