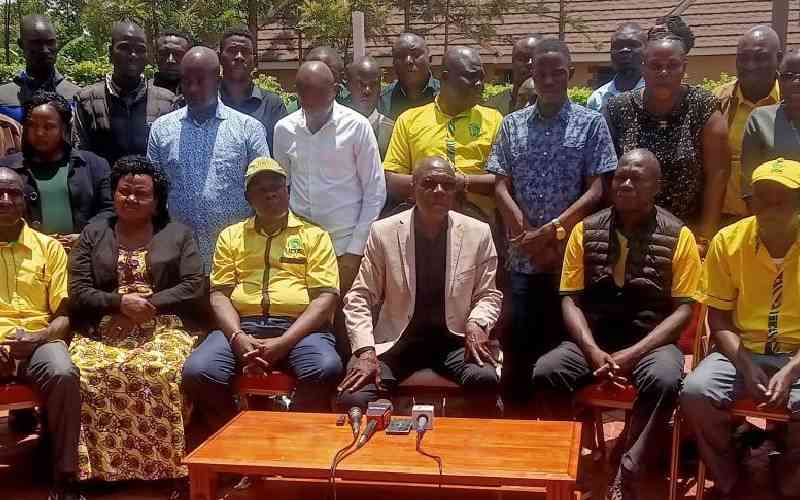 Kakamega Senator Boni Khalwale has taken on UDA's interim secretary general Cleophas Malala telling him to keep off the affairs of Ford-Kenya.
Khalwale, who doubles as UDA Chief Whip in the senate, said Malala who recently defected from ANC should go slow on calling for the desolation of Kenya Kwanza affiliate parties especially, Ford Kenya.
"Those who joined us recently like Malala have much to do to prove themselves as legitimate UDA members. This is why he is keen on telling his former party ANC to fold but he should let Ford-Kenya be and concentrate on ANC if that will win him legitimacy and trust among UDA members," he said during a meeting with UDA founders of Kakamega in Ikolomani.
The two-time senator, who unsuccessfully vied for Kakamega governor in 2017 on a Ford-Kenya ticket, warned that not every defector to UDA came with clean hands as some could be on an espionage mission "to rock the ruling party from within".
Khalwale said the party was no doubt growing enormously in regions such as Kakamega that had been perceived to be hostile to it, thanks to the efforts of 'original members' including himself, who registered at least 140,000 members.
The senator lauded a directive from President William Ruto, who is the UDA boss, to have party elections in December terming it a timely call that would usher genuine officials into office.
The sentiments come a fortnight after Malala traversed western Kenya asking Ford Kenya leader Moses Wetang'ula and Musalia Mudavadi, who is associated with ANC, to fold their parties and join UDA.
Lieutenants of the Mudavadi and Wetang'ula moved with speed to denounce the statement as rash and careless.
Those from ANC reminded Malala, who served as Kakamega senator during the former parliament, that he won the senatorial seat courtesy of ANC and that it was uncouth for him to bite the finger which fed him.
Ford Kenya die-hards warned Malala to tread carefully as calling for the dissolution of the lion party was disrespectful to the Luhya community that prides itself in it.
At the same time, officials of ANC in Trans Nzoia County have faulted Malala's calls for a merger of all political parties under the Kenya Kwanza coalition.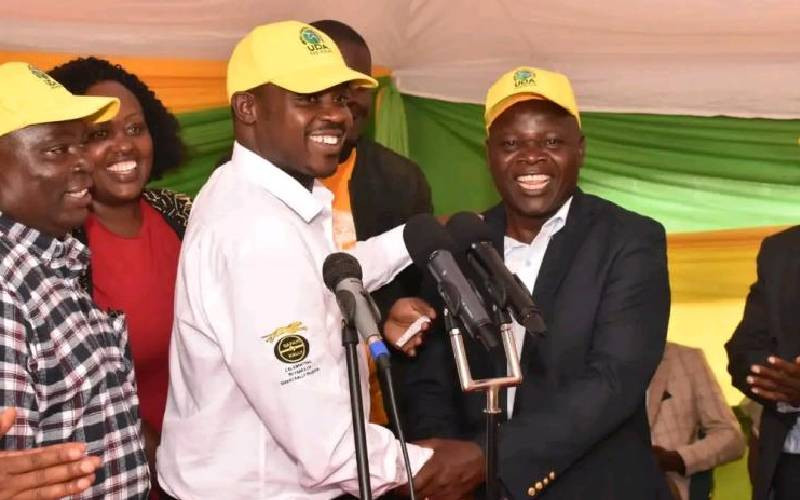 The officials distanced themselves from Malala's advocacy to fold parties terming the move 'disrespectful and detrimental to coalition unity'.
Solomon Murutu, the secretary in Tuwan, expressed discontent with Malala's statement saying: "We consider calls to dissolve parties as disrespectful from Malala, a former member of ANC. He is trivializing parties that collaborated with UDA to establish the Kenya Kwanza government. This undermines the spirit of unity."
Murutu further urged Malala to refrain from making unfounded statements that could undermine the coalition, emphasizing that the current government's position would not have been attained without the collaboration of the ANC and other parties.
Despite Malala's repeated calls for ANC and Ford Kenya to dissolve and merge with UDA, ANC officials have remained steadfast in their commitment to expanding the outfit's membership in preparation for the 2027 General Election, where the party said it plans to field candidates in various positions, except presidential.
Kevin Kubumba, the youth leader, affirmed: "We are actively enlisting new members into the party. This serves as a demonstration to our members that we have no intention of disbanding as our party's goals extend beyond the current generation."
Area ANC chairman Herman Malavi dismissed Malala's remarks, suggesting that Malala's enthusiasm for his current position might be clouding his judgment, leading him to believe he holds a superior role over Kenya Kwanza affiliate parties.
These statements were made by the officials on the sidelines of an initiative aimed at profiling widows in the county to create a database that can support programs.
Additionally, they called on the government to provide social support to widows, highlighting their commitment to addressing crucial issues affecting the community.
Related Topics