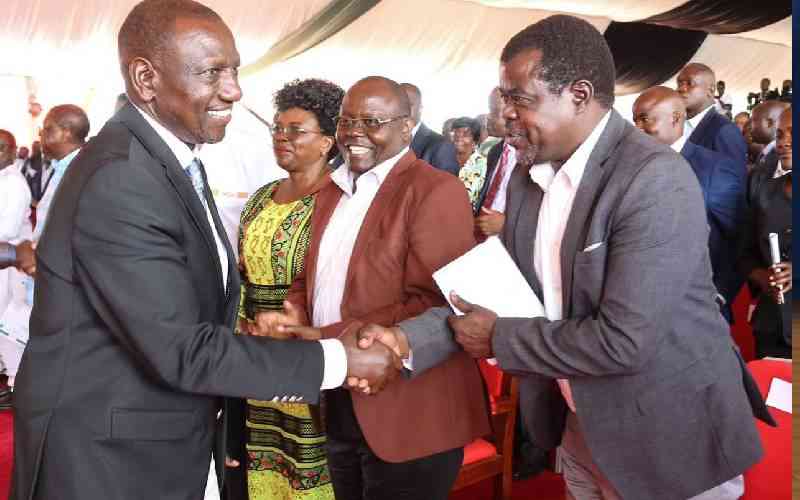 President William Ruto has urged legislators to pass the Finance Bill 2023 to help him fulfill his pledges.
Speaking at Busia Stadium during an interdenominational service, Ruto said that if the MPs shoot down the Bill, he would not be able to create the five million jobs he promised.
"Do you want us to shoot down this budget? So you are telling your MPs to pass this Bill? Let me see those who want our MPs to do it quickly. You (MPs) listen, you have heard, and this is the voice of the people passing that Bill, and if they fail this budget when they come, ask them your jobs," said Ruto.
Busia Senator Okiya Omtatah is on record as opposing the Bill.
The president took almost half an hour to explain why Kenyans should support the proposed Finance Bill 2023, especially the housing levy.
Ruto said he had planned his budget based on the pledges he gave to people during his campaign to uplift the lives of ordinary Kenyans (Hustlers) by creating employment.
He stated that the housing plan is one of the projects among the three plans he has incorporated in the budget to fulfill his promise of creating jobs for five million unemployed Kenyans.
"I have seen and heard people saying many things and bringing up a lot of lies about the housing fund taxing employed people three per cent. Let me ask you (people), how many of you have jobs and are on a pay slip? For those without pay slips, I want to make you have a pay slip from those with pay slips to help you. Why are you allowing yourself to be lied to by those earning and you are accepting," posed Ruto.
He continued: "What is wrong in having those with jobs contribute 3 per cent of their salary to create jobs for the many unemployed youth? We must be honest with ourselves," said Ruto.
The president asked leaders to be humane and patriotic, adding that it is a collective responsibility to ensure those without jobs get employed.
The president said in the budget he has imposed taxes on the importation of cement, metals and furniture so that the local market can thrive. "How is it that even simple furniture we are importing. We want to create our own cement and metals to create jobs," added Ruto.
He said he had agreed with MPs to take ICT hubs to all wards for the youth to earn through technology. He further said he wants to use agriculture to create employment.
Related Topics