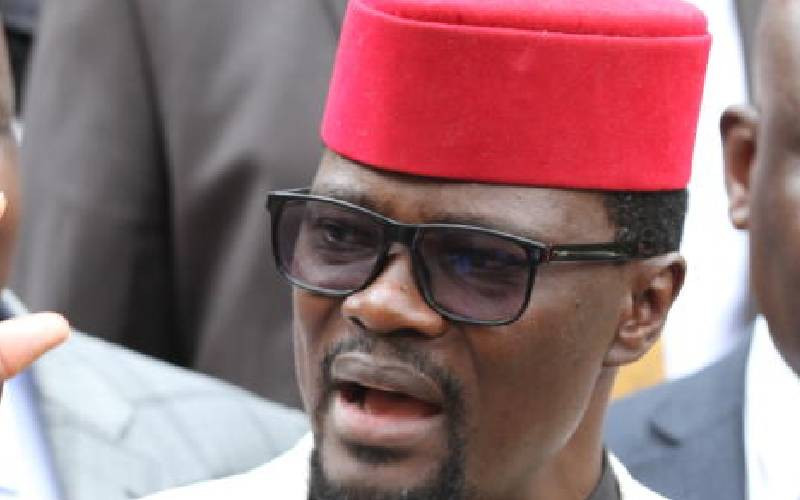 A court has dismissed a petition contesting the election of Kimilili MP Didmus Barasa.
Justice Mary Kasango of the High Court in Bungoma, at the same time, slapped the petitioner, Brian Khaemba, with a Sh2.7 million bill.
Justice Kasango said that Mr Khaemba, who based his petition on alleged violence witnessed during the election that even turned fatal, failed to substantiate how it affected the election outcome in his pleadings.
"It will be a high price to pay to allow the allegation of election malpractice of criminal nature to proceed at the risk of affecting the murder trial (in a separate court) in the absence of evidence of the alleged malpractice being pleaded to show it affected the right of the electorates," said the judge.
Justice Kasango also dismissed a claim by Khaemba that Mr Barasa's use of CDF vehicles in his campaign constituted a dispute that could be handled by the Independent Electoral and Boundaries Commission (IEBC) or the Political Parties Dispute Tribunal (PPDT) as they were pre-election occurences.
The judge ordered Khaemba to pay Barasa Sh1.1 million, and Sh0.8 million each to the IEBC and the Kimilili Returning Officer.
In his petition, Khaemba had accused Barasa of flouting Section 6 of the Electoral Code of Conduct, which, among other things, requires candidates in an election to refrain from violence and intimidation of opponents.
"As I was leaving Chebukwabi Primary School polling station, Barasa, without any form of provocation, followed me to my vehicle and ordered the people that he was with to block my vehicle from leaving. He himself stood in front of the vehicle trying to stop me from leaving," Khaemba said.
"He then walked towards the driver's side and tried to forcefully snatch the ignition key of the vehicle but the driver, Joshua Wanjala Nasokho, blocked him. He then went towards the co-driver's side, drew his pistol and shot my aide, Brian Odinga Olunga, 21, on the forehead which subsequently led to his death."
Khaemba said that Barasa fired another bullet but it did not hit anyone since the vehicle was in motion.
Related Topics