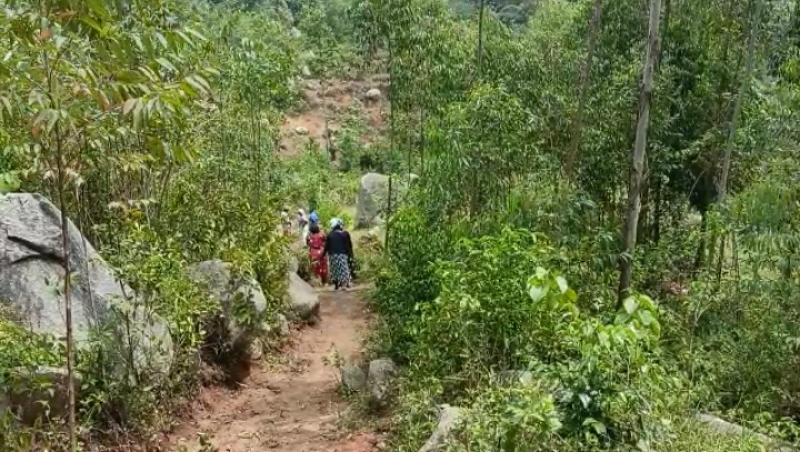 Two villages in a remote part of Vihiga County have more than one reason to mourn on account of near-impassable roads.
Locals have to physically carry their sick to the hospital and their dead from the mortuary the same way because the villages are inaccessible.
"It is rare for us to meet with people from neighbouring villages; we are isolated," says Zedekiah Marova, a resident of Kengedirova. The problems they face mirror those experienced in Chanzoka.
Just recently, villagers had a rough time transporting the body of Elisheba Imali to her final resting place in Kengedirova.
The elderly woman had died about two weeks ago and her body had been preserved at the Vihiga Referral Hospital mortuary.
What was supposed to be a befitting sendoff turned into a nightmare as villagers struggled to carry her body for over two kilometres to her final resting place.
Everything seemed to be going as planned as they embarked on the journey from the mortuary in Mbale town... until they got to Boyani.
"We were forced to alight and carry the body from that point to Kengedirova, some two kilometres away, because the road is inaccessible," Marova told The Standard.
It took the villagers and the deceased's family at least two hours to ferry the casket to the home.
Villagers lament that roads leading to the two villages have remained neglected for many years.
"Danger lurks on these roads which have gaping potholes. It is even worse when it rains," said another villager identified as Marova.
"There are huge stones in the middle of the road with eroded terrain, making it impossible for even cyclists to use," Marova said.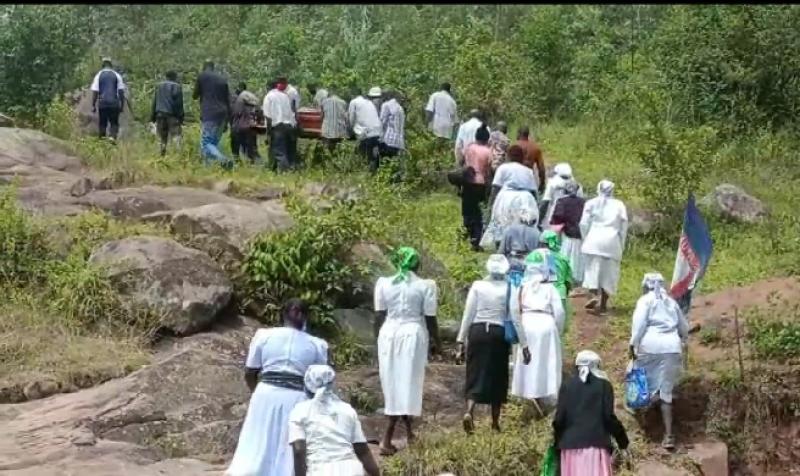 Boyani-Chanzoka — a 2km stretch to Kegendirova, Chavwali and Chanzoka in Maragoli Central sub-location — is simply impassable.
"A journey that could have taken less than 15 minutes took us two hours," Marova said of the funeral procession that added to mourners' misery. Imali's funeral was not the first time villagers have had to carry the dead to their final resting place.
Whenever a villager dies, muscular men are mobilised to carry the body, often at a fee.
For Imali's funeral, the family hired eight men to carry the casket in turns last Friday.
The pallbearers are found at Boyani market from where they wait for clients.
"They are taking advantage of the bad roads to mint money from us. Usually, they demand between Sh1,000 and Sh2,000 depending on the weather and size of the coffin," said a villager.
"These young men are crucial to our village. They are used as a means of transporting the dead and even carrying the sick to hospitals. They are just a phone call away and work like human ambulances," says another villager.
Some families postpone the burial of their loved ones due to the inconveniences as was the case with Imali's family, which had to bury her the following day because everyone was tired by the time they got to her home.
Another villager, David Onziru, says the remote villages have been neglected since independence.
"We have not known another way of transporting the dead and the sick in decades," he laments
Relatives have innovated ways to carry the sick to the nearest accessible road at Boyani. They knit blankets and sacks together and the contraption serves as a carrier.
Those who are too week to walk are carried in blankets by strong men to Boyani, from where they take a motorbike to the hospital.
Some patients never make it because of the tedious journey and the time taken to get to hospital.
The bad road has also affected the area's economy and access to education.
"Our children have to use same roads to school and back. If we had a better road we would use motorcycles to ferry them to Boyani primary school," said Onziru.
The road needs several bridges considering that the villagers cross at least two rivers on the journey.
"These rivers pose a danger to school children who have to wade through water on their way to and from school," said Laura Livoi.
Locals have blamed their elected leaders, who they accuse of turning a blind eye on their plight.
Area MP Ernest Kagesi could not be reached for comment. He neither picked calls nor responded to text messages. Political leaders from the area were yesterday held up in a day-long political strategy meeting.
Related Topics