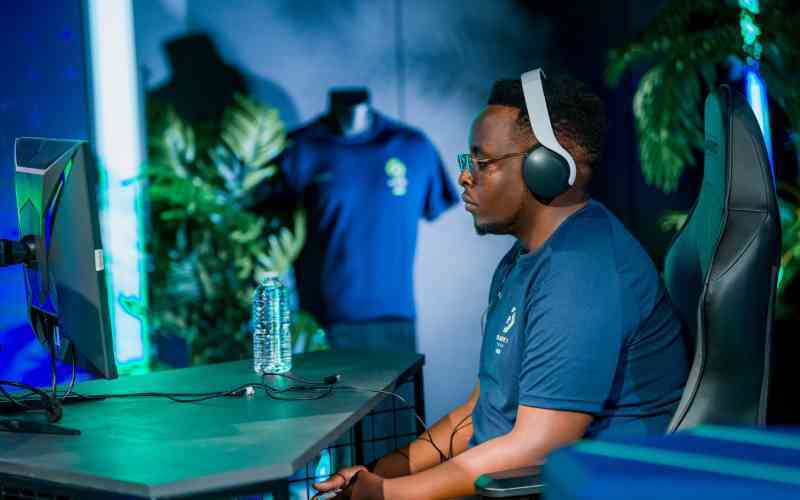 The Esports Federation of Kenya witnessed a transformative shift in its trajectory after Ronny Lusigi emerged as the newly elected President of the federation in the national elections conducted on Wednesday.
With a burning passion for esports and an unwavering commitment to uplift the gaming community in Kenya, Lusigi assumed the helm as the President.
He envisioned a future where esports could be a viable profession, where gamers could earn a sustainable living through their passion for gaming. Lusigi, a veteran in the esports community, had a concrete plan to cultivate the burgeoning esports scene in Kenya.
Lusigi's primary focus was on creating a structured ecosystem for professional gaming. He aimed to establish training programs, tournaments, and leagues that would nurture talent from the grassroots level.
He believed in the power of education and planned to collaborate with educational institutions to introduce esports curricula, scholarships, and mentorship programs. This approach aimed to provide aspiring gamers with the necessary skills and knowledge to compete at an international level.
Collaboration and partnerships were key elements of Lusigi's strategy. He sought alliances with corporate sponsors, investors, and international esports organizations to attract funding and expertise to Kenya.
With a strengthened financial base, he intended to build state-of-the-art esports facilities, organize larger tournaments, and provide lucrative incentives for players.
"We thank everyone for competing in a dignified manner. We are going to put our best forward to develop eSports in the country.
"We shall meet together as the new team and come up with new strategies that will bring benefits to the players. We want to work with experts and the pioneer leaders who made this federation a reality," said Lusigi.
In this new era, Vice President Ann Omondi who was also elected said she will play a crucial role in advocating for gender inclusivity within esports.
Ann was well-aware of the gender disparity in esports and was determined to bridge this gap. She envisioned a future where women would have equal opportunities and representation within the esports community.
To realize this vision, Ann Omondi devised a multifaceted plan. She intended to launch awareness campaigns, workshops, and mentorship programs specifically tailored for women interested in esports. These initiatives would empower them, encourage participation, and provide a conducive environment for growth and development.
Ann's goal was to ensure that women had prominent roles not only as players but also as coaches, analysts, broadcasters, and executives within the esports industry. She aimed to work closely with schools and communities to promote esports as a viable career choice for young girls, breaking stereotypes and fostering a culture of inclusivity.
The new team said they will stand united in their vision for the Esports Federation of Kenya, embarking on a journey to transform the gaming landscape in the country.
Their strategic plans, dedication, and collaboration were poised to bring Kenya into the global esports arena, where opportunities abound and dreams of professional gaming careers become a reality.
ESports Kenya national elections
President- Ronny Lusigi (22 votes), Mwaniki Mwanzia (4 votes)
Vice President- Ann Odhiambo (22), Celine Leroshion (5)
1st VP- John Odhiambo (Unopposed)
Life member- John Shinakha
Sec Gen- Omar Sadique Mohammed (Unopposed).
Treasurer- Hellen Kairu (20), Lydia Bisereri (7)
Athlete Rep- Brian Ochanda (24), Moses Koech (3)
Related Topics