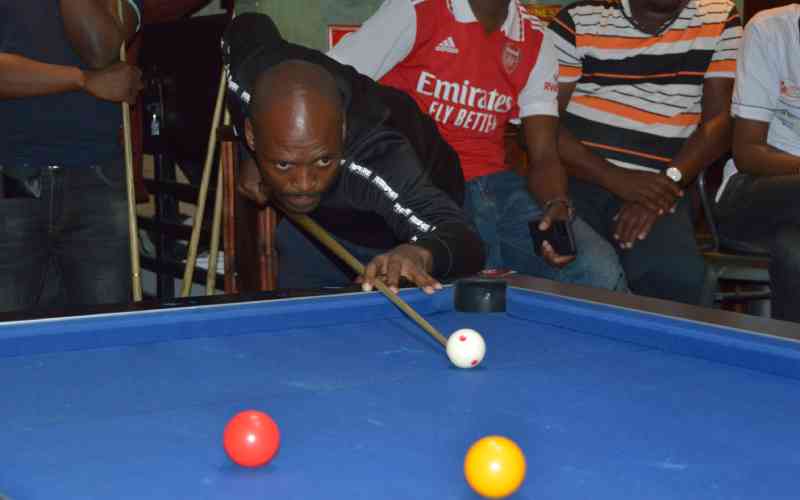 World champion Senzo Gumede is among the over 180 players from across the world who are battling for glory at the ongoing Grand Mchana Open Pool Championship in Nairobi.
The South African pool sensation is facing stiff opposition from his compatriot and continental champion Aden 'Predator' Joseph in the four-day tournament whose purse money is Sh2.25 million.
Other amazing talents from Kenya, Uganda, Tanzania, Zambia, Zimbabwe, South Sudan, Somalia, Lithuania and England also have their sights fixed on the exciting prizes which will see the champion walk home with Sh750,000.
Gumede praised the facilities at Mchana Grill where the tournament is being staged saying they are world class and will help him step up for the forthcoming Africa Championship in South Africa next month where other 16 Kenyans will also battle for glory.
"It's my first time to play in Kenya, and the experience so far is fantastic. I'm already loving it, people here are friendly, I'm just here to play and enjoy the game," Gumede told Standard Sports.
Gumede has urged his opponents not to fear him but to develop the mental toughness needed for victory.
He has also called upon unity in the sport in Africa saying it's the only way the continent can experience exponential growth in the game.
"There is plenty of talent in Africa, this can only be unearthed when the players' interests are put first," the world beater said.
Apart from the main event at Grand Mchana Open, the organisers have also come up with the Shujaa Wa Kenya category that is being contested by only Kenyan players and its residents. The winner of this contest will walk home with Sh200,000 with runners up bagging Sh130,000 and third place finisher Sh80,000.
"It's a proud moment for us to host this tournament, we have set the standards by investing in seven world class pool tables," Kenya pool team captain Collins Tuwei underlined.
"This investment is meant to give Kenyan pool fans a once in a lifetime opportunity in the game, they will have amazing experience meeting some of the best players from across the world," Tuwei underlined.
Uganda team captain Sula Matovu said his side has done the homework well and will be a force to reckon with in the tournament.
"We have talented players who should land us in the money bracket," Matovu stated.
Christine Sengwe from Zimbabwe is optimistic to beat Dorine Wandia of Kenya for the top prize in the women's category. The duo are the only female players in the championship.
"I urge women to embrace this sport, it can take them places, also I'm urging corporates not to shy away from giving support to women the same way they sponsor men," Sengwe said.
Related Topics