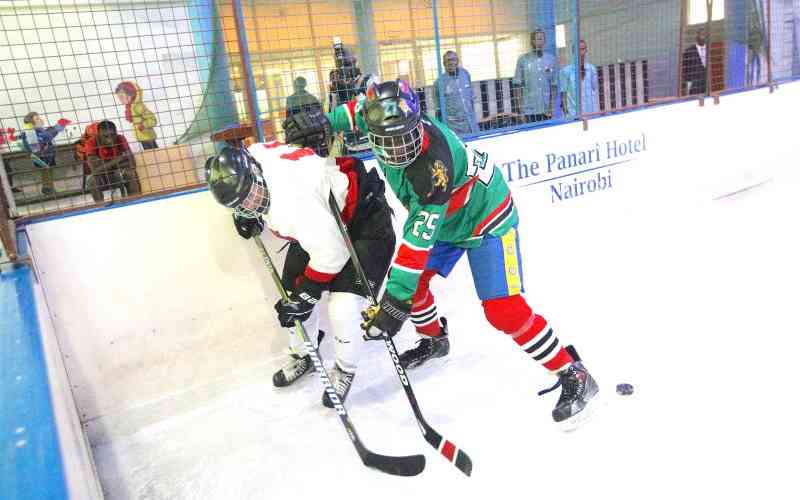 Kenya Ice Lions mauled Canada 9-2 on Friday evening at the ongoing second edition of Madaraka Day Cup ice hockey tournament at the Panari Hotel in Nairobi.
Team captain Benjamin Mburu thrilled the capacity crowd with his goal scoring antics as he found the back of the net four times in the highly charged encounter.
Hussein Shah and Hanan Ali overcame strong opposition from the resilient Canadians to add a brace each for the hosts as Trevor Mwangi scored the other goal.
Determined Canada pulled two through Dan Deslauriers and Jason Salsturi who were dazzling upfront even though their marauding ways were well contained by the hawk-eyed Kenyans.
"This victory is the best. We are happy that we outsmarted them," Mburu told Standard Sports.
"This win means we are more hyped, more energetic and more psyched for the tournament. This victory means we are ready for our forthcoming tours in the USA and Canada. We are just going to work on our paces and shooting so as to be perfect in the game," Mburu said.
Ahead of the tournament, the Kenya Ice Lions stepped up their training at the venue where they worked on their shooting, stick handling, and tactical in play techniques.
While ruing their loss to Kenya, Team Canada striking force Erin Das noted: "It's true, we didn't play so well today, as you can just see the scores.
"I think we just need to shoot more in our next game, we were not so aggressive upfront today."
USA won the first edition of the tournament in 2019 before the competition was halted by the Covid-19 pandemic. Kenya was second while Canada finished third.
Defending champions USA have missed out of this year's tournament but, instead, have been represented by Team World composed of players from North America, Europe and Asia.
While hailing the ongoing event, Panari Group Sales and Marketing Manager James Chege underlined: "It's both a privilege and an honor to host a high level tournament like this.
"We have been with the Kenya Ice Lions team since its inception and will continue to walk the journey with them till they attain greater heights.
"As the only ice rink in East and Central Africa, our plan is to make this game better and hopefully provide expertise to those who are willing to be involved in the sport."
Related Topics