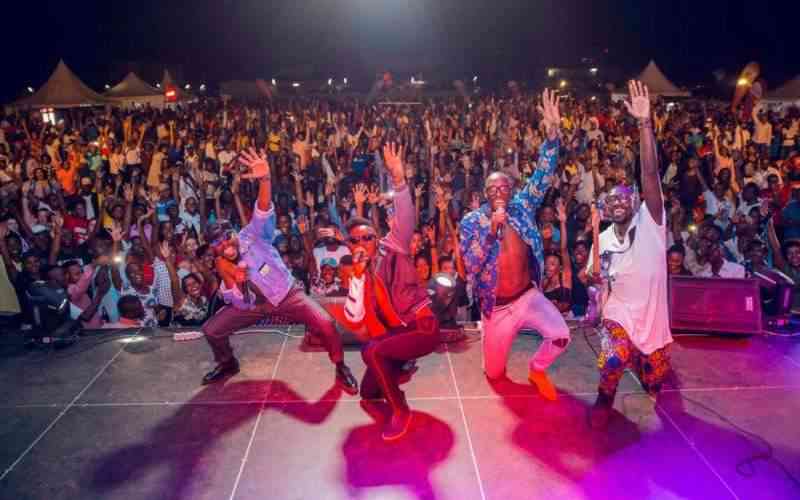 Kenyan boy band Sauti Sol is set to take an indefinite hiatus as members seek to expand their personal endeavors.
In a statement released on Saturday, May 20, the band stated that it would embark on a world tour before their planned hiatus.
The tour will include stops in the US, Europe, and Canada.
The band members; Mudigi Savara, Bien Baraza, Willis Chimano, and Polycarp Otieno promised fans electrifying performances throughout the tour as they belt out the hits that catapulted them to world fame.
"While the indefinite hiatus marks the end of a specific chapter, it also represents a new beginning for Sauti Sol," read part of the statement.
"As close friends and business partners, the band members are eager to explore fresh creative avenues and embark on personal endeavours. However, their friendship and shared vision will continue to be the driving force behind their future projects," said Sauti Sol.
Further, the four stressed that their bond is unbreakable and are excited to see what the future holds.
The good news is that their Kenyan fans will get to enjoy some of the band's best hits as they grace the stage during the much-anticipated Boyz II Men concert set for June 10 and 11.
Loyalists of Sol Fest will also get one last chance to interact with the band on December 16, 2023, in the third edition of the event.
Sadly, though 15 years after their debut studio album Mwanzo, Sauti Sol will drop their last album this year in what will be a reflection of their musical journey as a band.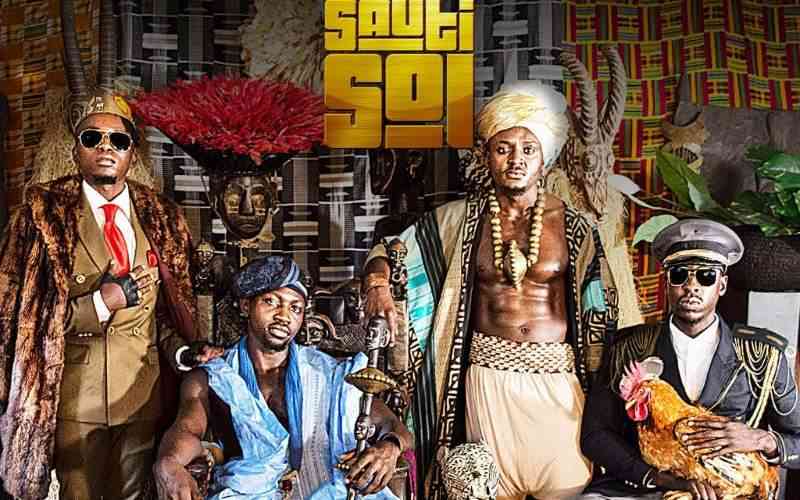 Alone Together
In late 2021, Sauti Sol left their fans confused when they announced a unique project dubbed alone together.
"It [Alone-Together] ties with our natural progression of self-growth, while still being a single unit. The journey is a 4-part musical and visual art series for you and the world with the hope of enlightening you to who we really are," the group said in a statement.
They said they would start releasing singles as individual artistes.
"The result of deep reflections that we experienced as individuals and as a group, leading us to craft the ultimate expansion of our musical and artistic legacies. It is the unique next chapter as brothers that ties with our natural progression of self-growth, while still being a single unit. The journey is a 4-part musical and visual art series for you and the world with the hopes it enlightens you to who we really are; 4 phenomenal parts that make one iconic whole."
Their solo projects were quite successful although some of the band members seemed to have a greater pull than others.
While appreciating that they were all gifted differently, their fans quickly fell in love with Bien's works, with Mbwembwe hitting over 13 million views on YouTube.
Savara's Balance was also received well with over 900k views, similar to Chimano's Friday Feeling.
Polycarp's Rhumba Toto was also a hit with over 700k views.
Having met at Nairobi's Upper Hill School, Bien, Savara, and Chimano became the best of friends as they were a core part of a singing group Voices In The Light, that lit up crowds during their high school days up until 2005.
Upon completion of school, they met Polycarp, a gifted guitarist who was nicknamed Fancy Fingers due to his immense talent.
They often performed at the Alliance Francaise and they quickly formed 'Sauti' (Swahili for sound) before adding the Spanish word 'Sol' (voices in the sun) to form Sauti Sol.
They released Mwanzo in 2009 followed by Sol Filosofia two years later.
Sauti Sol continued to gain recognition both locally and internationally and in 2014 their song 'Nishike' caused an uproar as the video was labelled 'too sexual'.
This would not deter them as they received a 2014 nomination as East Africa's Most Gifted Video by Channel O Music Video Awards.
One of their best albums was Live and Die in Afrika, released in late 2015. In their fourth studio album Afrikan Sauce, released in 2019, Sauti Sol featured a number of top artistes including Yemi Alade, Khaligraph Jones, Nyashinski, and Burna Boy.
Their success was already attracting the biggest brands and in 2020, they signed a record deal with Universal Music Africa.
They then released Midnight Train which had thirteen (13) tracks, featuring collaborations with India Arie, Sho Madjozi, and Okello Max.
Despite the Covid-19 pandemic, the album was an instant hit and the individual tracks recorded impressive numbers on streaming platforms.
Some of their most popular songs include; Sura Yako, Shake Yo Bam Bam, Unconditionally Bae, Short N Sweet, Extravaganza, and Suzanna.
Sauti Sol has put Kenya on the international map and we can't help but appreciate the amazing songs they have given us over the years.
Related Topics